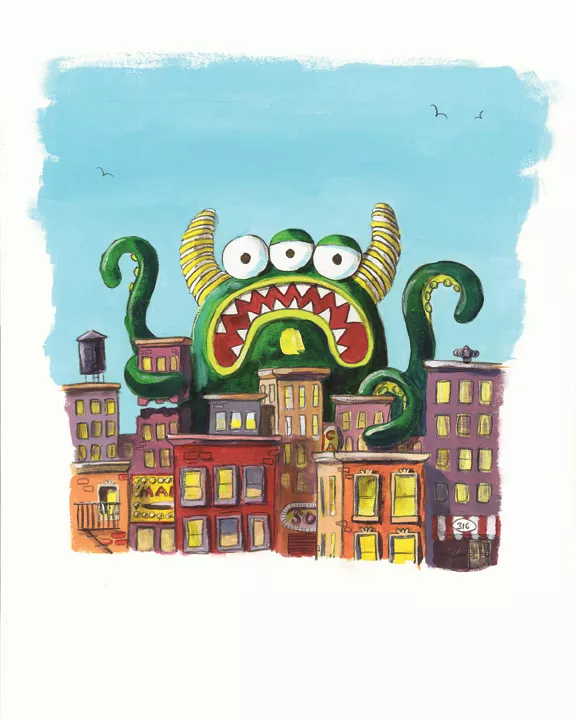 Sharp-eyed drivers on Rosendale's Main Street—perhaps warming up for the movie-poster head-swivel up the block—may have noticed a house with a grinning green monster adorning its lavender side wall. Who painted it?
A) A well-known children's author/illustrator;
B) The designer of the Rosendale Theatre Collective's red-ticket logo;
C) A local rock climber with a bizarre sense of humor;
D) The drummer of a former RISD student band (not Talking Heads)
The correct answer is E) All of the above, aka Dave Horowitz. Locals with long memories may also remember the ever-changing erase board at Market Market predecessor Springtown Grocers; Horowitz again. He'd like to paint a mural on the concrete embankment under the Keator Avenue bridge, if he can figure out who to ask for permission.
"I like working large," says the artist, chewing a Twisted Foods pretzel roll. "If you're painting with a brush, you want to be able to use your arm, not your wrist." Since most of his picture book illustrations need to be small enough to fit comfortably into a scanner, painting on walls (or on board, as he did with Humongous) is freeing.
The three-eyed monster is an image from a children's book that's still seeking a home. "I grew up on 4pm monster movies, cities getting destroyed by Godzilla," Horowitz explains. "So you have this Godzilla-style monster destroying this gefilte-fish city." Its curved yellow horns are an homage to the late Maurice Sendak, a Horowitz idol; one eye is lidless because "it was caught in mid blink, like Blinky the Fish on 'The Simpsons.'" The sawtoothed mouth references Horowitz's 2006 book Beware of Tigers. And the soul patch? "Oh. I used to have one of those."
Horowitz's first picture books (including The Ugly Pumpkin and Five Little Gefiltes)utilized cut-paper illustrations; his two latest are painted. But, he notes, "each medium I work with informs the others. When I cut paper, I take the shading techniques from painting. When I paint, I take the layering from cut paper."
He's also created a hilarious series of book trailers, credited to Half-Wit Productions. "They're all done pretty low-tech, using images from the book, scanning them and editing on whatever movie software came with my MacBook." Their hipster soundtracks are by the Workingman's Trio, with Horowitz on drums; they've been playing together since they met as students at the Rhode Island School of Design.
"I guess I went the whole circuit," Horowitz reflects. "I went to an art school where I learned to render things as accurately as I could, then my work became derivative of people I like, then I got to a point where I just do what I do. I wonder if I could even do that any more, draw an accurate landscape. Some kind of animal would have to be climbing up something, or drinking a cup of coffee."
Dave Horowitz's latest picture book, Chico the Brave, is reviewed here.
Portfolio, book information, and video links: Horowitzdave.com.