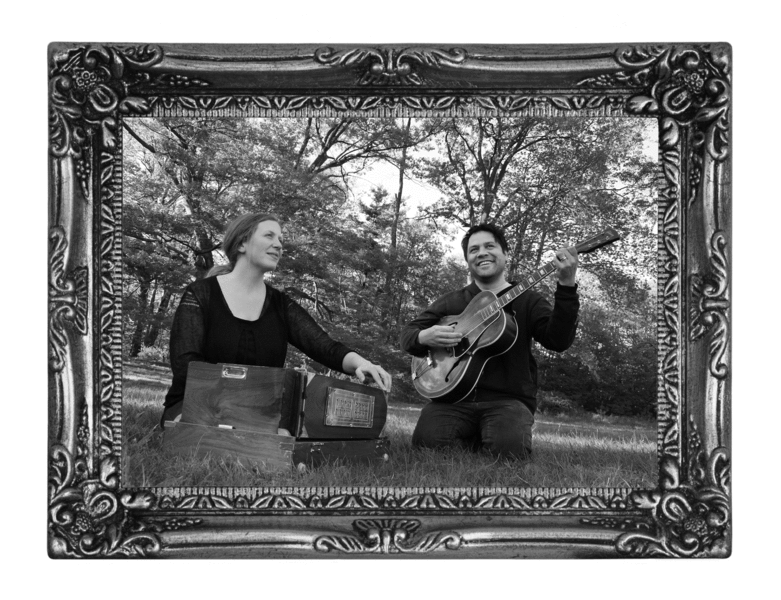 It's 1:10pm and your typically overbooked music editor is stressing while doing his best to maintain the speed limit en route to a scheduled 1pm sit-down with Daniel Littleton and Elizabeth Mitchell, the core members of lineup-shifting indie outfit Ida at Woodstock's famously busy eatery Oriole 9. Having conducted interviews in crowded restaurants before, this scribe is nervously dreading the prospect of once again struggling to maintain the conversation's focus while tuning out the extraneous clatter of a bustling bistro.
He needn't have worried. After a quick move to a center table, away from the one directly beneath the stereo speaker, the tension dissipates and the surrounding world melts away, barely registering as Littleton and Mitchell, both 39, discuss their past, their family, and their excellent band's beautiful seventh album, Lovers Prayers (2008, Polyvinyl Record Co.). Ida, it seems, can find the quiet in any situation. A crucial quality for a group that came of age in the world capital of noise, New York City, to make some of the most brazenly soft and intensely moving sounds in indie rock.
"It's true, we were pretty incongruous with most of the rock scene in New York. But we kind of liked it that way, being different," muses guitarist and singer Littleton. "Our music is, I guess you'd say, a lot more pastoral. Liz and I are definitely attracted to more stripped-down stuff. We love to hear the space between the sounds, and I think our own music has actually gotten even more spare these last few years."
Critics commonly chuck Ida in a ghetto they call sadcore, a subset also reserved for such non-Gotham acts as American Music Club, Red House Painters, Low, and the late Elliot Smith, varied artists who all happen to play poignant music at glacial tempos. Yet despite the often heartrending moods that Ida's songs share with those of the above, Littleton and Mitchell's music is out of place in this grouping, too, thanks in part to their referencing of traditional folk styles; over the years, the acoustic-based band has covered Bill Monroe, Leadbelly, the Carter Family, and other such immortals, a method mostly at odds with its supposed genre mates, who tend to be darker and less roots-conscious.
Which leads to another paradoxical aspect of Ida's oeuvre: children's music. The group has released one album of kid-oriented folk songs (covers of Woody Guthrie, Elizabeth Cotton, et al.) under its own banner, You Are My Little Flower (1999, Last Affair), while Mitchell has released two, You Are My Sunshine (2002, Last Affair) and You Are My Little Bird (2006, Smithsonian Folkways), efforts she describes as "solo records in name only; they're really Ida records since they have all the same people playing on them." (Mitchell and other children's musicians were profiled in the January 2007 issue of Chronogram; the singer, guitarist, and harmonium player is currently at work on a new children's album.)
And here's one more curveball for those who think they have this gentle, melancholy combo all figured out: Littleton's own roots are in hardcore punk. As an active participant in his native Washington, DC, area's underground scene, he performed with proto-emo quartet the Hated and cites the city's legendary Bad Brains as a lifelong influence for their genre-spanning punk/reggae approach. (Bad Brains, now based in Woodstock, were profiled in the November 2007 issue of Chronogram.) "Part of the DC hardcore doctrinaire is to be open to many types of music," Littleton explains. "So when I eventually connected with artists like Joni Mitchell, Nick Drake, and Sweet Honey in the Rock, what I got from them was just as 'hardcore' as what was behind [infamous punk outfit] MDC's music."
After the Hated broke up, Littleton played in several other bands before eventually moving to Boston. There, through a mutual friend in 1990 he met Mitchell, who was then a student at Brown University in Providence, Rhode Island, and a habitué of the local coffeehouse folk circuit. The pair stayed in touch and began dating the following year, and after Mitchell started teaching nursery school in Brooklyn, Littleton moved there to join her. With no grand plans, the couple began capturing their musical collaborations on "super lo-fi" tapes intended only for friends.
One of these friends, however, was indie icon Jenny Toomey of the influential quartet Tsunami and the co-founder of seminal label Simple Machines. Spotting something magical through the hiss of Mitchell and Littleton's cassettes, Toomey was keen to see the couple get their project out of the apartment and into the clubs and the studio. "Dan and Elizabeth are such spectacular songwriters and singers," says Toomey, who went on from performing to become executive director of musicians advocacy group the Future of Music Coalition and is now a program officer at the Ford Foundation. "A lot of music from [the early '90s] doesn't hold up now, but the early Ida stuff still sounds great. It's definitely lasting music."