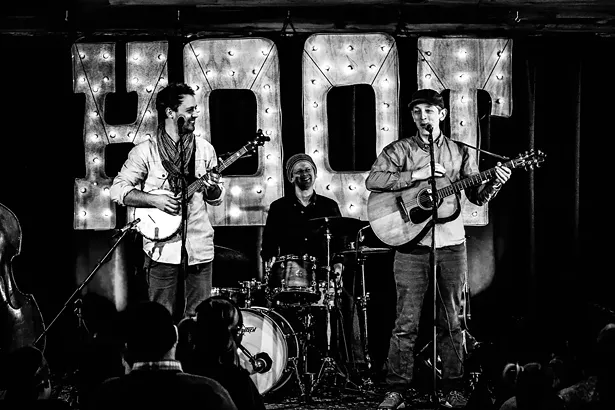 It's become such a seasonal fixture of Hudson Valley happenings that it's hard to picture a time when it didn't exist—the sure mark of a truly treasured area cultural event. We're talking about the Ashokan Center's beloved Winter Hoot, a down-home festival of music, dancing, food, crafts, nature, "Kids Zone" activities, and general togetherness that celebrates its 10th year the weekend of February 3-5.
"Last year, of course, we had to take off [because of the pandemic], so it feels really good to be back," says Hoot co-organizer Ruth Ungar. "The Winter Hoot is different than the Summer Hoot [which takes place in August] in that the bands we have tend to be more local, since not a lot of non-local bands are touring in the winter. It's really about reconnecting with friends and neighbors and friendly people and just having a great time."
This year's Winter Hoot kicks off on February 3 at 6pm (gates open 3pm for hiking on the nature center's grounds) with a community dinner (by reservation) and a film screening. Shown will be the new feature-length documentary Inhabit, which examines permaculture, a practice described by filmmaker Costa Boutsikaris as "a design method that offers an ecological lens for solving issues related to agriculture, economics, governance, and on." A Q&A with Boutsikaris—who, incidentally, met Ungar when he attended past Hoots and took banjo lessons from her husband, festival cofounder Michael Merenda—will follow the film. The music then gets underway with a lively opening-night jam session.
Day two, however, is dedicated to the music in earnest, and its rootsy sounds will, naturally, include those of the hosts: Ruth Ungar and Michael Merenda's five-piece band the Mammals and the duo of her father Jay Ungar and Molly Mason (of "Ashokan Farewell" fame). The February 4 lineup also promises performances by indie singer and keyboardist Rachel Yamagata, Vermont kids' music artist Mister Chris, traditional Irish dance troupe the City Stompers (led by the Hoot's resident square dance caller, Megan Downes), sax-and-guitar duo George Winstone and Ben Monder (the latter of the Bad Plus), and singer-songwriter Jude Roberts. Blacksmith and ice-sculpting demos will add to the day's rustic program.
The final day, February 5, commences with a hike conducted by sustainable landscape designer and nature educator Del Orloske and yoga led by Whole Sky Yoga founder and director Sara Trapani. Finally, the weekend wraps up with a joyous community sing.
"I think that at this time of the year, most people are tired of being cooped up and could really use the chance to connect with other friendly people and enjoy each other's company, along with some great music," says Ungar. "If the weather's nice enough, people can hang outside between bands or after they eat and enjoy the landscape. And if it's super-freezing they can come inside and get cozy."
The 2023 Winter Hoot will take place at the Ashokan Center in Olivebridge on February 3, 4, and 5. Weekend passes are $50 (kids under 12 are free) and carpooling is encouraged. Local food from Veggie Oasis and beer, cider, and wine vendors will be on site. For those interested in staying at the center for one or both nights of the festival, shared lodging at its bunkhouse remains available as of this writing. Pets are not allowed.