Find Stories by Brian Sweeney
Browse by:
Trending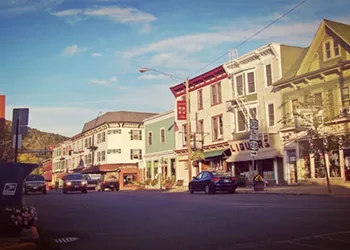 Margaretville Rises Above the Flood Waters
September 01, 2018
Recent Articles
HV Towns, Delaware County

Sep 1, 2018

By Brian Sweeney

After being razed by back-to-back hurricanes, Margaretville's prospects seemed pretty bleak. But the Delaware County town is scrappy, and its residents came together to clean up the mess and start over. Now the village Main Street is a mecca of small business.
Food & Drink, Restaurants

Jul 5, 2018

New York's Culinary Elite Head to Delhi for a Hyperlocal Pop-Up Restaurant

By Brian Sweeney

Joined by alum of Le Bernardin, Prune, and Del Posto, NYC chef Carver Farrell returns to his Delaware County roots to set up a hyperlocal, seasonal pop-up restaurant—Goldenrod.