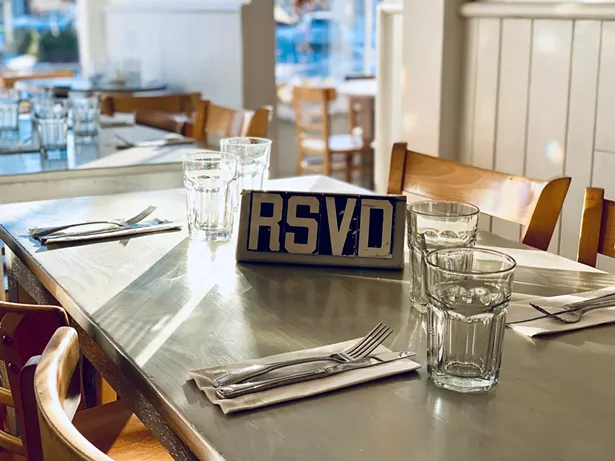 A Chronogrammie for Vegan Restaurant is a wonderful way for the Garden Cafe to celebrate its fifth anniversary since Lea Haas took over as owner. (Garden Cafe was a reader favorite, also winning for Vegetarian Restaurant and taking home third place honors in Al Fresco Dining and Dog-Friendly Restaurant.) With interest in plant-based diets on the rise, the cafe is sure to celebrate many future milestones. With a menu completely devoid of animal-based products, this Woodstock staple is known for crowd-pleasing dishes like noodle-free lasagna with layers of fresh veggies, house-made marina, and a cashew-based "ricotta"; the phyllo mushroom tart—a flaky, buttery phyllo with local, wild mushrooms and fresh herbs; and tofu satay, a baked tofu dish with a spicy peanut sauce over crunchy orange-ginger slaw.

But the cafe offers more to its guests than just satisfying meals: It fosters a community of shared values for locals and travelers alike. "Besides beautiful organic meals, it's the whole experience," Haas says. "There is love behind everything we do from the greeting to the 'Hope to see you soon.' We care."
When the pandemic struck New York and restaurants were limited to curbside service, Garden Cafe immediately adjusted to the new business environment. "We always had these [health] protocols in place, we didn't have to wait for a 'plague' to do the right thing," Haas says. "Garden Cafe uses food-grade sanitizers for cleaning towels; eco-green cleaning products; gloves; and we continue to be diligent in wiping, cleaning, sanitizing, and washing our hands, being sensitive to the fears of our guests and each other." The only new protocols added were limiting staff in close spaces and having them wear masks.
"We never expected we would be celebrating our fifth anniversary during a quarantine, but we did it and are doing it. We are all working so hard to show up and serve the best with love and care," Haas says. "The support has been overwhelming—we feel the love." Since the Hudson Valley entered Phase 2 of reopening on June 9, Garden Cafe has been serving guests onsite in the garden patio.