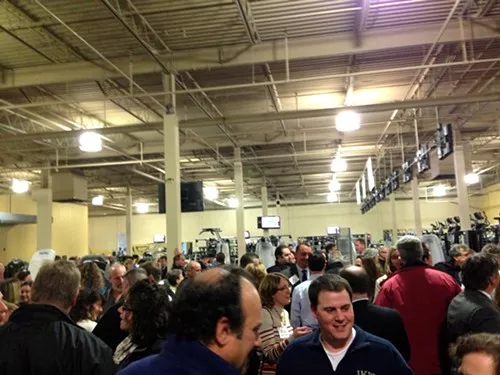 Networking at the Ulster County Chamber of Commerce Mixer
As a lifelong introvert, I confess that networking gives me agita, but I'm always happy afterwards knowing that at least I made an effort to get out there and meet people. I got a free pass to the Ulster County Chamber of Commerce January Mixer at MAC Fitness at Kingston Plaza. My social anxiety quickly faded once I arrived at the MAC Fitness Mixer because it was so crowded and loud that it was easy to blend in and circulate. (It was a bit hard to hear what people were saying, though, especially since the Arctic air has given everyone a scratchy throat.) Still, I persevered! I met nice people from the Alzheimers Association, HudsonValleyHelpWanted.com, MAC Fitness, Rhinebeck Savings Bank, Village Green Realty, Center for Spectrum Services, 92.9 FM, and the Ulster County Chamber of Commerce, of course.
As mixers go, this was very well organized with the right amount of silly diversions. There was a horse race game, play gambling, a few vendor tables set up, door prizes, a buffet, a dessert table, and a bar. It was a bit overwhelming, and I quickly gave up my usual tactic of reading a name tag to figure out if someone would be interested in hearing my elevator pitch or not. I decided to ignore the name tags, and say hello to people who looked open to meeting me. The strategy worked, and I was pleasantly wiped out by the end. I would definitely go back to this mixer next year. By then, I should know more people, and more people should know Hudson Valley Good Stuff, as someone called me.
Follow Vanessa Ahern's Hudson Valley adventures at HudsonValleyGoodStuff.com. http://www.hudsonvalleygoodstuff.com