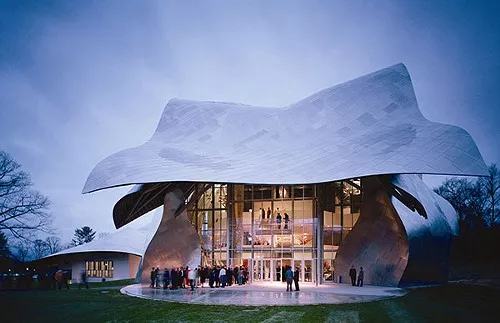 Fisher Center for Performing Arts At Bard Colege
Bard SummerScape's 2013 season kicks off its summer-long schedule on July 5 with comic, singer, and writer Sandra Bernhard. Backed by a live rock band, Bernhard will perform a political satire cabaret and pop culture commentary in the style of the biting standup comedy that she's known for. The 11th annual summer-long festival will continue with explorations of Europe's far-reaching impact on 20th-century culture, including midsummer nights of opera, theater, dance, film, and cabaret, keyed to the theme of the 24th annual Bard Music Festival, Stravinsky and His World.
The music festival highlights will explore the life, work, and cultural milieu of Russian composer Igor Stravinsky. From ballet to chamber works, sacred music to symphonies, the commemoration will examine Stravinsky's long and influential career, along with many works by his contemporaries. To provide an appropriately multifaceted journey of Stravinsky's world and legacy, SummerScape film festival will be broken into two overlapping parts: a retrospective of Russian émigré filmmaking and a series of films influenced by the composer's work. Work by some Russian filmmakers living in early 20th-century Paris, Jean Cocteau, Jean Renoir, and Claude Chabrol, will be screened at the festival.
Early July performances include an array of evenings that will take place in Bard's Fisher Center for Performing Arts and authentic Belgian Spiegeltent. Choreographer Bill T. Jones and Bard's theater director Arnie Zane's "The Rite of Spring" celebrates the centennial of the ballet's debut revolutionizing performance by Stravinsky. Hungarian director János Szász's adaptation of The Master and Margarita, a novel by Mikhail Bulgakov, stages the political satire of the Soviet state that combines elements of fantasy and romance in a mayhem-causing visit the Devil pays Moscow in the 1930s. Watch Sergey Taneyev's rendition of Greek trilogy Oresteia—a tantalizing story about the cursed House of Atreus. Other performances include the Tony nominated Justin Vivian Bond in a musical presentation of a Miss America pageant. Activities to look for at the Spiegeltent, under velvet canopies and stained glass windows, include Bindlestiff Family Cirkus with Kinder Spiegel and midsummer dancing accompanied by house band, The Mayday Kingdom.
Click here for more information; look for Jay Blotcher's preview of the 2013 Bard SummerScape season in the July issue; and listen to our interview with Gideon Lester, director of Bard's Theater and Performance Program and co-adapter of Bard SummerScape's production of "The Master and Margarita."