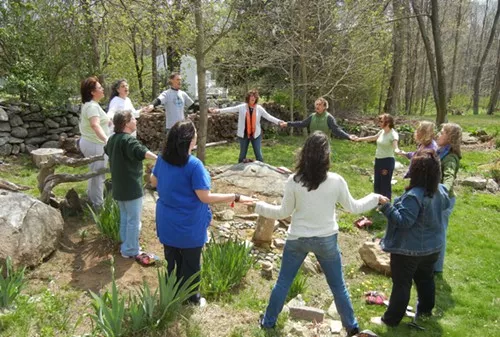 If you are wondering where to find support in your own spiritual growth, look around you. It's about community. "Spiritual work is powerful, beautiful, and painful," says Beacon-based shamanic ceremonialist and teacher Eileen O'Hare. "We are asked to change ourselves in many ways. We need community to help us and support us as we shift. It can be challenging to show up for our healing and the healing of the world."
Since 2004, O'Hare has been nurturing a community rooted in Peruvian shamanic spiritual traditions. Once a tiny seedling, that Beacon-born community has grown wider and stronger in recent years.
Led by O'Hare and her core group, several ongoing events open their arms to the public. On Monday nights, 7 to 9 pm, a Women's Chanting Group meets at The Healing House (11 North Cedar St., Beacon). On Thursday nights, 7:30 to 9:30 pm, the group holds a "DANCE*DRUM*SING*HUM" gathering at Beacon Yoga Center (464 Main St., Beacon). With drumming, dancing, and voice, says O'Hare, "It is an incredibly uplifting experience in a powerful sacred space fueled by the beauty and resonance of the music we create together."
For those looking to delve deeper into shamanic spiritual practice, O'Hare offers a 16-month Mesayok Medicine Spiral training that begins every September. Spiral classes are held monthly.
Stay tuned for a more in-depth article about shamanism in a future issue of Chronogram. In the meantime, contact O'Hare at [email protected] to learn more about events, trainings, and one-on-one healing sessions in the Beacon area.