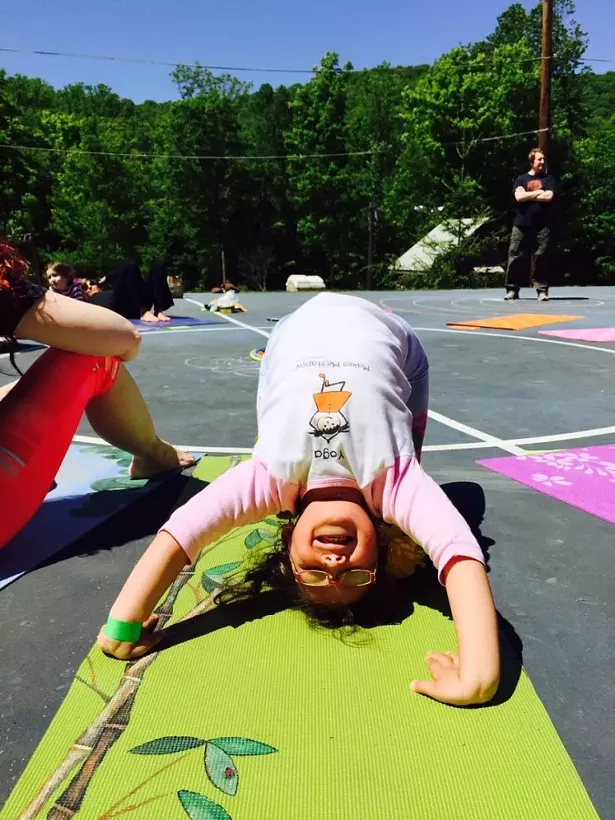 The only thing better than Music, Art, and Yoga (MAY) is when they all meet up. The Hudson Valley's homegrown MAYfest is bringing internationally acclaimed musical acts, yoga instructors, art programs, and activities together in Cold Spring for the second time. And MAYfest has possibly the best kids' tent around.
While parents spend a day or the entire Memorial Day weekend experiencing yoga classes, meditation and wellness workshops, hiking, art, and live music performances, kids up to age 12 can enjoy activities designed just for them. There are quiet areas and outdoor games, as well as organized workshops like instrument making, songwriting, mindfulness crafts, yoga, and even a theater class based on Hanuman, the Monkey King, whose asana is a split.
In order to participate in the Kid's Canteen, children need a Weekend Kids Ticket, and kids under the age 5 must be accompanied by an adult. Children ages 5-12 can be dropped off for programs all day, and there are G-rated movies shown each night where kids can snuggle up in their PJs and sleeping bags until 11p. Perfect for parents who want to catch music headliners, Dar Williams, DJ Drez, and Rusted Root.
MAYfest and the Kid's Canteen at Surprise Lake Camp in Cold Spring: Friday, May 26th, at 2p, through Sunday, May 28th, post-11p; tickets range in price from $50-250 for music only to full weekend passes, and kids' tickets are $40-65 for day to weekend passes. For tickets, info, the festival guide with more on camping, housing, and food options, and to design your experience by booking classes, visit the website.
Don't miss late night campfire music sets, or SUP (stand-up paddle) yoga classes, which you can add on for only $10!