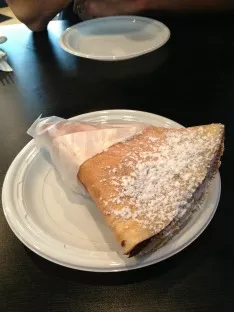 A berry coconut crepe at Opa!
Opa opened in uptown Kingston over the Summer. Hudson Valley Good Stuff readers told me that I should go check it out. I love Greek food, and finally got around to having lunch there last week. As soon as we stepped in, we got a warm greeting from the owner, and sat down at one of the indoor tables. The food is served at tables, but you have to order and pay at the counter. (Cash only, by the way!) We started with 2 spreads: one order of hummus, and one order of the taramosalata. Both were very good, and I have to say that this is the best hummus I have had in a long time.
I ordered a Greek salad with a side of falafels, and Tom had a Greek Salad with Gyro. The salads were very fresh, and I love the block of feta cheese that they top i it off with. Even though my hunger was satisfied, I felt compelled to try one of their crepes because one reader really raved about them. Well, they are good! They make the crepes right there, and the crepe was a bit crunchy on the outside. (I am used to the softer soggy ones the French make). The berry coconut crepe here was very good though, and the size is generous! Opa is a very friendly place, and they go out of their way to make sure you are content with your food. With the exception of the decadent crepe, it was very healthy lunch in uptown Kingston.
Get more Hudson Valley Good Stuff at Vanessa Ahern's blog Hudson Valley Good Stuff, a blog about where to eat, play & recharge your spirit in the Hudson Valley.