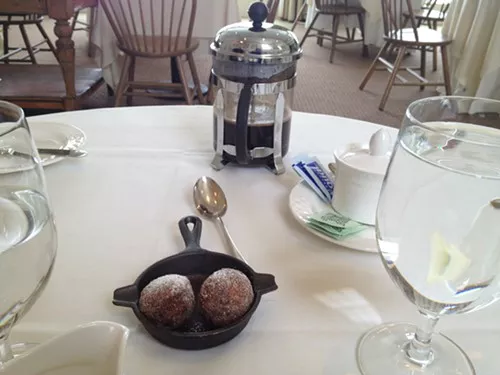 House-made donuts and strong coffee
Last Sunday, The Garrison invited Hudson Valley Good Stuff for a Sunday brunch and a tour of the Inn. The Garrison is about a one-hour drive from Kingston, and is easy to get to via the NY Thruway (Newburgh exit 17). If you are coming from NYC, it is only 1 hour and 10 minutes on the Metro North from Grand Central Station in NYC, and a 5 minute car ride from the station. We arrived around 1:30pm, and started with coffee, which was served European style, and a bit strong, but good. While we were still looking at the menus, a server brought out two house-made cider donuts from the chef in a mini pan. A nice way to start off a brunch! The furniture and decor is very warm and fuzzy. We could have easily been sitting in a Martha Stewart set. I love it when restaurants have fluffy cushions to sit on.
I started with the potato leek soup with purple potato and black caviar. Tom went with the lighter choice, a baby spinach salad with apple, walnuts, and feta cheese. For our main entree I had the lobster omelet with black truffle carpaccio, Manchego cheese, and hash browns. Tom ordered the Valley Burger. I liked the new spin on Apple Pie here. I love traditional American Pie, but this de-constructed version tasted much lighter, and Tom loved it because he loves vanilla ice cream. The crust crisps were very fine and went well with the caramel sauce.
James Michael Brown, food and beverage manager, gaves us a tour of the Inn at The Garrison, which only has 4 rooms. We didn't see the rooms, but we did check out the spaces where The Garrison holds special events, weddings, bridal showers, and private parties. Though we picked a cloudy day to go, the view of the mountains was spectacular. I can imagine it is even more stunning in the fall. The Golf Course was closed, but in season it is open to the public, and the Terrace Grill is on site for light snacks: hot dogs, wraps, sandwiches for golfers though they are welcome to dine at The Valley restaurant too. (The brunch entrees at the Valley restaurant are in the $9 to $24 range).
The restaurant organizes special themed dinners throughout the year. Recently they had a very successful Brooklyn Brewery dinner. They also organize lecture events with light refreshments that are modeled after the TED speaks series. James Michael Brown says that his goal for these type of lecture events is to make them engaging, fun, and not pretentious. On March 7th, the Valley restaurant is hosting a special wine dinner at 8pm.
I'd recommend The Garrison if you are looking for a quiet place to have brunch, golf, or throw a party with a beautiful view of the Hudson Valley.
For more brunch and event recommendations visit Hudson Valley Good Stuff, a blog Vanessa Ahern started in January 2009. HVGS covers where to eat, play & recharge your spirit in the Hudson Valley.