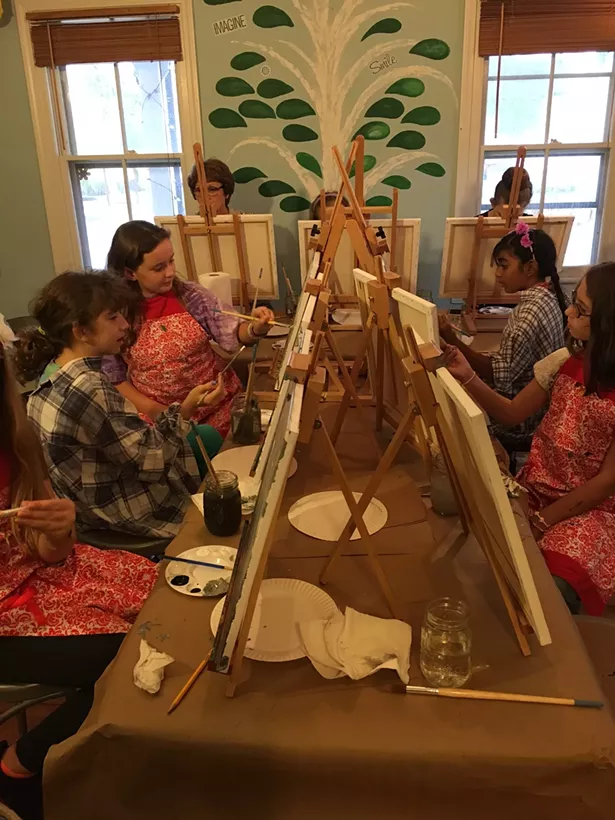 Last Friday, kids gathered on an unseasonably warm afternoon at the Ulster Savings Bank in Gardiner for an artist reception. The young artists had been set up with palette, tabletop easel, and canvas, during five-week sessions, to draw, sketch, color, paint, collage, and even build, sculpt, and craft.  Their works were being displayed, and remain there now, to celebrate the first year of after school art programs at Sunflower Art Studios.
Located in the hamlet of Gardiner, Sunflower Art Studios supports kids in grades K-5 as they practice with a variety of media and creative techniques, and explore various artistic styles and art historical influences. The Studio grew out of
the Sunflower Art Festival
held nearby each August, and also offers painting parties, adult art opportunities, and yoga classes. The art programs are designed with purpose to build problem-solving skills, creativity, and community. With a firm belief that art in any form heals, Sunflower Art Studios provides space for people to thrive. The after school art classes are small, so instructors can individually nurture each artist's vision and creativity. New for the spring session is an advanced painting workshop on Wednesdays, where students work the same painting for all five weeks.
Founder Liz Glover says, "It has been such a joy for Andrea Stetson and me to engage with these amazing kids in this after school program. They bring such love and light to each class, and it is so exciting to see them bloom!"  
Sunflower Art Studios' 5-week After School Art Program at 120 Main Street in Gardiner: Tuesdays-Thursdays; $150 for the series or $35 per class. There are just four spots left in Session 2, which starts March 7th, or register now for Session 3, which starts on May 2nd. Drop off at the studio or register with the New Paltz School District for bus drop off from Duzine and Lenape schools. Visit their website or call (845) 419-5219 for further information.
A non-profit arts organization, Sunflower Art Studios is committed to bringing visibility and accessibility to the arts without economic division, and offers sibling discounts, scholarships, free art events, and mentorship programs.