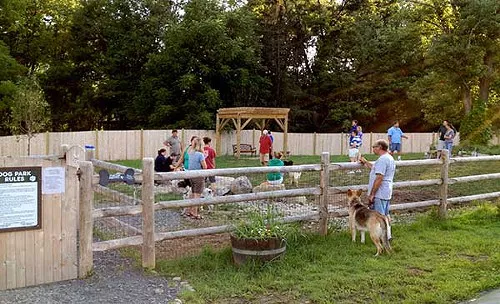 NRCBarrett
Gardiner Dog Park
Last week we compiled a list of our favorite parks in the Hudson Valley. This week we're narrowing our focus a bit for all you pet lovers out there. According to T. S. Eliot, "April is the cruellest month," but not if you're a four-legged canine who's been cooped up all winter. We're declaring April Dog Park Month! Here are our top five picks for local dog parks—places where pooches can exercise and play off-leash in a controlled environment under the supervision of their human. Dog parks are also social hot spots, both for canines and humans.
1. Beacon Dog Park
The Friends of Beacon Dog Park, a not-for-profit organization, officially opened the Beacon Dog Park on March 30 with a ribbon-cutting celebration and after party at Dogwood. The community-funded park, located at Memorial Park next to Route 52, includes two separate areas, one for small dogs (30 lbs. and under) and one for all dogs. The park is open from dawn until dusk seven days a week. Don't miss the Beacon Barks Parade on April 27, a parade and street festival on Main Street celebrating the area's animal shelter, rescue, and welfare organizations sponsored by the Beacon Dog Park and the Beacon Barkery. In addition to the parade, there will be live music and a series of dog acrobatic and Frisbee performances in the grassy park by Hudson Beach Glass.
2. Gardiner Dog Park
Thanks to community donations, like fencing from Ireland Corners Natural Pet Center, a pet waste station from Gardiner Animal Hospital, and arbor and landscaping provided by the local Girl Scouts Troop, the Gardiner Dog Park opened in May 2012, just behind the town hall on route 44/55. The park includes a separate small dog area, benches, a shade structure, and a water spigot. Visitors are encouraged to bring drinking bowls for their dogs. The park plans to open for the season near the end of April. Visit the Gardiner Dog Park Facebook page for opening day information.
3. See Spot Run Dog Park at Overlook Park
The dog park at Overlook Park in Poughkeepsie is a one-acre oasis on an island in the middle of a pond. The fenced-in area includes a pavilion with two picnic tables. No Pitbulls or children under the age of 6 are allowed in the park. There is a $25 annual fee for LaGrange residents and $50 for Beekman, Pleasant Valley, Unionvale, Pouquag, and Town of Poughkeepsie residents.
4. Dog Park at Thomas Bull Memorial Park
The dog park is just one of many activities at this Montgomery park. Its offerings also include an 18-hole golf course, driving range, tennis courts, ball fields, fishing, an exercise area, playgrounds, volleyball courts, and horseshoe pits. There are picnic pavilions and tables, benches, comfort stations, and even a museum. The dog park is a fenced in 1.5 acres of grass and rolling hills with two divided sections, one for small dogs and another for all dogs. There are water fountains, benches, picnic tables, waste collection supplies and facilities, and a shade structure. Free and open to the public daily from 7am to dusk.
5. Woodstock Dog Park
According to Vicki Famiglietti, one of the organizers of the upcoming Bark for Life of Ulster County event, the Woodstock Dog Park is off the beaten path (the directions on the park's Facebook page sure make it seem so: go up Dixon Road, turn left at the baseball field, and go to the back of the parking lot to find the trail that leads to the park). Located near the Sawkill stream with separate areas for big dogs and small dogs, the park also includes agility obstacles in the midst of the woodsy, natural terrain.