The Hudson Valley has a new wellness retreat center and inn, a new reason for modern seekers and explorers to come hither and escape.
Old Stone Farm
in Staatsburg, just south of Rhinebeck, describes itself as "a field of dreams for mind, body, and spirit," a place for personal transformation and equestrian-style R&R. Think of it as a soul-sister property to the
Omega Institute
, just up the road - yet much more intimate and luxurious. Omega with horses, and with beautifully plated dinners. Last weekend, I set out with my beau to see what it was all about.
We arrived just in time to eat on Friday night. Apparently, spiritual growth requires really good food - and Chef Matt delivers just that, tailored to any diet from omnivore to gluten-free. The meals at Old Stone Farm are sit-down, communal affairs, but there's nothing cafeteria-style about these flavors. Among the dishes we savored (and reverentially photographed) were mixed-green salads with dried cranberries and Marcona almonds; millet cakes topped with chicken (or seitan, for vegans like me) and drizzled with a mole-like sauce; a soup of spicy mushroom dumplings; and velvety Asian noodles ringed with vegetables. It was an awakening not just of the spirit, as the marketing materials promised, but of the taste buds, too.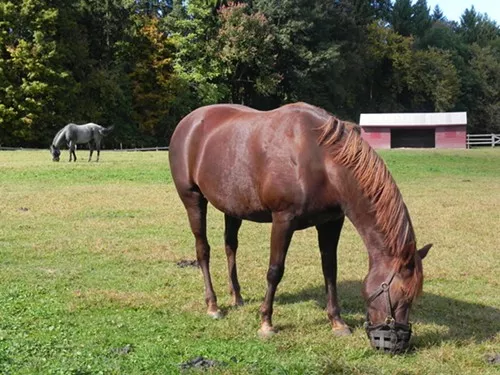 On a blue-sky Saturday morning, we awoke to visions of horses outside our digs in the luxe, antiques-filled, 10-room guest house. The healing presence of horses is part of the ethos at Old Stone Farm, which is set on a 236-acre, 19th-century equestrian estate, meticulously restored and rebirthed by owner Sherry Kahn and her late husband Stu Kahn. This autumn the horses are on a riding hiatus (and a diet - note their muzzles), but eventually guests will be able to mount them for rides al fresco or in the professional indoor riding ring. None of this stopped guests like us from feeding them apples and stroking their faces over the split-rail fence.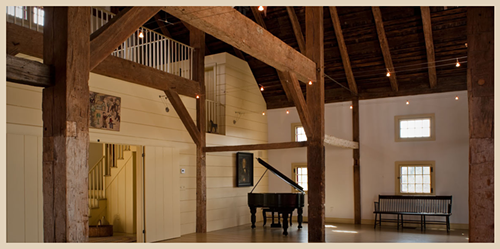 Anyplace with a yoga barn is my kind of a place. During our stay, local yoga teacher Shawn Harrison led classes under the cathedral-like barn beams as Sherry's dog, Buddha, curiously sniffed our Warrior Poses and settled down next to me for Savasana. We floated out of the studio afterwards, ready for tea and a book in the Adirondack chairs. Others indulged in massages in the on-site spa, wandered the rambling grounds, or took off to explore Rhinebeck. On upcoming weekends, more structured
workshops
- including "This Beautiful Wound: Grief as a Spiritual Path" with Mirabai Starr (Oct. 30-Nov. 3) and "Solution-Oriented Dream Decoding: An Eclectic Approach" with Layne Dalfen (Nov. 13-17) - will be a part of the offerings at Old Stone Farm.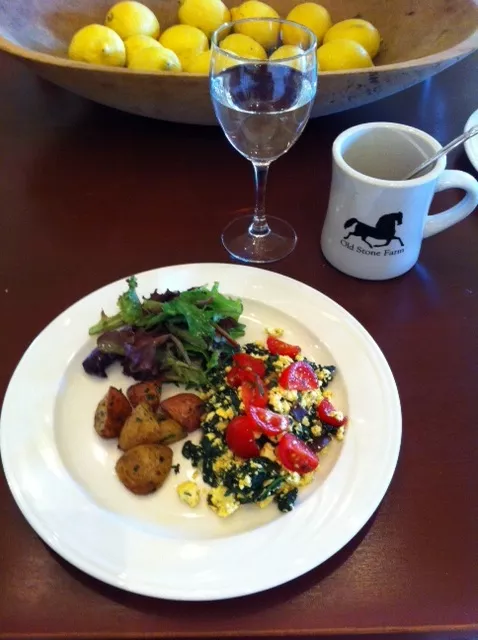 By Sunday morning we were feeling the nurturing effects of the good food, fresh air, yoga, and horses. We enjoyed another amazing meal complemented by animated conversation with our fellow guests, who included a young couple from Brooklyn and a pair of spunky retirees from Fort Lauderdale. Much of the conversation revolved around the specialness of the place and the super-attentive service (one staffer, Jeff, had found and carved a walking stick for a guest). Old Stone Farm is only just beginning to saddle up its offerings, but it's already off to a cantering good start.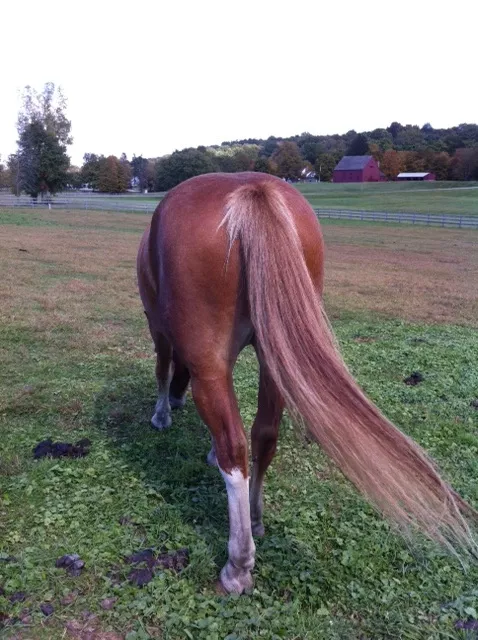 Details: Old Stone Farm * 2434 STATE ROUTE 9G * STAATSBURG, NY 12580 * 845-876-3977
My stay was graciously offered as a press preview weekend, free of charge. All opinions are my own, and I received no compensation for writing about Old Stone Farm.