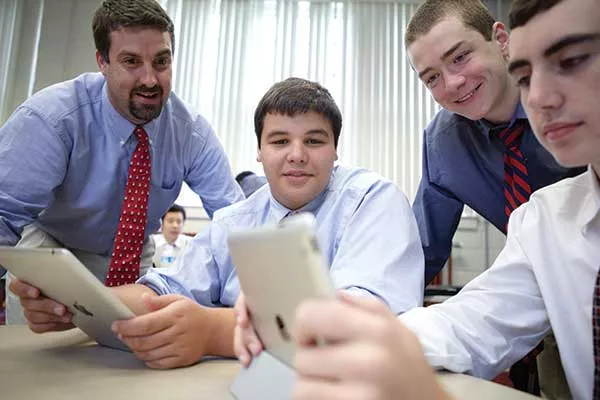 When the Rondout Valley Central School District approved the purchase of iPads for all 174 students in the high school freshman class last fall, some taxpayers pitched a fit. Was this some foolish extravagance? Could we truly trust the young with such things, not to mention in the wide-open spaces of the Internet?
District officials held their ground, and the iPad Pilot Project is well under way. In defense of the expenditure, educators pointed to the expense of providing hundreds of textbooks that, in today's world of rapid discoveries, are often inaccurate almost before the ink dries. And—especially given that Apple contracts with the New York State Office of General Services offer a discount on its wares to public schools—that's only one of many points in favor of the fully connective classroom.
Private schools, with no need to fret about political fallout, have enthusiastically embraced connectivity. "This is not an experiment," says Gonzalo Garcia-Pedroso, teacher and resident tech whiz at the venerable South Kent School in Connecticut. "It's evolution, and we need to keep evolving." South Kent launched an iPad program across all four grades in 2011, making its learning materials 92 percent digital, and Garcia-Pedroso (known as "Gonzo" to South Kent students) is having a blast.
"We're being invited all over the place to talk about this," he says. "Flying to one conference, I saw a seven-year-old Skyping with a grandparent from 30,000 feet up. What's that kid's baseline for using technology? We need to be ready for that kid."
At South Kent, paper textbooks have been all but eliminated in favor of digital versions, and the school newspaper is available as an app. But Garcia-Pedroso is quick to point out that it's not the spiffy hardware that makes the difference in itself. "I have seen iPad programs fail, because what's required is a new approach to the art of teaching. If the kids have iPads, the teacher can't just stand in front of the room and expect to stuff them with facts. They can find the facts just as quickly as the teacher can. The Internet demands that we teach students on a whole other level. It's not getting them to memorize what happened on December 7, it's more like 'How do you think Pearl Harbor impacted the course of history?' It's about integrating knowledge, not memorizing information. Teachers need to let go of the fear that a child might find out something before they do, or they'll lose them."
"When I've seen failure is when schools think, 'We need to have this, this is great,' but keep teaching the same old way instead of meeting the kids where they live. They try to keep up the old 'sage on the stage' concept. We still find a bit of that, but more often you'll see the teacher deep in the back of the classroom actively collaborating.
"Some of our graduates get to college and their instructors won't let them bring iPads into class, which they find sad. Other colleges look at the way our kids handle technology and all they want to know is, 'How'd you do that?' The solution is not the technology in itself, but in getting the teachers on board with a new way of teaching."
At Poughkeepsie Day School, iPads have not yet replaced texts entirely, but technology is ubiquitous—students made extensive use of it in organizing the recent Valley Needs the Galley collaborative project that benefited the Queens Galley's Kingston-based food security programs. Head of School Josie Holford wholeheartedly concurs with Garcia-Pedroso's take on the challenge and liberation of the Internet as teaching partner. "We never should have been in the business of trying to stuff kids with information in the first place, and now we can't be," she observes. "Facts and knowledge are free, right in their pockets. It's all in how you put it together," Holford says. "When the kids started Valley Needs the Galley, collaborating with students at other schools, they immediately made a Facebook page, started a Twitter feed, and made a movie—they're pulling together a whole lot of curricular subjects and using their laptops and cameras and smartphones to find the information they need to collaborate and to document their progress. It's amazing—but education is not 'all about computers' any more than it was all about pencils. If you're chopping down a tree, the best tool may be an axe—but it's about getting the tree chopped down, not about the axe itself."