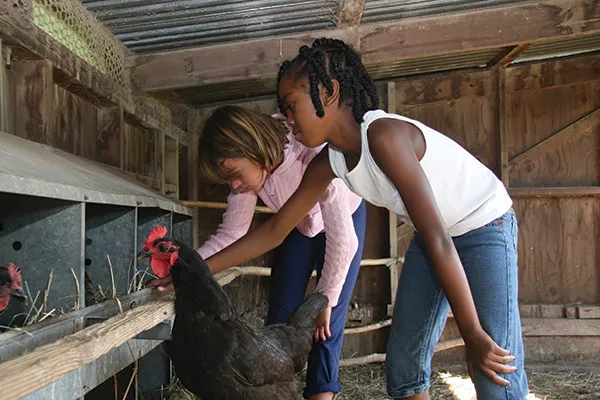 Academics:

Computer Adventures: Bits, Bytes, and Bots Summer Camp
Mount Kisco
Classes include Lego robotics, video game creation, photo comic creation, movie making, and electronic music composition. Ages 6-14.

Historic Huguenot Street's Summer Camps
New Paltz
Discover, explore, and experience Huguenot Street's 300-year old history with three themed week-long opportunities focused on archaeology, acting, and art. Ages 9-12.

Mad Science Camp
Goshen
Kids can complete experiments, watch demonstrations; participate in discussions during themed weeklong sessions in science, technology, engineering, math, archaeology, and more. Grades K-8.

Summer Institute for the Gifted: At Vassar College
Poughkeepsie
Students select from a variety of courses covering humanities, sciences and mathematics, visual and performing arts, fitness and recreation, as well as multi-disciplinary courses. Ages 9-17.

Vassar College Summer iD Tech Camp
Poughkeepsie
Students create 2D and 3D video games, improve gaming skills with the Gaming Athletes course, film and edit digital movies, learn programming, and more. Ages 7-17.

Arts:

Children's Media Project
Rosendale
Students learn film and video making, as well as storytelling, radio recording, and stop-motion animation. Ages 7-11 and 11-15.

The Dance and Music Design School
Cornwall
Campers will learn several different disciplines every day - ballet, jazz, modern, hip-hop, acting/improv, and singing. Short recitals at the end of each two weeks. Ages 7-18.

Mill Street Loft: Dutchess Art Camp
Millbrook, Poughkeepsie, Beacon, and Red Hook
Campers explore a wide variety of visual, performing, literary, and media arts. Ages 4-14.

Mountain Path Festival Camp
New Lebanon
Workshops in performance, music, puppetry, improvisation theater, environmental art sculpting, children's theater, relaxation, and more.

OMI Art Camps
Ghent
Participation in art studios, music, movement, sculpture, swimming, field studies, and explore the Fields Sculpture Park. Ages 4.5-12.

The Paul Green Rock Academy Summer Workshop Series
Woodstock
Topics ranging from songwriting and album making to experimental analog recording, led by notable musicians. Ages 6-18.

Renaissance Kids
Poughkeepsie
Provides instruction in both fine and performing arts. Lessons include piano, guitar, violin and more, along with singing and acting.

Saturday Arts Lab at SUNY New Paltz
New Paltz
Students are offered dynamic education programming in the visual arts, theater, and music taught by SUNY New Paltz faculty, students, and performers. Kindergarten children to adults.

Vanaver Caravan Summer Programs
New Paltz
Learn various dance styles, including modern, ballet, West African, and participate in art workshops such as mural painting and song writing. Ages 9-teens.

Wayfinder Experience
Kingston
Children use costumes, sets, props, improvisational theater, non-competitive combat, and imagination to play out their magical fantasies. Ages 8+, 12+ overnight camp.

Westchester Center for Digital Arts
Peekskill
Programs in digital design, studio arts, cartooning, computer animation, and video game creation; finished work is displayed in a gallery exhibit. Ages 7-17.

Working With the Masters
Mount Tremper
Campers will perform an international sampler including early medieval, contemporary pop, Japanese folk, and African rock, along with other activities. Ages 8-12.

Athletics:

Columbia-Greene Community College Sports Camp
Greenport
Camps include individual coaching, and qualified staff; sports include baseball, basketball, softball, soccer, tennis, golf and more. Ages 8-17.

Green Heron Farm Summer Camp
Woodstock
Campers improve their riding skills while learning more about horse care and stable management.

Lucky C Stables Summer Camp
New Paltz
Includes riding lessons, stable management activities, games, and arts and crafts. All ages.

MAC Park Summer Camps
Kingston
Activities include bi-weekly water fun days, inflatable bounce houses, movie days, spirit days, and field games. Ages 5-12.

Rock Sports Park
Chester
The 10-acre park offers sports, karate, arts and crafts, sports yoga, and many water games. Ages 3-17.

Splash N Dash New Windsor
New Windsor
The camp features a 25-meter six lane indoor heated pool with daily swimming, swim lessons, and talent shows.

Tivoli Sailing Company: Adventure Sailing School
Saugerties
Offers weekly sailing schools throughout the Mid-Hudson River community: steering, manning and controlling of the sails, dock lessons, and more.

General:

Camp Callabar
Kingston
Full day program with games, field trips, guest speakers, talent shows, arts and crafts, swimming, and tennis instruction. Grades K-8.

Camp at Hawthorne Valley
Ghent
Overnight farm camp. Activities range from nature exploration, songs, stories, crafts, cooking, gardening, weaving, animal care, and more. Ages 4-15.

Camp Olmsted Summer Camp
Cornwall-on-Hudson
Tennis, swimming, basketball, ropes courses, cooking, arts and crafts, and hiking along trails on Storm King Mountain. Ages 6-13.

Green Chimneys Summer Camps
Clearpool Summer Camp in Carmel & Hillside Summer Camp in Brewster
Outdoor experiences, helping kids discover the world and create meaningful summer experiences. Ages 4-15.

High Meadow School
Stone Ridge
The school offers a Summer Adventure Series, which includes "Biking Wednesdays," "Climbing Thursdays," amongst numerous other programs. Ages 3-15.

Hillcroft Day Camp
LaGrangeville
Activities include team sports, ceramics, weaving, jewelry making, dance, outdoor adventures, cooking, and swimming and special events. Ages 4-12, teens grades 8-9.

Mid-Hudson Children's Museum
Poughkeepsie
Children combine the traditional camp experience including problem solving, reasoning, along with interactive presentations. Ages 4-6.

Oakwood Friends Summer Camp
Poughkeepsie
Activities include programming, problem solving, robotics, construction, songwriting, signing, water games, and hands-on science and more. Ages 5-12.

Poughkeepsie Day School
Poughkeepsie
Summer programs include PDS Camp for community building and friend making (ages 3-12), Jazz Camp (ages 12-18), and a unique young writers' institute (ages 6-9).

Woodstock Day School Summer Adventure Camp
Saugerties
Activities include gardening, arts and crafts, music and movement, sports and fitness, and nature and science. Ages 3-11; 8-17.

YMCA'S Frost Valley
Claryville
Frost Valley offers traditional camping experience, equestrian camps, teen and "'tween" camps, and "Counselors In Training" programs. Day and overnight camps; ages vary.

YMCA's Camp Seahorse (Pre-K)/Camp Starfish
Kingston
The area's fairly new YMCA program to prevent summer learning loss. Includes academic instruction, swimming lessons, farming classes and cooking classes.

YMCA's Camp Seewackamano
Shokan
Facility includes ponds for boating, swimming, fishing, and nature studies, a basketball court, archery field, circuit nature trails, two spacious lodges, and high and low rope courses. Ages 4-13.

YMCA's Camp Wiltmeet
New Paltz
Camp activities include sports, drama, foursquare, nature exploration, gardening, newspaper, games, and courses in leadership. Grades K-7.

Nature:

Black Rock Forest Consortium
Cornwall, Highlands
Middle and high school students work directly with scientists and artists. There will be a brand new science camp program for summer 2014.

Camp Kindness
Saugerties
Kids can interact with animals such as sheep and horses. Hands-on activities include animal care and education in animal behavior. Ages 8-12.

Farm Camp at Phillies Bridge Farm Project
New Paltz
Includes hands-on farming and animal feeding, along with nature exploration, cooking, art, games, music, and storytelling. Ages 5-12.

Hudson Highlands Nature Museum Summer Camp
Cornwall
Offers exploration and fun through hikes, nature crafts, field trips, and different weekly themes. Ages 4-18.

Manitoga Summer Nature & Design Camp
Garrison
Students learn about the environment in programs such as "All Creatures Great and Small." Ages 5-12.

Mohonk Preserve Camps
New Paltz
Students explore nature through hiking, pond studies, storytelling, forest explorations, hiking, and rock scrambling. Ages 4-6; 7-10.

Sprout Creek Farm
Poughkeepsie
Hands-on experience in animal care, gardening, candle dipping, and butter churning. Ages 6-18.

Wild Earth Summer Camp
New Paltz
Activities include shelter building, service projects, wilderness games, storytelling, group-unity building, nature exploration, and problem solving. Ages 3-17.

Religious:

Bishop Dunn Memorial School
Newburgh
A school proud of its Catholic traditions and commitment to the academic, spiritual, emotional, social, and physical development of children. Grades PK-8.

Berkshire Hills Emanuel Camps
Copake
A co-ed sleep-away camp that reflects Jewish values. Includes a gym, recreation building, theatre, art studio, private lake, heated pool, and sports fields. Ages 7-16.

Surprise Lake Camp in Cold Spring
Cold Spring
Another co-ed, residential camp for Jewish cultural activities. There are carnivals, sports, music, adventures, parties, and sports tournaments. Grades 2-7 up to age 15.

Special Needs:

Camp Dunnabeck at Kildonan
Amenia
Addresses the specialized needs of children with dyslexia or language-based difficulties. Campers receive one-on-one tutoring for one hour each day, and play recreational sports. Ages 8-16.

Camp Ramapo
Rhinebeck
Co-ed sleep-away camp for children with social, emotional, and learning challenges. Campers improve peer relationships and communication skills. Ages 6-16.

Mid-Hudson Valley Camp
Esopus
Caters to children and adults with developmental, mental, and physical disabilities such as those who are deaf or cancer patients.