Since its founding in 1934 by families seeking an education for their children that honored childhood and fostered a community of creativity,
Poughkeepsie Day School
(PDS) has been at the forefront of progressive teaching in the Hudson Valley.
As the school continues its evolution, it is committed to its four guiding principles: nurturing a safe and supportive community, inspiring a passion for learning, connecting learning to the real world, and empowering students through voice and choice.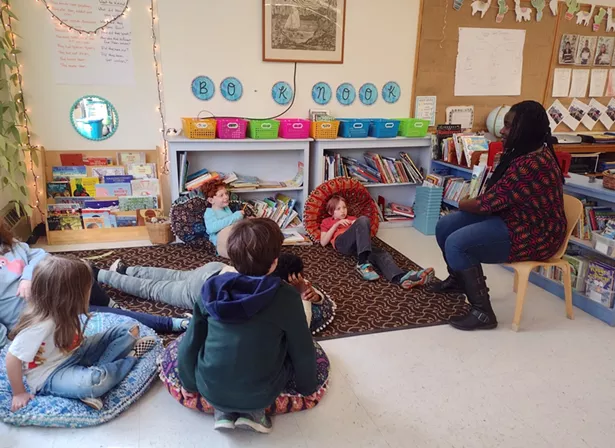 Cultivating the Freedom to Explore
By offering small class sizes and highly experienced instructors, PDS nurtures the independent thinker in every student. Faculty and staff are committed to facilitating social and emotional learning that creates an environment that supports students, fosters inclusivity, and celebrates identity.
Importantly, students have agency to make meaningful choices within their own education.
PDS's inquiry-based approach encourages students to become trailblazers with their teachers as their guides.
The academically challenging curriculum provides a balance of abstract and concrete learning, while incorporating experiences that extend beyond the classroom—offering powerful opportunities for the exploration of ideas, problems, and future careers.
Relevance in the Real World
"Experiential learning is a key part of our curriculum, and we consider the entire Hudson Valley to be our campus," says PDS Head of School, Barbara Wood.
This year, the lower school students have visited area farms including the Poughkeepsie Farm Project and Wilklow Orchards to harvest and learn about local foods, sustainable farming practices, and even honed their chef skills by cooking with some of the ingredients they collected.
"The younger students also kicked off their study of the Hudson River by participating in the school's annual tradition of 'The Day in the Life of the Hudson River,'' says Wood. Students tested the water and made observations that will be used by the Department of Environmental Conservation (DEC) to monitor the river's health. "Upper school students have brought their geology studies to life by visiting local rock and significant outcroppings formations at places like Johnson-Iorio Memorial Park," she says.
Students have also explored some of the region's important cultural organizations and locations, including DIA Beacon, the Frances Lehman Loeb Art Center at Vassar, and the revitalized Market Street in downtown Poughkeepsie. And no school day would be complete without a dash of invigorating physical activity. PDS offers the opportunity to go skiing weekly at Catamount Mountain.
A Passport to Engaged Global Citizenship
Preparing a new generation of leaders to envision and create a more just world requires deep respect and empathy for one another. With an emphasis on an anti-oppression pedagogy, the school helps students develop cultural competence and become truly engaged global citizens. To that end, PDS strives to create a community of students and staff with broad racial and economic diversity.
As it builds on its 89-year legacy with renewed spirit, Poughkeepsie Day School remains committed to creating transformative learning experiences that inspire intellectual curiosity, critical thinking, creativity, and compassion. Through discovery, analysis, and reflection, PDS's intentional learning community brings each child to a greater understanding of self, society, and the world.
Poughkeepsie Day School
260 Boardman Road, Poughkeepsie
(845) 462-7600
Poughkeepsieday.org