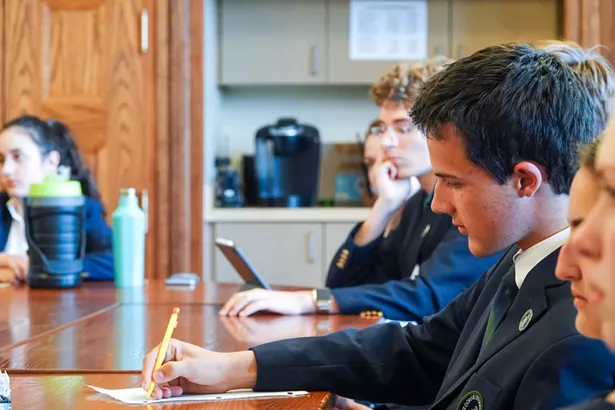 It's no secret that college is expensive. But so is every part of the application process, down to standardized tests like the SAT, which last year recorded its highest number of test-takers ever. Over half of the College Board's 1.1 billion dollars in revenue comes from the SAT, PSAT, and Advanced Placement (AP) tests, which it owns. Though the original aims of these tests were to help colleges determine good candidates and advanced students prepare for and finish college earlier, the College Board's widening influence on students' education has increasingly been questioned by high school counselors and colleges.
More and more colleges are going "test-optional," a trend evident from FairTest's growing list of test-optional schools. In 2018, a group of eight private schools in Washington, DC ended their AP programs over concern that the tests don't adequately prepare students for the college environment, and increased burnout among students who felt the need to take as many courses as possible to be competitive college applicants. "AP tests loom so large, faculty teaching these courses often feel pressed to sacrifice in-depth inquiry in order to cover all the material likely to be included on the test," the eight schools said in a joint statement.
Inside this growing trend is the Doane Stuart School, an independent preparatory school in Rensselaer serving grades preK through 12. Doane Stuart ended their AP program in 2008 after the College Board announced that all AP course syllabi would need to be vetted by the organization. According to Kathleen Bracken, the school's director of college counseling, the faculty's response to this requirement was a unanimous "no, thank you."
Among the criticism of AP courses is their single-minded pursuit of a year-end test. "Doane Stuart prepares students for success in college and life, not by teaching to a test, but by challenging them to take charge of their education and develop critical thinking skills," says Bracken.
"Our faculty teach with their passions and their specific students in mind," Bracken continues. For instance, Doane Stuart's advanced biology classes have the freedom to spend a week of class learning about genome sequencing, and junior and senior English literature classes are broken down into semester-long electives focused on intimate, discussion-based seminars.
"We acknowledge that standardized tests are still used in college admissions. We do administer the PSAT to each sophomore and junior, and we have an SAT prep class built right into the school day for juniors and seniors," Bracken says. "It's encouraging, though, to see the waning influence of the College Board, and see colleges recognizing that many wonderful, bright, motivated students don't show their strengths from a grueling four-hour exam on one Saturday of their life."