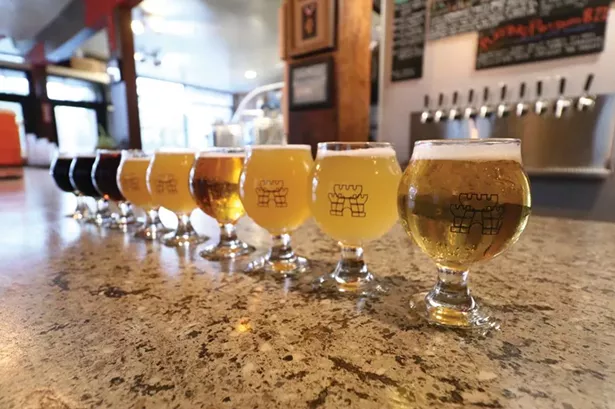 There's no need to ship out to the West Coast, when the Hudson Valley's booming craft beverage industry has everything from artisanal mead to local cider and craft beer (and soon sake!). Visit these trending breweries and distilleries to taste fine wine, spirits, and top-tier beers, and take the edge off a scorching summer day.
Kings Court Brewing | Poughkeepsie
The former 40 Cannon Street site was home to the iconic King's Court Hotel in the mid 1900s. After being converted into apartments in 1970 and gutted by fire in 2011, the hotel was redeveloped in 2013 and now houses Kings Court Brewing Company. Run by brewer Cortlandt Toczyloski and his family, Kings Court is a microbrewery and taproom that rejects the notion of having to specialize in one type of beer. The brewery welcomes kids and dogs into its 2,500-square-foot, ground-floor space and keeps things interesting by changing its beers weekly as well as hosting rotating food trucks in the summertime.
Aaron Burr Cider | Wurtsboro
Aaron Burr Cider is produced on a small 19th-century homestead in Wurstboro. In 2006, Andy Brennan and Polly Giragosian purchased the plot and started a cider orchard with the goal of recreating "true cider." Aaron Burr's pre-Prohibition-style ciders are made using a mix of wild-foraged apples and fruit from their heritage trees, creating a tangy, tannic flavor that is apples and oranges from saccharine, mass-produced ciders. Uncultivated, Brennan's book on cider-making, will be released in June.
Rough Cut Brewing | Kerhonkson
With its cedar shingles and red trim, Rough Cut is a cheerful presence on Route 44/55 in Kerhonkson. In addition to a solid menu of bar eats (think poutine and loaded nachos), the small roadhouse serves meticulously crafted, robust brews made onsite. The woodstove in the foyer and the selection of board games add a cozy touch. Brothers Jesse and Bart Cummings founded Rough Cut alongside brewer Kayne Konecny. In the near future, the partners are planning to expand the dining room and brewing operations and incorporate outdoor seating.
Harvest Spirits | Valatie
Golden Harvest Farms has remained a pristine, peaceful site alongside Route 9 in Valatie since its establishment in 1954. The property is home to Harvest Spirits Farm Distillery, which coexists symbiotically with the agricultural operations. Head distiller Derek Grout and his team produce 500 bottles a month of top-shelf spirits, ciders, and beers made from the apples grown just outside the back door. Every step of the process is done on site, from pressing and fermenting to distilling and bottling. The beautiful German still and the history of the iconic farm make for a homegrown and eclectic feeling.
Hillrock Estate Distillery | Ancram
Crowned by a fine 1806 Georgian house meticulously restored to its original beauty, Hillrock Estate Distillery overlooks rolling barley fields and the distant Berkshire Mountains. Led by owner Jeff Baker and master distiller David Pickerell, Hillrock's commitment to quality is steeped in a rich, 200-year history of artisanal distilling. The Ancram estate produces fine spirits using their own grain, which is floor-malted, distilled in a copper pot still, aged in oak barrels, and hand-bottled onsite. The distillery is located in the middle of the farm flanked by fields of barley on one side and rye on the other, making it an authentic, farm-based tasting experience for spirits fans.