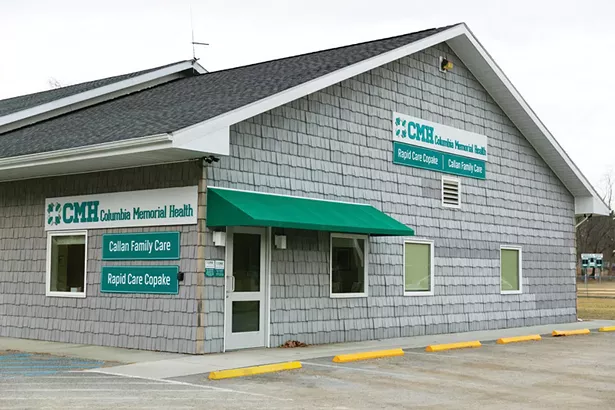 Where do you go when a minor emergency strikes, like a sprained ankle after a day on the slopes, or a case of strep throat? If you're in the Mid-Hudson Valley or Capital Region, there's no need to wait for an appointment or head to a busy emergency department. Two of the region's premiere healthcare providers, Columbia Memorial Health (CMH) and Albany Medical Center (Albany Med), have joined forces as part of the Albany Med Health System to create a robust network of urgent care centers that provide medical treatment right when patients need it.
CMH's three Rapid Care and Albany Med's eight EmUrgentCare centers located throughout Ulster, Greene, Columbia, Albany, and Rensselaer counties benefit from a deep well of highly trained emergency services providers. "When you see a healthcare provider in an urgent care setting, you might only see them for a few minutes," says Dr. Michael Weisberg, Chief of Emergency Medicine at CMH. "But you're really benefiting from their years of experience and training. It's so important that the healthcare providers in those units have the experience and knowledge they need to diagnose each patient accurately and quickly."
After six years as affiliates, CMH and Albany Med are now part of the Albany Med Health System and have strengthened their ability to provide expanded healthcare resources to residents in more rural areas. The urgent care facilities also lighten the load on emergency services teams, leaving emergency department staff free to deal with life-threatening situations while patients at their urgent care centers enjoy shorter wait times and convenient, walk-in locations.
Should it turn out that the issue that brought you there calls for more advanced care, however, you'll find seamless referrals to CMH and Albany Med's integrated network of specialists in over 10 areas of care. With their shared electronic records system, your medical information also travels instantly and securely between providers.
Both CMH Rapid Care and Albany Med EmUrgentCare centers provide services to patients 365 days a year, with virtual visits easily bookable online. And when visiting in person, patients will find that an atmosphere of community prevails. "Many of our providers have been in the area for years," says Dr. Weisberg. "We're locally owned and locally sourced. Our patients are our neighbors, and we have a true connection to our community."