You've almost certainly seen the Languedoc-Roussillon region in movies—sprawling green countryside where stone castles rise out of rolling fields of vineyards and wine flows like
water at every meal. This cradle of French winemaking would seem the fitting ancestral home for novice winemaker Malou Despoux, founder, vintner, distributor, sales rep, and one-woman owner of Accordion Wines, though she claims it had little to do with her circuitous path to the profession.
"Languedoc-Roussillon is the wine basket of France," she says. "I've always had a lot of exposure to wine. My parents' house down there is surrounded by vineyards. But I never did anything with wine while I was living in France." Her father, a banker, moved the family around a lot when Despoux was a kid—Hong Kong, Tokyo, London, and, finally, New York.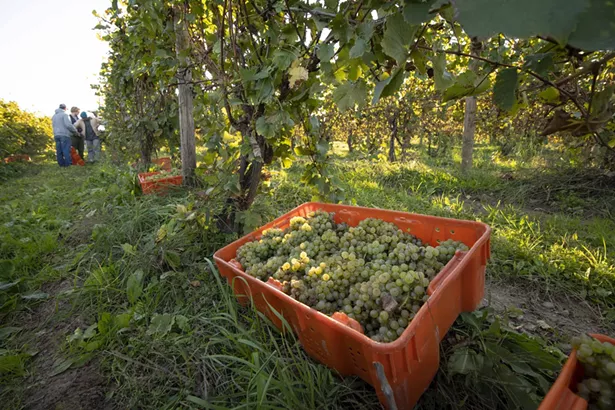 After getting a degree in environmental conservation and anthropology from McGill University in 2016, Despoux returned to New York to apply to graduate programs, and, in the meantime, took a part-time job in a wine store. "I just loved it and found it super interesting," she says. "The team there was really nice and open, very patient with me, and taught me a lot." The part-time job turned into a full-time job, and she helped the owners open a natural wine bar.
When she decided to move upstate , Despoux didn't waste any time finding work in a wine shop. At Fox & Hound in New Paltz, she continued to nurture her interest and grow her knowledge base, going as far as to take the first of three levels of Wine & Spirit Education Trust certification (WSET). "I realized that was geared more toward hospitality and becoming a sommelier, and I was more interested in the actual production," she says. She returned to France for a harvest in Bordeaux in 2018 and was hooked. In 2019, she headed to California, in 2020 to Chile, and in 2021 to the Finger Lakes to work the harvest in different regions.
"At that point, I had quite a bit of experience working in wineries," Despoux says. "Everyone has a different way of doing it. I wanted to learn more about the science behind the process—behind the fermentation and the wine growing, more the theory." Ever the self-starter, she took an online course from the Université de Burgundy and earned a baccalaureate in viticulture and winemaking. "I studied that for a year, and then did another harvest in the south of France near where I'm from. I came back to New York and was like, 'OK I have a pretty good understanding of how everything works. So I decided to launch this small company." Simple as that.
Despoux launched Accordion Wines in her garage in Accord in 2021, using grapes she helped harvest in the Finger Lakes and the North Fork of Long Island. Her first year, she made six wines, only two of which have been released to date: Toe the Line, a dry, Finger Lakes Riesling, and Tongue in Cheek, an orange pet nat made from Gewurztraminer and Seyval Blanc. To taste the Tongue in Cheek is to recognize the hand of a gifted if not intuitive winemaker. It is not the amateur dawdlings of a first-timer. The wine features a delightfully buzzy natural effervescence with a darker, honeyed color than a classic, non-contact Gewurtz. It has a nosy, tropical bouquet with bright florals that woo rather than overpower and a tart finish that is its enchanting coup de grace.
A Collaboration with Nature
Accordion Wines are made with low-intervention principles—nothing added, nothing taken away. The grapes are fermented only with the yeast on their skins—a sometimes unpredictable collaboration with nature. "The yeast ends up imparting quite a bit of flavor to the wine," Despoux says. "Commercial yeasts might have more of a vanilla flavor or banana. You can decide what your wine is going to taste like depending on the yeast you use and, of course, the grape variety. But if you use indigenous yeast, you have no idea what is going to happen. Instead of starting with an idea of what you want your wine to taste like, you let the grapes decide what they are going to end up being. I always thought that was a pretty cool way of doing it."
Despoux just finished harvesting this year's grapes, which are in various stages of fermentation. After being crushed, most of the grapes sit on their skins for at least a day to impart color and flavor to the juice. Then she presses them, separating the skin from the juice. "Orange wine" is consumer shorthand for a skin-contact wine (though these wines are by no means always orange in color, and never are they made with actual oranges). "It's kind of like tea," Despoux explains. "The longer you leave the skins on the juice, the more tannins the juice will have. That mouth-puckering effect in black tea from the tannins—it's the exact same with red wines. And the more time you leave it, the more color you'll get and more flavors. There are a lot of phenolic flavor compounds in the skin."
The natural approach to winemaking was inevitable for Despoux, who grew up around vineyards producing that way and trained in wine shops as the low-intervention wine movement was taking off. "They feel more alive and a bit more surprising in general," she says. "I'm not at all only into natural wine. But for me, it makes more sense, environmentally speaking and health-wise, to have grapes with less intervention from the beginning and to let natural yeasts ferment them."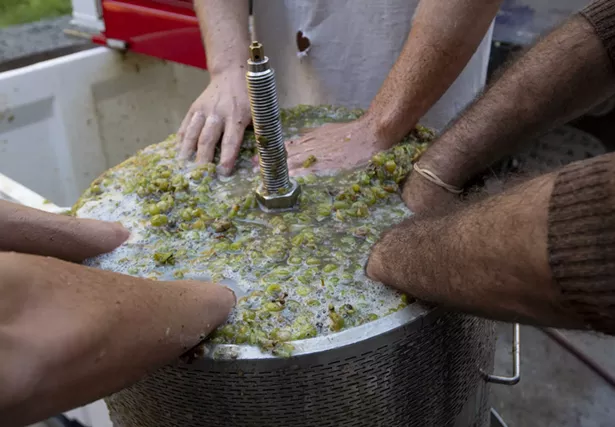 Given this method of doing things, Despoux doesn't always know how many wines she'll end up with. She is waiting for the last grapes of the 2022 harvest to finish their first fermentation before tasting and blending them. She guesses that she'll probably end up producing four to five wines, the first of which won't be released until spring 2023 at the earliest. Given the space constraints of her home facility, Despoux is only making about 500 cases, or 5,000 bottles a year, which she is distributing herself to area restaurants (Sonder and Jar'd Wine Pub) and wine shops, including Bluebird in Accord, Kingston Wine Co. and Ester in Kingston, Sipperley's Grog Shop and Rose Hill Farm in Red Hook, Grapefruit Wines in Hudson, Copake Wine Works, Wild Common in Andes, Upstream in Livingston Manor, Unfiltered in Woodstock, and Fox & Hound in New Paltz.
"I feel super lucky to be making wine not only where I am making wine but when," Despoux says. "The consumer now is super interested in natural wines. The palette has expanded to include what we used to consider weird-tasting. People have less of an idea of what wine should taste like. They just taste it and decide if they like it or not."
You'll have to decide for yourself. As for this writer, she's headed out to hunt down the last few cases of Tongue in Cheek.
Accordion Wines does not have a formal tasting room, but Despoux does offer winery tours by appointment.