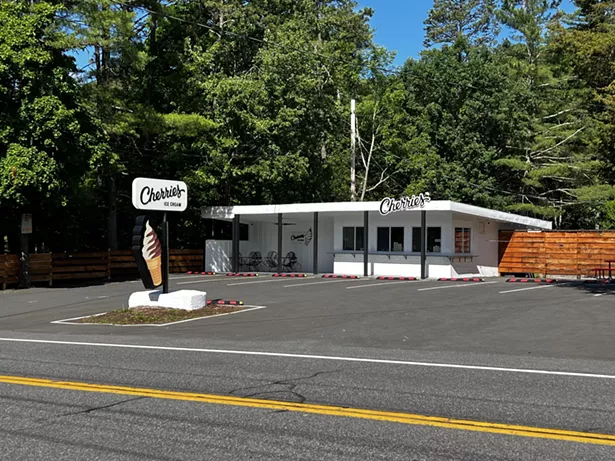 If you've driven down Route 209 through Stone Ridge in the past few months, you may have noticed that beloved roadside ice cream stand Cherries got a facelift. In April, Jolene Delisle and Lawrence O'Toole bought the business and property from Alyson Reidy, who had run it for over a decade. After an intensive month of renovations, including replacing almost the entire kitchen, the couple reopened Cherries for Memorial Day Weekend.

"I knew I wanted to build something upstate and do something that felt like I was contributing and not just a new person taking away from what's great," says Delisle, who with her husband also runs the award-winning branding firm The Working Assembly. "When Cherries came up for sale, it immediately struck me, 'We need to buy this place.' It felt very serendipitous, we were very excited about it."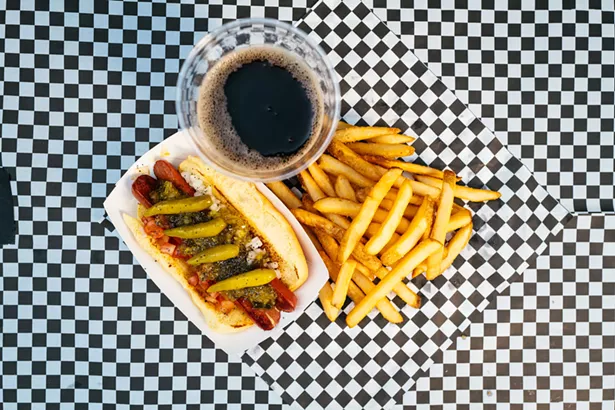 Cherries was their first opportunity to be on the other side of the branding experience. "We've opened up a lot of retail spaces in the city for clients, including the Museum of Ice Cream," Delisle says. "Having the team at Working Assembly involved in this project and dreaming this up has been really fun—it's a really different challenge."
By removing the enclosed porch structure on the front of the building, they were able to restore the original, Mid-Century, single-pitch roof line and simplify the flow for walk-up ordering. A coat of white paint and a big, new, cursive Cherries logo help the building pop from the road.
But the real reason to pull over is what is coming out of the kitchen, which started serving food in August. "I wanted to elevate the standard ingredients," Delisle says. The ice cream is handturned on a dairy farm in Red Hook. All the food products are non-GMO and organic when possible or local, the beef is grass-fed, and the chicken and pork products are hormone- and nitrate-free. If you're bracing yourself for sticker shock—don't. Maintaining affordability without sacrificing food quality is Delisle's chief concern. While the cone price is now $3, the ice cream ingredient list dropped from 30+ to three—a worthy trade-off in her eyes. And that grass-fed burger? Seven dollars with all the fixings.
"The burger cost these days is out of hand," Delisle says. "It's just become one of those symbols for how much has changed. It was really important to have the best quality possible but at a price point that locals can still go and find it accessible. For us, it's really important that we don't make money through mark-ups or worse-quality food. We're trying to make money in volume. That's a bet we're taking. I have been advised against this by people, but I don't know…I hope it can work."


While the previous incarnation of Cherries had dozens of items on the menu, Delisle has pared back and reinvisioned the offerings—less deli food, more of what she calls "roadside-stand, better-for-you, fast casual food." The hickory-smoked, all beef hotdogs run $4 to $6 a pop, and there are wraps, sandwiches, and finger food favorites like mozzarella sticks and chicken tenders.

Few things on the menu hit the $10 mark, one notable but worthwhile exception being the burger combo, which comes with fries or onion rings and a small milkshake or drink for $15. There are also several plant-based options including a gluten-free, vegan burger and nuggets.
The day-to-day operation is led by head chef Collin Donahue, formerly of Hotel Tivoli, and general manager Christian Ortiz, who has worked at Cherries since he was 16.
In keeping with its legacy, Cherries is open seven days a week, 12pm to 9pm. "Alyson did that well—she was really consistent with her hours," Delisle says. "So many places are closed Monday, Tuesday, even Thursday. It was really important to us to have a place that people could know: every day we are open till 9. And we are busy on those weekdays because people don't have options of places to go."
That consistency will have a brief hiatus in January and February winter, when the owners close for another round of renovations and construction. The property has two buildings in addition to Cherries—a single-family home, which has long-term renters, and a garage structure, which will be demolished to make room for year-round indoor seating for Cherries Ice Cream customers.


"Cherries is such an important part of the tapestry of Stone Ridge for so many people," Delisle says. "'Meet me at Cherries' is a thing people say. It's a place people go after games or town meetings, a local hub. Very rarely do you find a place that is for both locals and visitors, but what I like about Cherries is that it has always done that. Hopefully this will keep being a place where people can find common ground. Hopefully ice cream is a thing all people can agree on."