Juice is powerful, essential stuff in these or any times; it's no wonder that the adjective form has come to mean—among other things—enhanced, electrified, and enthused. And we couldn't be more juiced about reporting that the Hudson Valley is replete with juice bars and health-centric cafes where you can get your fresh-squeezed fix. It's never been easier or more delicious to be kind to your body and spirit at the same time. Here is our round up of juice bars in the Hudson Valley.
The Juice Branch | Catskill & Hudson
The Juice Branch
in Catskill and Hudson offers over 100 wildly creative options. Order up a Purple Rain, a Monkey Business, or a sea moss smoothie and add your choice of health-enhancing seeds, oils, and spices. They've got artful acai bowls and hearty plant-based soups, and will fix you up with a two- to five-day detox plan if you need. 65 West Bridge St, Catskill, (518) 947-0920; 719 Columbia Street, Hudson, (518) 291-2612.
Bliss Juice and Smoothie Bar | Red Hook

At
Bliss Juice and Smoothie Bar
in Red Hook, every morsel is whole, organic and vegan. Juices are cold-pressed daily and superfoods balanced to bring you to the state the name describes. Their Spiced Cider (apple, pear, orange, lemon, cinnamon, clove and nutmeg) makes any day a holiday; you can concoct your own Super Smoothie or just enjoy one of their clever immunity-boosting variations. 8 East Market Street, (845) 835-8337.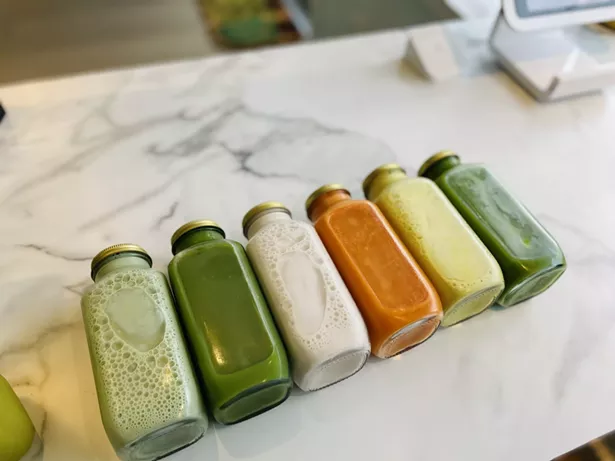 All Shook Up Cafe | Poughkeepsie

Poughkeepsie's
All Shook Up Cafe
blends old-school malt shop/diner vibes with new wave juice bar nutritional savvy into a place where folks of all dietary persuasions can find happiness. The knowledgeable vegans there offer a great juicing program alongside sandwiches, wraps, paninis and soups in a funky, homey setting. 44 Raymond Avenue, (845) 485-1955.
We Got the Juice | Kingston
We Got the Juice
in Kingston glows with health and joy. There's an affiliated arts gallery and a strong, wise streak of activism to nurture mind, soul and community, and the Soul Food Sundays — shrimp and grits, meat loaf, deep fried chicken with Belgian waffles — are becoming legend right along with the plant-based deliciousness. 694 Broadway; (845) 481-4089.
Vegetalien | Beacon
Vegetalien
is Beacon's sweet spot for plant-based, locally sourced and 100% organic deliciousness, offering sandwiches on bread, wrap or tortilla and Buddha bowls that are as hearty as they are clean and pretty. You'll find a BLT with crispy, smoky "facon," BBQ marinated jackfruit fit for a pulled-pork lover served with a zesty slaw, and a seasonal mix-n-match array of bowl goodies to wash down with delicious juices and smoothies. 504 Main Street, (845) 765-1943.
Karma Road | New Paltz
Karma Road Organic Cafe
in New Paltz will provision you body and soul with soups, salads, curries, stews, smoothies, juices and delectable desserts, Fresh, organic and seasonally local, the goodies are put together by Jenn and Seth using techniques informed by their quarter-century of combined experience in clean, green kitchens downstate. 11 Main Street; (845) 255-1099.
Turn Up the Beet | Kingston
Turn Up the Beet
in Kingston has opened a nifty new walkup window where you can obtain your acai bowls, fresh smoothies, cold pressed juices and hot soups made with local-forward ingredients. Try a Jack & the Green Stalk, slam a Tumeric Tonic at the beginning of a long day, or chill with a Blueberry Dream Super Smoothie; bring your own mason jar to minimize waste and get 25 cents off. 456 Broadway, (845) 389-7767.
Maggie's Krooked Cafe | Tannersville
Maggie's Krooked Cafe and Juice Bar
is a Zagat-rated and beloved community cornerstone of Tannersville, aka the Painted Village in the Sky. You'll find deluxe breakfasts served all day, delicious sandwiches and salads, and with creative, healthy juice blends and shakes. 6000 Main Street, (518) 589-6101.
Joust | Rhinebeck
Joust Juice Bar and Café serves organic, cold pressed juice as well as coffee, tea, smoothies, and vegan food. Wake up with the breakfast of champions, a blend of cold brew, oat milk, bananas, and dates, with almond and cacao butter. Juices include dragon's blood, with beets, jicama, and pineapple. Joust also does customized juice orders, just be sure to call ahead. Joust also offers a detox program in collaboration with Breathe Studio, a three-day meal plan including a selection of juices, snacks, and main course meals. 24 Garden Street, (845) 876-0798.
Maker Juice Bar | Hudson
The juice bar at the Maker Hotel offers a colorful selection of juices, each focused on different health benefits. The yellow offers an immunity boost with pineapple, apple, and lemon. The orange variety provides plenty of vitamins, with carrot, orange, and grapefruit. Their protein shakes come in flavors like strawberry, chocolate, peanut butter, and matcha. All protein shakes are made with your choice of whole, oat, or almond milk. There's a large array of supplemental boosters to add, like antioxidant-rich acai and chia. To help balance your metabolism, add some cinnamon or apple cider vinegar. To reduce inflammation, throw in some turmeric, bee pollen, or kelp. 310 Warren Street, (518) 509-2620.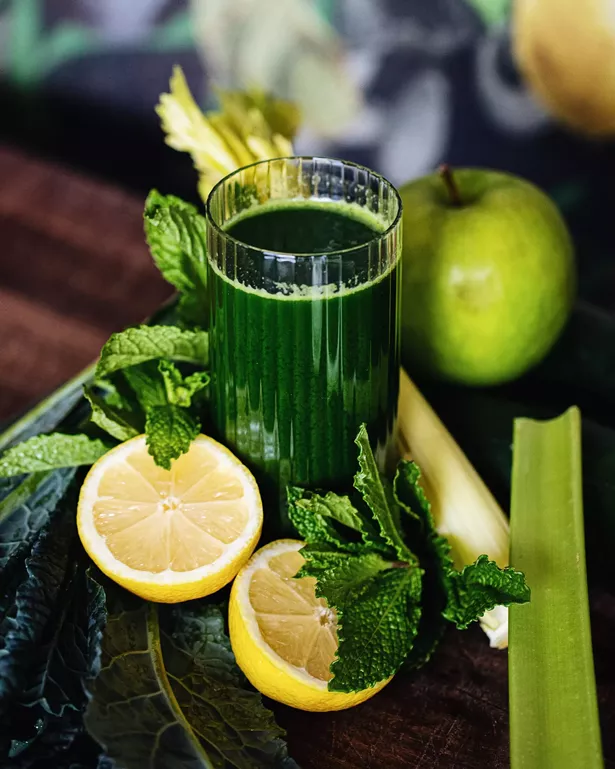 Green Bar | New Paltz
Green Bar's menu includes juices, smoothies, and shakes. Smoothies are blended with a variety of fruit, greens, and juice. Decadent shakes come with ingredients like Nutella, cacao, peanut butter, and granola. Try the hangover detox juice, a blend of ginger, turmeric, lemon, and activated charcoal. If you want a quick boost, take a wellness shot like the cider bomb, with apple cider vinegar and cayenne. Choose from smoothie bowls like the nutty pitaya, a mix of pitaya, coconut milk, banana, strawberries, and almonds. 117 Main Street, (845) 419-2020.
Sol Smoothie | Rhinebeck
Sol Smoothie offers Legacy Juice Works juices. Options include the spirit of life, a blend of spinach, cucumber, celery, and apple. Sweeter juices like the melon breeze, with watermelon, grapefruit, and lime, are also available. Smoothies include the blue laguna, with blue spirulina, coconut, banana, and coconut milk, or the pink flamingo, with pitaya, mango, and pineapple juice. All smoothies can be served as smoothie bowls as well, with added toppings like dark chocolate chips, granola, and almonds. There's also a full coffee menu with lattes, cold brew, macchiatos, and shots of espresso. Or choose from a selection of Harney and Sons tea. 41 E Main Street, (845) 516-4874.
Little Apple Café | Woodstock
Little Apple
presses
juice
and serves up a healthy variety of food to go with it. Classics include orange, apple, carrot, or celery juice. Build your own juice by choosing from a variety of fruits and veggies. Try an elixir shot of chlorophyll and aloe. Or give yourself an immunity boost by taking the flu shot, a mix of lemon, ginger, turmeric, and black pepper. Food options include veggie wraps, fruit cups, and kale salad. There's also comfort foods like a salted pretzel with mustard or grilled cheese with ham or tomato. If you're going for brunch, grab a mimosa to go with your avocado toast. 21 Tinker Street, (845) 684-5605.
Sissy's Café | Kingston
Sissy's has an extensive breakfast and lunch menu alongside their selection of juices and smoothies. Mix and match ingredients to create your own juice. Or try a smoothie like the Hannah banana, with dates, cashews, bananas, and almond milk. If you need some energy go for a power shot with orange, lemon, and cayenne, or turmeric, carrot, ginger, and black pepper. The breakfast menu features favorites like a bacon egg and cheese, or pancakes and granola bowls. For lunch choose from an array of salads, sandwiches, and wraps, with vegetarian and vegan options. 324 Wall Street, (845) 514-2336
Garden Café | Woodstock
Garden Café
offers purely
vegan food
and organic juices. Blends of everything from cilantro and celery to lemon and ginger are available. There's also fresh squeezed apple lemonade or orange juice. The menu also includes smoothies like the vivacious violet, with chocolate cashew ice cream, blueberries, and maple syrup. Choose from a list of organic wines, cocktails, and beer, or cozy up with a pot of tea or coffee. The food menu covers a lot of ground, with soups, salads, dinners, and sandwiches. 6 Old Forge Road, (845) 679-3600
Asia City | Poughkeepsie
Asia City's juice selections include the Yellow Beauty, with orange, grapefruit, and lemon, or the hot and spicy, with turmeric and jalapeno. There are more than 50 smoothie choices at Asia City from a dozen classics like strawberry-banana and orange-pineapple to 40+ proprietary blends including the Sweet Spin with kale, spinach, mango, pineapple, and lychee; or the Pome Queen with pomegranate, flax, avocado, spinach, strawberry, blueberry, and date. There's also acai bowls with your choice of peanut butter, almond butter, or nutella as a base, loaded with cocoa nibs, chia seeds, or seasonal fruits. The menu also includes eats like dumplings and noodle soup. Or warm up with hot chocolate or matcha. 311 Main Street, (845) 454-3175
Little Rico | Hudson
Little Rico's juices are pressed from local produce from places like MX Morningstar Farm and Hearty Roots Farm. The fall zinger is a blend of locally grown apple juice, carrot, and rosemary. Get your greens in with the daily verde, with kale, parsley, cucumber, and celery. There are also quick shots to wake you up, with black pepper, orange, and lemon. Little Rico offers sweets like banana bread, doughnuts, and cookies, along with breakfast sandwiches and smoothies bowls.
Blend Smoothie & Salad Bar | Beacon, New Windsor, Monroe
Crowd-favorite
Blend
has won
Hudson Valley Magazine's
award for Best Juice Bar three years and counting. Their three locations offer six juice blends including Metabolism Booster with c
arrot, apple, ginger, lemon, and cayenne​; and the simpler Tropical Dream with carrot, apple, and pineapple. Their smoothies come with coconut milk, almond milk, and yogurt bases and a range of ingredients from kiwi to kale, green tea to peanut butter. There are also fruit-infused protein shakes and two-ounce "pure health shots." Blend also offers a range of bowls, salads, wraps, paninis, avocado toast, and even quesadillas. If you're serious about a lifestyle change, their juice and meal plans offer a more affordable way to kick start your healthy eating.