Defining a regional identity for the Hudson Valley is difficult when the soil seems to breed innovators. We spoke to food and beverage leaders about the HV brand.
Wherever chef Ric Orlando travels, people have heard about the food and beverage scene in the Hudson Valley. But when he asks those he meets for specifics about that scene, details are not forthcoming. "The answer is usually, 'Yeah, I heard you guys are doing some cool things,' but nobody knows what those cool things are," says the chef and consultant at New World Bistro Bar in Albany and the former owner of New World Home Cooking in Saugerties.
This uncertainty may be because unlike regions such as Texas or California that are associated with a cuisine like barbecue or beverage like wine, the Hudson Valley does not have one specific specialty or identity. Instead it is home to a freewheelin' mix of creative chefs, brewers, farmers, distillers, and winemakers, united in their admiration of the farm-fresh local ingredients the region is known for, but delightfully divided in what they do with these products. As a result the culinary style of the region can often be described with a single word: diverse.
"Other regions can be pigeonholed," says Todd Erling, executive director of the Hudson Valley Agribusiness Development Corporation, an economic development nonprofit dedicated to supporting agricultural entrepreneurship in the region. "The Hudson Valley represents a significant spectrum of world-class producers. It's really that holistic ecosystem of agriculture, food, and food systems whereas some other regions that have branding are much more parochial to something more specific."

Think Sonoma Valley and wine. Erling adds that diversified a food system has "been a component of agriculture in the Hudson Valley since Colonial times."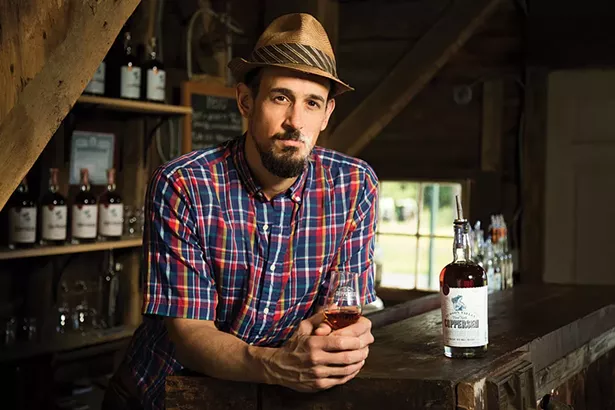 This diversity of agricultural products extends from the farm to the table. "We are getting known for a classic 'farm-to-table' style, using local ingredients to create delicious meals," Orlando says. "Our corn, winter squash, and root veggies are unmatched, and I have eaten plenty from around the US to compare it to. Our local produce—both fruits and vegetables—are great because we get enough rain and have relatively cool nights, making for very sweet stuff. Sadly, we have a very short season and a limited window to utilize it all. Our cheeses, dairy, and meats are also very special here."
Don Lewis, founder of the Wild Hive Farm Community Grain Project in Clinton Corners, notes that at times the Hudson Valley has been associated primarily with apples. "It's now evolved and it really falls more into a standard of living identity that encompasses a food system," he says. "I think that it's a little similar to parts of California that have a really tremendous food system, and a standard of living and the food system that go along with it—a lot of access to a lot of products and a lot of variety."
Over the last few decades, Lewis has helped promote local grain-based agriculture at Wild Hive, offering Hudson Valley grown and milled heirloom grain varieties that are beloved by top chefs and bakers in New York City. He says the region definitely has a distinctive terroir that shows up in its grains. This may not be instantly noticeable when comparing a grain grown in the region to grain grown nearby, but when you compare it to commercial grain products the difference will be clear. "Terroir is unique and present in grains that are grown at a slower pace, and are stone milled," Lewis says. "So, if you're buying grains in the Hudson Valley from producers that have their flour stone milled, than you're really getting the flavor of the Valley."
Multifaceted Agriculture
The region's multifaceted agricultural influence is also found in its craft beverages. The region has garnered a good deal of acclaim in the beer world. For instance,
Sloop Brewing Co.
's Confliction won the Gold Medal for best American-style Sour Ale at the 2016 World Beer Cup. "Just like with ingredients from local farms, restaurants can now carry local beer not just because they want to support local but because the beer is genuinely world class," says Paul Halayko, president and cofounder of
Newburgh Brewing Company
. Asked if there's a specific style of beer the region is known for he replies, "Maybe it is as simple as high-quality or well-made; that's the beer identity of the Hudson Valley."
Halayko adds, "In 2018, any discussion of the best beer-making region in the country has to include the Hudson Valley. Which means bars, restaurants, and retailers have an embarrassment of beer riches right at their fingertips."