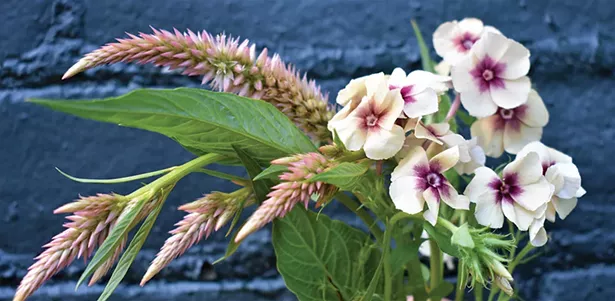 Newly retired Locust Grove Director of Horticulture Tim Steinhoff says, "With cut flowers, you're creating an unlikely garden with plants that might not ever be able to grow together—but that click visually."
Steinhoff enjoys that profoundly wide range of creation, incorporating the flowers, foliage, and stems of annuals, perennials, shrubs, ferns, and even trees into his arrangements. Out of all the many, many avenues of horticultural enterprise in which Steinhoff is qualified to pursue in his retirement, he's choosing to grow specialty cut flowers on his property in Germantown in Columbia County, where he lives with his husband, John Kirslis.
You've worked in horticulture for 40-plus years and had high-level positions in the Horticultural Society of New York, Battery Park City, Historic Hudson Valley, Fort Tryon Park, Gracie Mansion, and more. How did your calling get its start and evolve?
Tim Steinhoff: I'm the son of dairy farmers and was raised in western Wisconsin. In the era in which I grew up, only elderly ladies grew flower gardens, which they referred to as "yards." I was interested in gardening and in flowers from the time I was five years old. It started out as a way for me to get mail—seed catalogs! I became a seed catalog and plant junkie very early on. By the time I was 16, I was growing hybrid tea roses.
My paternal grandmother was the only one who encouraged me and the only one around me who was interested in gardening. I knew few other gardeners until college. My parents didn't want a son who was a college-educated farmer; they wanted my brothers and me to have more opportunities. I had always been interested in politics and world affairs, so I majored in international relations. The week I graduated from college, I went to Europe for the first time, with a group of journalism students studying the European press. When I saw the Chelsea Flower Show in London, I was a goner!
I moved to New York City when I was 23. I sought out any exposure to horticulture; the Brooklyn Botanical Garden influenced me greatly. To create a professional resume, I volunteered at various organizations. When I was 25, I became the gardener at a newly created one-third-acre public garden in the West Village, next to the Jefferson Market Library. There, I grew 150 roses (25 varieties) along with a multitude of other plants. I could harvest armloads of healthy roses due to the abundant sulfur emissions from cars; sulfur meant there was almost no black spot or mildew. No Japanese beetles as well!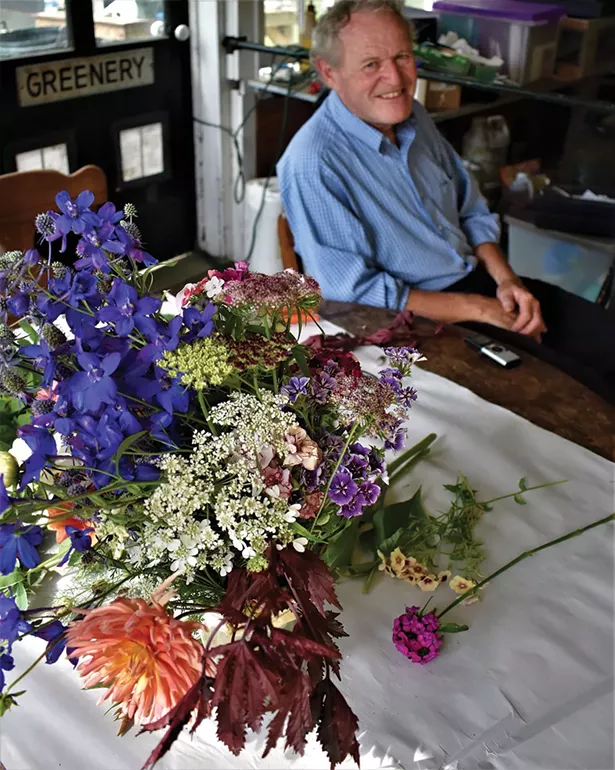 At the time, there weren't a lot of horticulture jobs in New York City like there are now. I invented myself as a professional horticulturist. My first full-time position was as the executive director of the Green Guerillas (which is still around), working with community vegetable gardens in the most economically deprived areas of the city. For me, at 29, it was a very interesting first job in the field. My career has mirrored the return and renaissance of interest in gardening and flower gardens. As a kid, I wanted to have an interesting life, and thus far I surely have.
From there I worked for the organizations you mentioned above, working in every conceivable facet of horticulture and administration. Most recently, beginning in 2008, I worked at Locust Grove as the director of horticulture along with Susan MacAvery, the horticulturist in charge of the heirloom vegetable garden and the volunteer program—Locust Grove has a dynamite group of volunteers. Susan and I have been the only paid horticulture staff. We've seen a trend toward visitors to Locust Grove becoming ever more sophisticated in their gardening interests.
What are the most important cultural considerations when growing flowers for cutting?
Good soil preparation and adequate water is key, as it is for all types of gardens. The more organic matter there is in the soil, the better it can retain water and nutrients and make those available to plant roots. The flower borders at Locust Grove are topdressed with at least two inches of sterile compost each year.
Self-sowing of desirable cut flowers should be encouraged. At Locust Grove, you'll see some really neat plants self-sow like the 'Green Gold' hare's ear with its brilliant chartreuse flowers, and snow on the mountain, a euphorbia with beautiful green and bright white foliage. If you mulch too thickly you lose the self-sowers, so as an alternative to mulch, keep all the plants vigorous and dense and selectively encourage the self-sowers, so you can crowd the weeds out (for the most part).
In addition to the self-sowers you have things you direct-sow and plants you plant from seedlings, bulbs, or tubers. You can direct-sow zinnias, cosmos, sunflowers, love-in-a-mist, and others. (I recommend the compact varieties of sunflowers meant especially for cutting; otherwise they get too big and top-heavy.) Interestingly, certain plants, like Iceland poppies and blue lace flower, only want to be direct-seeded—never grown as seedlings. At Locust Grove, typically over 35 varieties of flowers are started each year in the greenhouse and transplanted as seedlings out into the garden.
Which varieties do you recommend for beginners, and what are your favorite cut flowers currently?
You want your cut flower varieties to be tall and have sturdy central stems. Three easy ones to grow when you're starting out are the gomphrenas (I recommend the QIS Series); ageratums (especially 'Blue Horizon') and celosias (especially the Celway Series). 'Blue Horizon' ageratum and the Celway celosias are tall and have so many side branches that you cut one stem and you have a full bouquet! 'Bella Donna' perennial delphiniums have that bouquet-in-one quality, too—thanks to side branching, one stem has a sturdy, full spray of flowers. Another good plant for this is the perennial, fall-blooming helenium. If you don't have these bouquet-in-one types of plants mixed in, you run into the disappointing phenomenon of cutting the flowers once and your whole garden is gone!
My favorites right now for cutting are the aforementioned 'Bella Donna' delphinium, 'Blue Glitter' sea holly, and 'Dalmation Apricot' foxglove. They all happen to be perennials that bloom the first year from seed, which is an unusual and valuable trait among perennials. There are heirloom annual phlox that make great cuts. I also have been very impressed with a bulb called Galtonia, or summer hyacinth, which sends up gorgeous white flower spikes two times a season. Allium albopilosum is an inexpensive perennial bulb in the onion family that sends up a lovely shimmery lavender ball of flowers in spring, a time when you are looking for things to cut for arrangements.
And then there are the dahlias. Rather than using them alone in a vase, I like to use them as mixers, each one like a crayon in the bouquet. Locust Grove has over 45 varieties of very special heirloom dahlias. After they're divided in the fall, for backup, a full collection of the dahlias is stored in three different places. My favorite dahlias are 'David Howard'—dark purple foliage and soft apricot-orange flowers—and 'Jasmine Pearl,' with a blush of lavender. For cutting purposes, you have to consider scale and balance, so you don't want your dahlia flowers too large. Save the dinner plate dahlias for showing off in the garden!