Kate Cummings is fascinated with stuff. Whether it's antique or modern, whether it's printed on paper, made of fabric, or crafted from wood, every thing tells a story, and Cummings wants to understand what that story is. With her company, Freestyle Restyle, the interior designer specializes in helping clients work with the objects and desires that are most important to them—whether it's an heirloom blanket or starting a family—and then consciously use those things to build the home, and the lives, they want. If they don't know, she'll help them figure it out: Cummings is passionate about understanding clients and helping them understand themselves. "We constantly reinvent ourselves throughout life, but our homes often stay static," she explains. Instead, Cummings helps clients chose elements to build a new story around. One part therapy and one part spatial relations, with an emphasis on the art of manifestation, her practice is "a little off the beaten path," she says. "I'm interiors, but to the left."
The 2,000-square-foot cabin style home she shares with husband, Griffin Stenger, is a great example of this quirky philosophy in action. Built between 2009 and 2011, the home is filled with the couple's cumulative lives together. Each piece exists in its own right but is expertly blended to tell their shared story. Like one of the ever-changing collages that line their walls, it's a colorful mix of artful design and surprising juxtapositions. And, like any good story, it's constantly evolving.
Paper Epherma
The couple officially met in 1998 when they both worked at an advertising agency, but they suspect their paths first crossed years before. In the `80s, Stenger was attending Parsons School of Design in Manhattan and tearing tickets at the legendary Quad Cinema on 13th Street. Cummings and her parents lived close by, and the family often attended the art house screenings. "We realize he must have taken my ticket at least once," explains Cummings.
Fast forward to their brief romance in the `90s. "She dumped me," Stenger recalls bluntly—but it was really only the end of their second act. Stenger, whose father and grandfather were both ad men, repurposed that role for a modern era—working with multiple agencies and eventually becoming a partner at Concept Farm, a Manhattan-based advertising firm. Cummings followed her true calling into interior design, a field she knew well from the women in her family, who all had a flair for decor and business savvy.
Cummings honed her craft at multiple design offices, reimagining the interiors of everything from large estates to city apartments. Along the way, she realized that not only did she inherit the family talent for color and texture, she had a knack for translating her clients' values and aspirations into their material environments. A job at Lillian August, a large furniture retailer and design center, moved Cummings to Connecticut. When Lillian August opened a new store in Manhattan, Cummings decided to return. That's when she and Stenger reconnected. This time their bond stuck, but professionally Cummings was ready to strike out on her own and began "Freestyle Restyle" out of their Manhattan apartment.
Suntan Pantyhose
In 2012, the two began looking for a weekend house upstate. An avid bicyclist, Stenger had fallen for the Hudson Valley's wooded backroads while visiting friends and knew he wanted a permanent residence in the region. Cummings has a passion for historic homes and a long smoldering crush on country houses. Each separately found the Accord property online during the workweek and scheduled a viewing for the following weekend. When they got a chance to compare notes, they realized that not only had they discovered the same place, they'd both requested a viewing.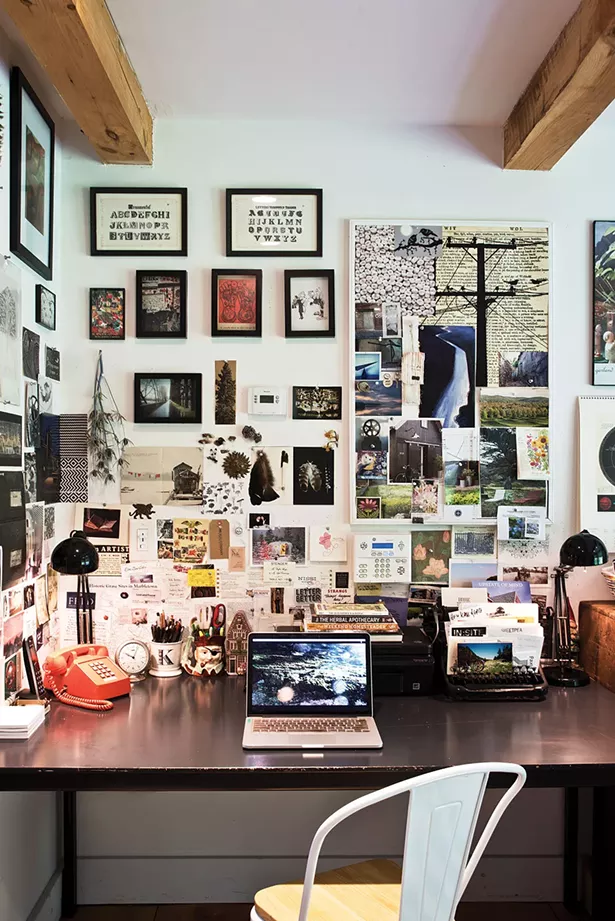 Cummings spends time in each space before she begins a project. "Every space has a particular energy," she explains. "Some are innately happy, others are innately peaceful." The four bedroom, four bath home was painted tan inside and out (or "suntan pantyhose," as they like to call it) with dark interiors, brass fixtures and a kitchen dominated by a giant diner stove—all of it decorated with the occasional piece of barbed-wire art. "Maybe we had beer goggles on, but we didn't notice those details—it was the wood that sold us," remembers Cummings. Solidly crafted from red oak and sugar pine milled from the surrounding 12 acres, the home featured wide plank floors and exposed ceiling beams. With two master suites, an unfinished walk-out basement, and an adjacent two-story barn it also had space enough for the couple to grow. By the spring of 2012 the house was theirs.