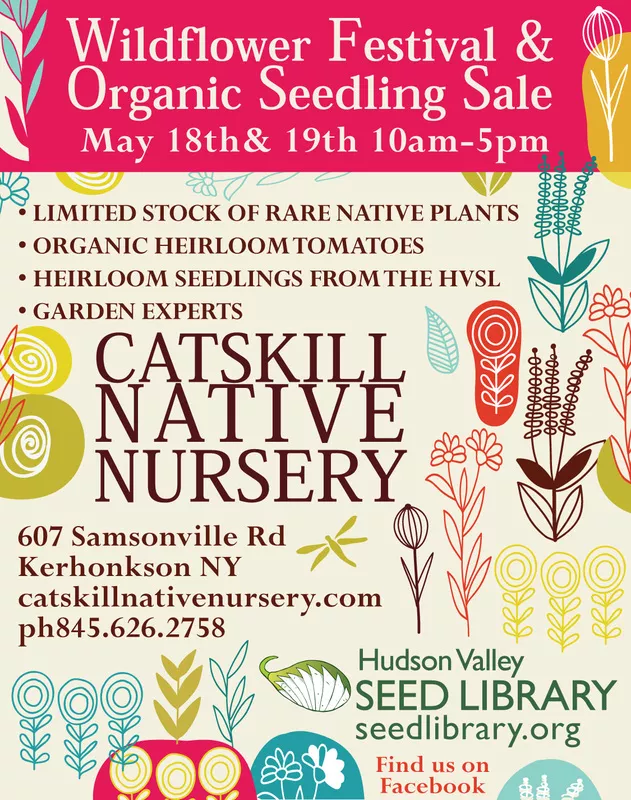 The Wildflower Festival at
Catskill Native Nursery
will return on May 18 & 19 from 10AM to 5PM. The festival is expanding to a full weekend so people can leisurely explore a large selection of rare native plants, wildflowers, water lilies, familiar and unusual fruits, as well as a huge array of heirloom vegetable starts. The festival aims to introduce both novice and experienced gardeners to plants they may never have encountered before while offering them the knowledge to grow a bio-diverse garden that is both beautiful and beneficial to the world around them.
This year's festival features a special focus on home gardeners who want to become more self-sufficient by successfully growing a multitude of delicious and nutritious edibles to put on their tables and in their pantries. The
Hudson Valley Seed Library
returns with an extensive selection of heirloom seedlings grown in their pesticide free greenhouses. These are not your usual garden variety selection of starter plants, but rather dozens of heirloom vegetables and flowers rarely grown locally. For a preview of their inventory visit: http://www.seedlibrary.org
The popular TOMATOTHON! is back featuring organically grown tomatoes and peppers that have been started early and repotted for a robust root system. These large sturdy plants give the vegetable gardener a jump on the growing season. Over 30 varieties of heirloom and disease resistant tomatoes and peppers will be available.
More gardening experts will be on hand to answer questions throughout the weekend. The nursery offers almost 800 species of plants for the gardener to choose from. Horticulturists from the Hudson Valley area will be able to help with perennial, shrub, tree and herb selections, plus answer questions about garden design. Along with
Hudson Valley Seed Library
, Jay Levine of
Backyard Farm
will help answer vegetable garden questions. Interest in heirloom and native fruits continues to increase and we will have many hard to find varieties available for the home gardener. Native fruits such as pawpaw, persimmon, mulberry, elderberry, blueberry and strawberry will be in stock. Francis Groeters, PhD., our resident authority on plant propagation and successful backyard fruit growing, will be available to answer questions about growing both common and uncommon fruits. An open forum will allow people to hear other people's questions and have their own answered. Gardeners of all levels can gather the knowledge needed to create a spectacular, edible and beneficial landscape.
Everyone is invited to come and join the fun. Meet fellow gardeners, browse the many plants, pottery, and sculpture in a beautiful setting right here in your local community. This event is free and open to the public. It happens rain or shine.
Learn more:
Catskill Native Nursery Wildflower Festival
Catskill Native Nursery on Facebook