New Paltz was founded by French Huguenots in 1678. Seven of the stone houses built by the families on what is now called Huguenot Street are preserved and managed by the Huguenot Street Historical Society. It has been called the oldest continuously inhabited street in the country.
click to enlarge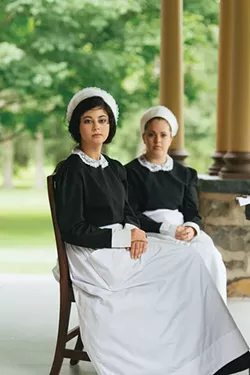 President Franklin Roosevelt was a direct descendent of one of the town's founders, Antoine Crispell, one of the 12 original patentees often referred to as The Duzine (French for "dozen"). The Roosevelts visited New Paltz several times, and after her husband's death in 1945, Eleanor came every year to lecture at the college.
New Paltz was briefly catapulted into the national spotlight in February 2004 when mayor Jason West, in an act of civil disobedience, violated state law and married 25 same-sex couples, just four months after a Massachusetts court ruling had turned marriage equality into a hot button issue in the middle of a closely watched presidential election.
In popular culture, New Paltz is named as the town Baby's (Jennifer Grey) friend Penny Johnson goes to for an illegal abortion in the 1987 film Dirty Dancing.
Like all college towns, New Paltz is home to a variety of bars and restaurants, but its most enduring is P&Gs, originally opened in 1947 in a former dance hall. The restaurant has become a local landmark, and is a favorite of students, as well as motorcyclists.
click to enlarge
The Bakery, located on North Front Street, has been the village's go-to spot for pastry and conversation for over 30 years. Recently, new bakeries have opened, including Dohnut in Water Street Market, Lagusta's Luscious chocolate shop on North Front Street, and Moxie Cupcake on Main Street.
SUNY New Paltz has been consistently ranked as one of the best public colleges in the country, appearing on "Best Value" lists from Princeton Review and US News and World Report. It's also earned a spot on the High Times' Top 10 counterculture colleges.
Family run farms have been a backbone of the town since its founding. One of the most popular is Walkill View Farm, run by the Ferrante family, which is well known for its pumpkin picking in the fall.
click to enlarge
The Mohonk Preserve and Minnewaska State Park are technically separate parks, but these contiguous properties protect nearly 30,000 acres of land.
According to the 2012 census, New Paltz has a total population of 14,003. The SUNY New Paltz website lists the total number of graduate and undergraduate students as 7,658.