Beautiful Yetta: The Yiddish Chicken
Daniel & Jill Pinkwater
Feiwel and Friends, 2010, $16.99
Oy caramba! When brave, clever Yetta (organically raised by upstate softie Farmer Flegleman) flies the coop outside a Brooklyn butcher shop, she's overwhelmed. But after rescuing a refugee parrot, she becomes mamaleh/mamacita of a new urban flock. The Pinkwaters' triligual ode to avian solidarity is a read-aloud hoot, with Yiddish and Spanish transliterations and irresistible art. Reading 6/5 at 2pm, Oblong Books, Rhinebeck.

Buy My Hats!
Dave Horowitz
Putnam Juvenile, 2010, $16.99
Rosendale's Dave Horowitz (Duck, Duck, Moose; Five Little Gefiltes) returns with another delightfully illustrated caper, peopled by hard-nosed salespigs, mud-latte-drinking frogs, and three blind mice on a skateboard. Following the marketing mishaps of a bear and fish haberdashery duo, this lively story offers a little bit about business and a whole lot about pleasure.
Face to Face With Penguins
Yma Momatiuk and John Eastcott
National Geographic Society, 2009, $16.95
Based in Hurley but boasting a portfolio from around the world, this award-winning nature photography team presents scintillating images of penguins in their native habitat, Antarctica's Summer Island. Coupled with a narrative loaded with facts and insights into these hardy and captivating birds, the stunning photography truly brings the reader right into the penguins' icy backyard.

Firehouse!
Mark Teague
Scholastic, 2010, $16.99
Greene County writer-illustrator Teague's old-fashioned firehouse, staffed by co-ed Dalmatians, a bow-tied Boston terrier, and playful mice, is a place any child would enjoy hanging out. Making cinematic use of high and low angles, Teague's paintings fill every frame with bold color and careening action. Buster Keaton would love it.

Girls Are Not Chicks Coloring Book
Jacinta Bunnell & Julie Novak
PM Press, 2009, $10
This progressive coloring book is as much a must-have for 40-year-old children as for toddlers. Following up on 2004's Girls Will Be Boys Will Be Girls..., Bunnell teams with musician/provocateur Novak for a feminist (humanist!) joyride that presents coloring fun and messages that reverberate  after the finished work hits the fridge. Grab your crayons, and remember: "Don't get trapped inside someone else's pumpkin."

Henry in Love
Written & illustrated by Peter McCarty
Balzer & Bray, 2009, $16.99
Chloe, the loveliest girl in Henry's class, can turn cartwheels and run very fast, but does she really like Henry, or just want his blueberry muffin? Caldecott Honor winner and Dutchess County resident McCarty adds to his fabulous picture book oeuvre with this timeless tale of a first crush.
Ladybug Girl at the Beach
Jacky Davis & David Soman
Penguin Young Readers, 2010, $16.99
In the third installment of the Rosendale husband-wife team's New York Times best-selling series, Lulu's enthusiasm for the beach falters when she comes face to face with waves ... big, loud, and scary. There's still sun, sand, and ice cream to enjoy, but Lulu yearns to cool off. Luckily, her alter ego Ladybug Girl isn't afraid of anything!

Over the Rainbow
Judy Collins, music & lyrics by Harold Arlen & E.Y. Harburg,
paintings by Eric Puybaret
Imagine/Peter Yarrow Books, 2010, $17.95
Puybaret's deep teal skies and stylized graphics animate the little-known intro and instantly recognizable lyrics of Dorothy's yearning ballad. Folk legend Judy Collins (who was named after Garland; who knew?) brings her liquid-silver soprano to the included three-song CD. Collins will appear 6/15 at 5pm, Oblong Books, Rhinebeck.

Nothing But a Dog
Bobbi Katz, illustrated by Jane Manning
Dutton Juvenile, 2010, $16.99
"A thing, no matter how special, is still a thing. A dog is something else," writes noted children's poet and anthologist Katz, a Kingston resident. This charmingly illustrated reissue of a book first published in 1971 will speak straight to the heart of every child who has ever pined for her very own pet.
The Little Piano Girl
Ann Ingalls and Maryann MacDonald, illustrated by Giselle Potter
Houghton Mifflin, 2010, $16
When Mary's family moved to Pittsburgh, she didn't have shoes to wear to school or a single friend to play with, but when she sat at a piano, people crowded close to listen. Based on the true story of legendary jazz pianist Mary Lou Williams, this affirmative book features engaging illustrations by Kingston artist Potter.


Uncle Andy's Cats
Written and illustrated by James Warhola
G. P. Putnam's Sons, 2009, $16.99
Uncle Andy's two Siamese cats had babies and more babies, and soon his house was crawling with cats, all named Sam. Based on the life of the author's uncle Andy Warhol, whose true-to-form solution for slimming his feline population was to give them 15 minutes of fame.
Young Zeus
Written and illustrated by G. Brian Karas
Scholastic, 2010, $17.99
You think you've got problems? Zeus's mom gave him to a goat, and his paranoid father swallowed his brothers and sisters. Time to take over the family business! With abundant humor and child-friendly artwork (including some supercool monsters), the Rhinebeck author of The Village Garage moves effortlessly from hometown heroes to Olympian gods.
click to enlarge
click to enlarge

click to enlarge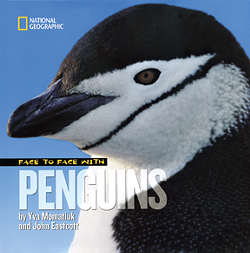 click to enlarge
click to enlarge
click to enlarge
click to enlarge
click to enlarge
click to enlarge
click to enlarge
click to enlarge
click to enlarge