The 11th annual Woodstock Film Festival closed this weekend after five days of exceptional independent film, panels, concerts, events, and parties. The Gala Maverick Awards Ceremony was held on Saturday, October 2 at the historic Backstage Studio Productions Arts & Entertainment Complex in Kingston. Academy-award nominated writer/director and Woodstock resident Ron Nyswaner emceed the ceremony and presenters included Jonathan Gray, Leon Gast, Heidi Ewing, Petra Epperlein, John Anderson, Amos Poe, Ryan Pierce Williams, Bill Plympton, Sabine Hoffman, Craig McKay, Molly Thompson, Ron Mann, Amy Dotson, Barbara Kopple, and others.

Stranger Things
, directed by Eleanor Burke and Ron Eyal, won the Lee Marvin Best Feature Narrative Award.
Marwencol
, directed by Jeff Malmberg, won the Maverick award for Best Feature Documentary.
Music Scene
, directed by Anthony Sheppard, won the Maverick Award for Best Animation.
The Diane Segilman Award for Best Short Documentary went to Roscoe Holcomb: From Daisy Kentucky, directed by John Cohen. Hirosaki Players, directed by Jeff Sausa, won the Diane Segilman Award for Best Short Narrative. God of Love, directed by Luke Matheny, won the Diane Seligman Award for Best Student Short Film.
Wolfgang Held presented the Haskell Wexler Award for Best Cinematography to Inuk, directed by Mike Magidson; and cinematography by Xavier Liberman. The James Lyons Awards for Best Editing were presented by renowned editors Sabine Hoffman and Craig McKay. Best Editing of a Feature Narrative went to Norman, directed by Jonathan Segal; edited by Robert Hoffman. One Lucky Elephant, directed by Lisa Leeman; edited by Kate Amend and Tchavdar Gerogiev, won Best Editing of a Feature Documentary.
Writer/director Bruce Beresford (Breaker Morant, Tender Mercies, Driving Miss Daisy, Mao's Last Dancer, Peace, Love & Misunderstanding) won the Honorary Maverick Award presented by Tess Harper.
Marketing and distribution guru Bob Berney (There Will Be Blood, Monster, La Vie En Rose, The Passion of the Christ, Whale Rider, My Big Fat Greek Wedding, Pan's Labyrinth, Mongol) won the Honorary Trailblazer Award, presented by industry legend Bingham Ray with an additional taped tribute by director Guillermo del Toro.
Keanu Reeves (
The Matrix, The Private Lives Of Pippa Lee, Walk In The Clouds, Something's Gotta Give
) won the Honorary Excellence in Acting Award, presented by actor/director Vera Farmiga.
click to enlarge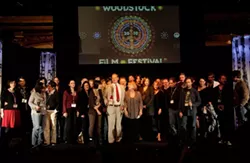 click to enlarge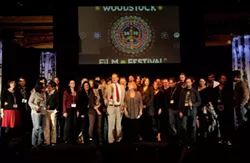 click to enlarge
click to enlarge