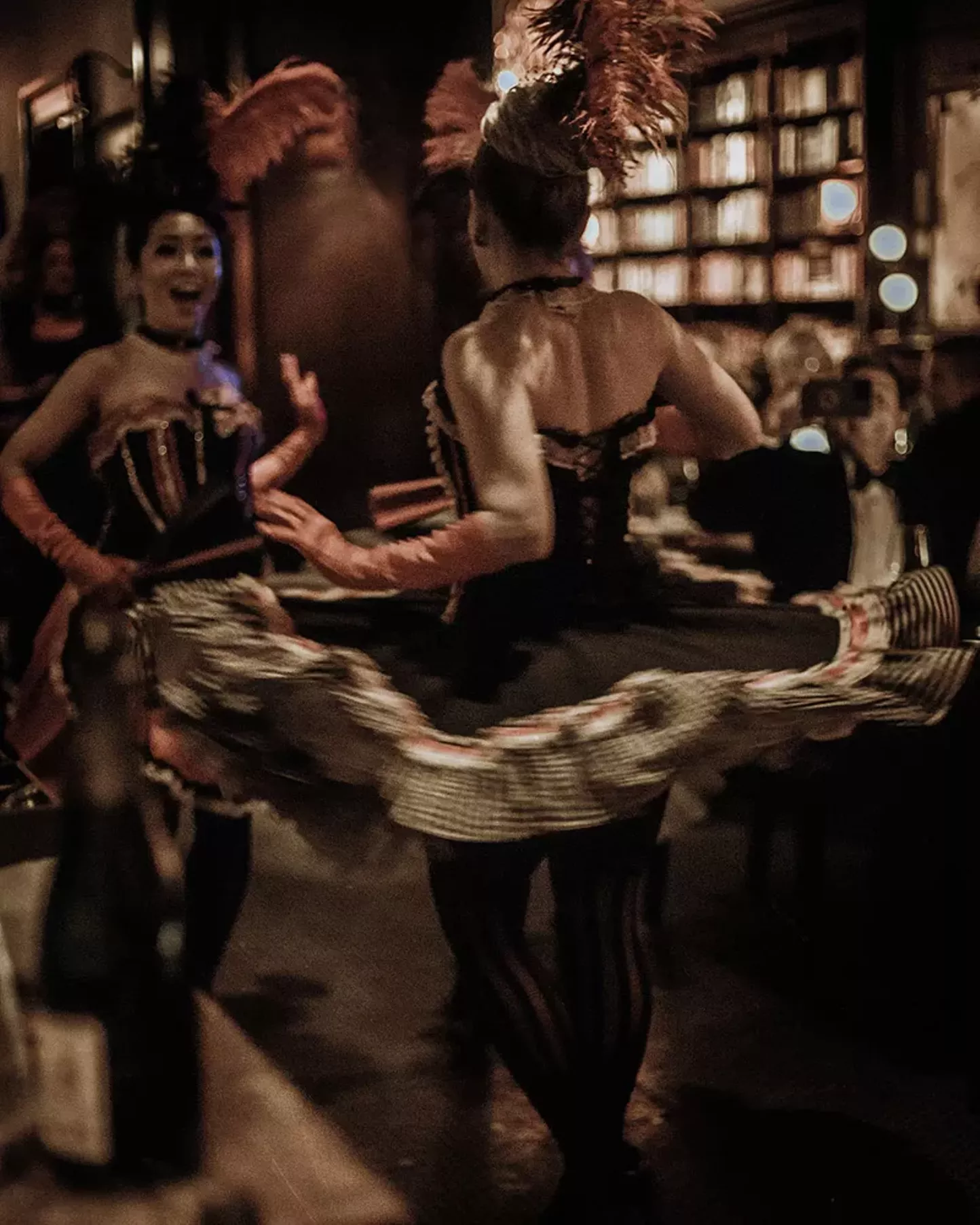 Courtesy of The Maker
On December 31, 2019, the Maker Hotel in Hudson, renowned as a design destination, threw a lavish New Year's Eve soiree with a live cabaret show by Shanghai Mermaid. Amid the Gatsby-esque luxury of the hotel, guests dressed to the nines to enjoy the first, and for many, the last big celebration of 2020, clinking champagne flutes and enjoying the live entertainment in the company of friends old and new.
Anna Sirota
Before the pandemic hit the Hudson Valley, people did unhealthy things like sitting indoors together breathing the same air. Pictured above, The Perfect Blend Yarn and Tea Shop in Saugerties.
Ross Corsair
As businesses were forced to close, many posted signs in their windows. Some explained why they had to close. Some expressed gratitude toward customers and a promise to see them soon. Some, like the sign in the window of the Beacon business pictured above, expressed skepticism with what the government was telling us.
During the lockdown, TSL (Time & Space Limited) in Hudson turned their art space into a kitchen, producing meals for those in need. Jeff Marks, Tyler Robins, and Mari Avratin cooked meals in April that were distributed by the Columbia County Sanctuary Movement.
Ross Corsair
Volunteers and the kitchen staff of Beacon High School handed out 3,000 meals a week in April. Note that none of the people pictured are wearing masks
Ross Corsair
Darrin M. Santos, 50, of Cold Spring, died on April 4 at NewYork-Presbyterian Hudson Valley Hospital of complications of the coronavirus. Santos was a transportation supervisor for NewYork-Presbyterian Hospital, based in White Plains. After the coronavirus began to spread in New York, he transported doctors to New York City hospitals and made deliveries to other hospitals. This picture was taken on April 9 as the hearse made its way to Cold Spring Cemetery. Mourners, who were not allowed into the cemetery, parked along the road.
Ross Corsair
As cases spiked around the region, Dutchess County opened an outdoor testing facility at Dutchess Stadium in Fishkill.
Todd Shapera
Farmers' markets were one of the first public gatherings to come back online, albeit with new guidelines like creating distance between stands, increasing sanitary measures, and encouraging pre-orders. Pictured above, the Pleasantville farmers' market in early April.
Ross Corsair
The trails of the Hudson Valley were jammed with hikers from the Metro area seeking socially distanced outdoor activity during the lockdown. Many trails were subsequently closed because of overcrowding. Pictured above, the Breakneck Ridge trailhead outside Cold Spring in April before it was closed down.
Roger Hannigan Gilson
Overcrowding wasn't the only issue on local trails this year. Trail maintenance groups across the region reported record-breaking amounts of trash left behind this year. Pictured above, bags of trash left behind by visitors to the Roebling Aqueduct in High Falls.
Alon Koppel
Gyms were closed, so fitness enthusiasts took the outdoors. Alon Koppel's yardstick made a humorous addition to the workouts of Brandon and J. D., lifting weights at the track in Catskill.
Christine Ashburn
Families have had to improvise when it came to entertainment during COVID. Christine Ashburn captured one such family in the midst of pandemic shenanigans in Beacon.
Hillary Harvey
Hillary Harvey shot this portrait of her children on the Ashokan Rail Trail in April.
Ross Corsair
Once Governor Cuomo mandated the closure of nonessential businesses, downtowns across the Hudson Valley were eerily deserted. Pictured above, Beacon's Main Street in mid-April.
On May 15, drive-ins hit play, reopening for the first time since New York went on pause in March. Opening weekend, cabin-fevered New York residents turned out in droves. "We could've easily filled up twice over," says John Stefanopoulos, co-owner of Four Brothers Drive-In. The Amenia destination, which is limiting capacity for their single screen to 70 percent, or about 80 to 90 cars, has sold out every day they've been open. "We had thousands of people calling and emailing every day."
Chris Rahm
More than 1,500 people gathered for a Black Lives Matter march on June 3 at Academy Green Park in Kingston.
Though in-person graduations were cancelled, schools and students found creative ways to celebrate the occasion. SUNY New Paltz grad Skylar Glioto posing in front of Old Main Building on the New Paltz campus on May 3.
Jennifer May
Lockdown was a time for home projects, like baking and knitting. Woodstock-based food photographer Jennifer May and family got deep into brewing cider.
Dave Boccio
On July 18, what was supposed to be a routine Black Lives Matter march in Pleasant Valley turned violent when counterprotesters shouted 'blue lives matter,' racial slurs, and assaulted multiple marchers. The march had been coordinated with local law enforcement, which did little to intervene. Pictured above, march organizer Royal Parker.
Brian K. Mahoney
As the presidential race heated up this fall, political signs proliferated throughout the region. This makeshift sign was graffitied on a barn near the Bluestone Wild Forest trailhead outside Woodstock.
Alon Koppel
During the pandemic, small art interventions popped up across the region. This "Hope" sign appeared on the side of the building housing the offices of Dimensions North LTD, a construction firm in Catskill.
Frances Cathryn
One outgrowth of the Black Lives Matter movement was a call for commemorative justice—a movement that seeks to conscientiously correct a biased historical record that suppresses the stories of Black, Indigenous, and people of color. Pictured above, a statue of Governor George Clinton in Academy Green Park in Kingston.
It was a year of many, many, MANY Zoom calls. With co-workers, with family, with friends. It was also a rare opportunity to explore new avenues of connection. In July, Chronogram and Kingston Design Connection co-hosted a panel discussion with women in the design industry on their experiences in a male-dominated space.
As the pandemic raged, community members figured out ways to pitch in to help, from cooking and delivering food to sewing masks. Pictured above: Nurses Rebecca Blackwell-Hafner, Daniel Frisina, and Julie Forgit at Vassar Brothers Medical Center wearing masks made by Karina Cousineau (of Karina Dressers) and volunteer sewers.
Lee Kelly
Like many of us this year, Jack Kelly found himself giving a shout of existential something. Jack's mom, Lee Kelly, shot this photograph in September at Tivoli Memorial Recreation Park. "Jack bolted from our car to explore when we arrived, since playground visits have been decidedly infrequent of late," she says. "I nabbed pics of his electricity-spiked-polyethylene-slide hair and a bit of enraptured swinging before spotting him using the windows of an elevated crawling tube like a loudspeaker."
Jennifer May
While many folks fled from cities to less densely populated areas like the Hudson Valley. Some Hudson Valley residents also left the region for good. Jennifer May, who moved to Woodstock in 1998, moved back to her native Canada with her extended family in October.
Roger Hannigan Gilson
Voters across New York State turned out in droves to vote prior to election day on November 3. Pictured above, an early voting site in Ulster County in late October.
Angelina Dreem
The pandemic required businesses to think differently about how they operated. This was especially true for restaurants, which were under strict state guidelines. In Hudson, a number of restaurants, including Lil Deb's Oasis, operated an outdoor pop-up behind Rivertown Lodge.
Courtesy of the artist and Jack Shainman Gallery, New York.
Truth Be Told, an installation by Nick Cave and Bob Faust at the School in Kinderhook, has generated quite a bit of controversy since it was installed on the facade of Jack Shainman's gallery at the end of October. Town officials contend that the 160-foot-long text piece, which references the Black Lives Matter movement, is technically a sign, and therefore in violation of municipal code. Shainman claims Truth Be Told is a work of art and its display is within the special use permit he obtained from the town when he opened the School in 2014. The town's zoning board of appeals is set to rule on the matter on December 28.
Nils Schlebusch
On December 17, Governor Andrew Cuomo declared a state of emergency in 17 New York counties. The state was blanketed in between one and three feet of snow in the first real storm, causing snow day frolicking, road closures, and the normal winter mayhem. This drone photo by Nils Schlebusch was taken at Windham Mountain, as the crew prepped the slopes for a deluge of skiers and snowboarders after receiving 24+ inches of fresh powder.