click to enlarge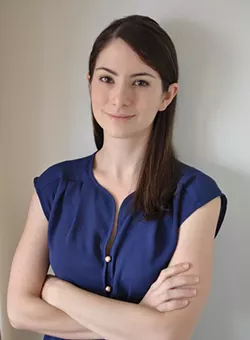 Emily Matchar's Homeward Bound: Why Women are Embracing the New Domesticity (Simon and Shuster, May 2013) is a voice of reason, calling out over the heart-tugging whirr of egg beaters and the clicking of knitting needles. The do-it-yourself (DIY) craze, which is changing the way women relate to traditionally female work, is a complex cultural moment: part social activism, part consumer lust, part girl-power treatise, part throwback to "simpler" times. Matchar reports on and writes about the canners and the homeschoolers and the chicken-keepers with good humor, a light touch, clarity, and just good sense. It was a treat talking to her about the ways we opt out, and why.
BS: You write so well about the opt-outers. But did you also meet people who have opted out of opting out?
EM: Yes, many people. I met people who had very DIY lifestyles, and then, for one reason or another, needed to opt back in because they had gotten divorced, and without a partner homeschooling wasn't an option anymore. I talked to people who just got burned out on the difficulty of it all. I talked to lots of people who had to change lifestyles and realized it's okay to take advantage of living in a communal society—communal child care, communal schooling—and that they don't have to do everything themselves.
BS: So what do you think is going on with this growing need to put our unique stamp on everything? As if we want to be sure everything is imprinted by us.
EM: It's a natural impulse for people to want to control their environment, and their lives and parenting, and it makes sense to want to control as much as we can. But we just need to look longer term and ask, "Can you really control these things?" And, "What is the effect of trying to control these things on the personal level?"
BS: I understand wanting to control our environments, wanting our children safe, etc., but within this DIY movement, there seems to be a kind of deep consumer longing, wanting everything to kind of reek of ourselves. I get it, but it creeps me out a bit, too. The lifestyle blogs showcasing the crafty-homey craving seem to be contributing to an unquenchable thirst to feel at home, cosmically, on earth.
EM: That's funny, because I think, ironically, when we look at the simple- living lifestyle blogs about sustainable living in a less materialistic way—which is great—it's actually antimaterialism in a very materialistic way. When we say the solution is to make it yourself or buy it off Etsy, you are still buying something. Which is fine! I am not making a critique of materialism, personally, but I think there's something ironic about trying to have this revolution by changing our consumer habits, which arise from a place of materialism.
BS: Maybe if we really want to learn to live a simple life, we should consider letting go of our desires and preferences, even just a little?
EM: Right.
BS: You talk in the book about the new "chick lit," and how the female fantasy used to be dominated by the "Sex in the City" idea, running around in heels, feeling "free," and now women are dreaming of moving to a mythic farm to churn butter and spin yarn, and feel committed. Do you think that one of those fantasies is more repressive or liberating than the other?
EM: I don't think either of them is inherently repressive, but I think that any model or standard about how women should be is going to be repressive in a certain way. Any time we have a standard of a perfect woman, the career woman or the yummy mummy raising their kids on all-organic vegetables, we need to interrogate that. What does that really look like? Not to say that either of those things is wrong, but what does it really look like?
click to enlarge
BS: Exactly. Good question. What got you interested in this topic?
EM: I've always found myself personally compelled by lifestyle blogs, and I've always liked to cook, so I moved in the direction of writing a lot of stories about people who were doing the DIY thing, and that's when I got curious about what attachment parenting and jam-canning and homeschooling and selling scarves on Etsy have in common. And I discovered that they all have to do with an increasing desire to live in a slower, more sustainable way, and an ethos of DIY rather than relying on larger systems.
BS: You write in the book that lifestyle blogs are a fantasy presented as reality. As women, we are so vulnerable to comparing ourselves and feeling like we come up short. So how should women approach these blogs?
EM: The blog revolution has happened so quickly. Ten years ago, the blog was something that you wrote so your family could see your baby's pictures, and very rapidly blogs have become a much bigger business. So when you're looking at a "lifestyle" blog, you're getting a really unprecedented look into strangers' home lives, which, up until this happened, the only people whose homes we ever saw the inside of were friends and families and we saw their reality. Either their kitchen was really clean and the living room was dirty, or there was a beautiful garden, but the kids were throwing a temper tantrum in the bedroom. Now we have these blogs to look at and they show a perfectly edited version of domestic life. And we know that Martha Stewart is a professional, and we know that she has a team of photographers and designers working for her. But I think we're less aware that all these blogs are also big business and people are presenting a very tightly edited version of their lives. So we need to look at blogs in a more critical way, like looking at a magazine.
BS: Because of the proliferation of these blogs, it can look like every guy is pickling stuff and every woman is keeping a recipe journal. How big of a "thing" is this?
EM: If you can look at, say, canning, the sales of canning supplies have gone up, and the book sales have doubled in the past two years. In 2006, the magazine Backyard Chicken launched with a circulation of 13,000. Now it has something like 165,000 readers. Compared to the vast majority of Americans, the numbers are small. But I think the people who aren't raising their own chickens are still thinking about where their food is coming from. The number of homeschoolers has gone from 150,000 in the late 90s to 2.5 million if you count everyone, so that's only a fraction of kids, but it is certainly influencing the way people think about their kids. Any one part of this movement is going to include a minority of Americans, but the general ethos is influencing a lot of Americans.
BS: You live in Hong Kong now. What's going on there with DIY?
EM: Well, if you look at cooking, Americans actually equate home cooking with love and, whether or not we're conscious of it, with good motherhood. In Hong Kong, most people have very, very small kitchens, and there's a lot of affordable, public, outdoor food courts, called Cooked Food Centers, where you can get cheap dumplings and greens and soups, and people cook a lot less. And when people eat together as families, they are often eating outside, communally. People don't talk about how home cooking and at-home family dinners are the end-all of family togetherness because that's just not the way the culture works there. And it's not like they have less happy or intact families. People work long hours and are a lot closer, I think, to the lives of manual labor that our great-grandparents lived, so they may not have the romantic notions that we have, and they are very happy to buy things.
BS: Where does all this leave us as American women?
EM: I think one of the reasons women are reclaiming all this domestic life is because we have come so far, and we're not expected to just be home in the kitchen. So I think a lot of women, especially younger women, are feeling very free to reclaim this stuff, and not feel it as oppressive, and that's great. What I hope to see as we move forward is a less gendered embrace of both domesticity and workplace ambitions. A world where men are just as free as women to cook, raise children, or sew curtains, and women continue their slow rise to equality in every sphere.