click to enlarge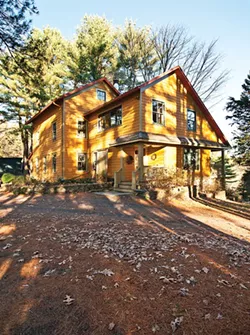 Architectural designer Jerry Vis and wife Bettylou, a retired early childhood educator, carefully considered half a dozen estates in Ulster County, finally settling on a 1,100-square-foot, somewhat utilitarian farmhouse on Binnewater Road in Rosendale.
Built in 1905, and situated on six scenic acres with a winding shared driveway as the approach, they paid about $350,000 in 2007.
They've since put in about another $300,000 to gut, renovate, and expand the main house, add an art studio, carpentry workshop, and shed. There's also a vast permaculture garden and fruit forest.
It's now a superlative compound for the close-knit family, which includes three adult children and also Jerry's elderly father, who lives downstairs. "We made parts of the house quite a bit more elegant than it wanted to be originally, I suppose, with the large circular window in the dining room, but we adhered to the original lines, hence the cohesive feel," Vis adds.
Arts and Crafts, with New Built-Ins
"I'd describe this house as a typical Rosendale farmhouse for the period, slightly Arts and Crafts in style, probably a tenant house for the Hahn Farm," says Vis. "It has just the right amount of seclusion."
The house has wood siding and a large porch. There are three bedrooms upstairs. The two full baths are simple. Throughout the house, Vis has added special carpentry touches and built-ins, enhancing the Arts and Crafts flavor.
The once-simple house has worked well as a canvas for Vis's aggressive overhaul. "When we bought this house, it didn't have adequate insulation, so we added that, plus radiant heat," says Vis. "We've expanded to about 2,400 square feet in total, but you'd never know just from walking around inside which parts are new," he says.
"My husband amazes me with all the things he can do, all the details. I'm particularly fond of our bedroom, for which he made all the furniture. It's a serene adult sitting room, with a treetop view," says Bettylou. "Also my kitchen. It has a built-in compost receptacle. We call the pantry our 'cat apartment.' My spices stay organized. There's a place for everything."
Hold the White Paint
"We'd been living in Goshen, but I'd wanted to live Ulster County since college. We also spend every summer on Monhegan, an island in Maine; we like the rural life and appreciate natural beauty in our surroundings," says Vis, who is also an accomplished painter.
Accessible only by ferry, Monhegan is known as an arts colony; the Vis family has gone there every summer since 1979. "On Monhegan, we rent. If I owned a home there, I'd constantly tinker with it, the way I do here," he says. "I grew up in Paterson, New Jersey, I'm not one of those people who grew up vacationing in Maine, but a friend introduced me to the island years ago and now it's just part of our identity." It's also proved a good place to meet prospective clients, says Vis, who has worked on homes from Virginia to Monhegan.
"I have the soul of a painter," says Vis, described as a "master of color" by Upstream Gallery in Dobbs Ferry, which exhibited a show of his recent work in November. "That's why you don't see white on the walls of my house. I think it drains everything around it. Lots of white often doesn't look right in a period house, either. We've used a pale butternut on the walls of our living room. It creates a rich warm tone," says Vis.