click to enlarge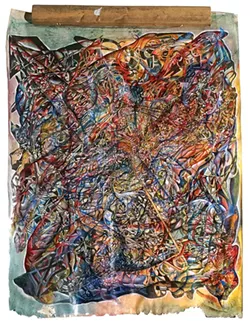 Barcelona reveres their visionary architects; New York City evicts theirs. Arthur Wood is an artist, inventor, and self-taught architect, best known for Broken Angel, an innovative house-as-sculpture in Brooklyn. He and his wife Cynthia bought the building at city auction in 1979 for $2,000 cash. Originally four stories and completely vandalized, the house was ultimately 10 stories high, the upper reaches a geometric tangle resembling a 1960s A-frame Episcopal church built by a penniless scavenger. Inside, Broken Angel was a single room, with stained-glass windows fashioned from broken soda bottles. It was featured in the film Dave Chappelle's Block Party. After a fire in 2006, Arthur and Cynthia were ordered to vacate the premises by the New York City Department of Buildings. Cynthia has since died; Arthur moved to Beacon early last year.
Bau Gallery in Beacon is hosting Arthur Wood's first retrospective, including paintings, drawings, architectural sketches, inventions, and sculptures. The show opens on February 8.
Born in Saratoga Springs in 1931, Wood arrived in New York City on a steam train at the age of 20. After serving in the military during the Korean War, he attended college for 13 years on the GI Bill, studying at Pratt Institute, the American Institute, Columbia Teachers College, and Yuba College in California. Wood is a Renaissance man who paints in a Renaissance style. Some of his paintings could pass for obscure Botticellis if they were hung at the Frick. He has a poet's love of the female form. One must remind oneself that his subjects are more likely to be 1960s flower children than 16th-century princesses.
In his long career, Wood has explored numerous approaches to art. Some of his works employ a shifting, phantasmagoric technique, with images coming in and out of focus like eerie shapes inside a bonfire. A series of portraits of Frida Kahlo began as silkscreens, and could almost be street art.
click to enlarge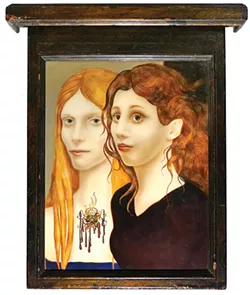 For Wood, painting presents interesting technical challenges. His name is Wood and he paints on wood—on panels, rather than canvases. He builds his own frames and creates his own oil paint, which he claims will never crack or peel. (And, indeed, Wood showed me a 50-year-old painting that looked brand-new.) Once a painting is finished, the artist applies a custom-made varnish.
Still a working artist at 83, Wood has more energy than most teenagers. He is a rare combination of mad scientist, streetwise New Yorker, and utopian visionary. In his Beacon studio, Wood showed me his model for a 1 3/4 mile-high building—large enough to contain a city. Elevators won't work at such a height, Wood scoffed; that's why he'll build train tracks winding around the circumference of the cylindrical building, like the thread of a screw. The trains will use maglev technology, powered by magnetism. Also, the building will be hollow—inside is a 30-foot tube through which waste will freefall into a sewer. (This idea, which Wood pioneered, is already used in some skyscrapers, he explained.) He has also invented cameras, and a single-lens telescope.
Looking at an untitled painting from the 1960s with swirling colors and subliminal imagery, I asked, "Were you taking drugs?" "I never took drugs," Wood replied dismissively. "Art is a drug!"
The Beacon Room, a smaller venue in the gallery, will feature Laura Gurton, whose bubbly abstract works were shown at the Venice Biannale in 2013.
The Arthur Wood retrospective will appear at the bau Gallery in Beacon from February 7 to March 2. (845) 440-7584; baugallery.com.