click to enlarge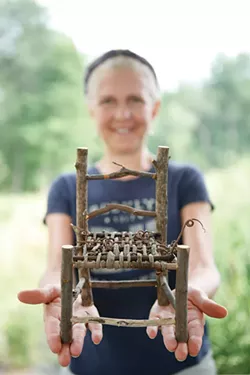 The great writers of Greek and Roman epics—Homer, Ovid, Virgil—called upon the muses for guidance and knowledge in their creative pursuits. This summer, the Omega Institute will invoke those same goddesses at the start of Arts Week. From July 7 through 12, the Rhinebeck campus will be transformed into a mecca of artistic diversity and education where budding and accomplished artists can spend their days exploring both personal and communal artistic expression.
In the spirit of this year's theme—Metamorphosis—Omega has reimagined and reworked their popular weeklong program. "We thought that Metamorphosis was appropriate since Arts Week is growing and transforming into a larger event," says Chrissa Pullicino, Omega's public relations manager. Last October Omega enlisted the help of a local advisory council comprised of Jeanne Fleming of Sinterklaas, Lila Pague of Winter Sun Summer Moon, and Stephanie Monseu of Bindlestiff Family Cirkus, as well as musician John Medeski. The group helped choose the faculty, theme, and format, and planned the opening and closing ceremonies—which Omega plans to adopt for all future Arts Weeks. Omega will also offer tiered pricing based on financial need for the first time, which they hope will increase the program's accessibility to the Hudson Valley community.
Unlike previous years, when participants would spend the whole day in their chosen workshop, the event's new structure promises more variety and community-based education. Mornings are devoted to one of the 11 genre-specific workshops—like nature photography, stand-up comedy, and the flying trapeze—while afternoons are spent completing collaborative arts projects and evenings offer events like a DJ dance party, swing dancing, and a circus night. "We're a center for lifelong learning, inspiring living, and building community," Pullicino says."We are giving participants the opportunity to connect with others and to learn from more of the teachers." Arts Week instructors are a mix of veterans—like Peter Gold, who has taught flying trapeze at Omega for 20 years—and first-timers, like Jim Mendrino of New York City's Gotham Comedy Club and Brad Shur, New England's Puppet Showplace Theatre's artist in residence. "There are some people who are like family, who have been here for many incarnations of the program," Pullicino says.
This year, Omega has partnered with the Berkshire Farm Center, a child welfare agency that fosters children from infants to 18 years old. Artwork made during collaborative afternoon sessions will be donated to the children, so they can beautify their living spaces and classrooms, with some work being set aside for gift bags for larger occasions like birthdays and graduations. Attendees choose between different daily projects, including glass mobiles, wind chimes, CDs, film shorts, story books, greeting cards, sculpture, and more. Omega's Curriculum Developer Veronica Domingo says she's also working to bring the children to campus for circus night, featuring trapeze artist Peter Gold and the Bindlestiff Family Cirkus. "A lot of these children go through horrific things and laughter is a good healing tool," Domingo says.
Serving as a bookend to the opening ceremony, Arts Week ends with the artists sharing their work and performances with one another—some twisting and turning high above the crowd while others display their glass mosaics and paintings. The closing ceremony serves as the ultimate celebration of individual and communal achievement. "It's more than just the workshops—more than just what they're signing up for in their class time," Domingo says. "It's the whole event period."
Arts Week takes place from July 7 to 12 at the Omega Institute in Rhinebeck. Tuition: $425/$350/$275, plus tiered pricing options.