Wrap your head around this: It's been 40 years since the Modern Lovers' eponymous debut was recorded. And that geeky kid who wrote and sang its singularly wide-eyed, teen angst-injected songs? Well, it seems last month he turned 61. The kid in question is, of course, none other than New England's favorite son, the inimitable Jonathan Richman, who will play at Club Helsinki on June 9.
click to enlarge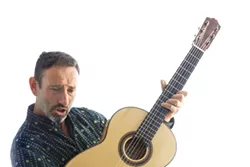 Thanks to snotty early Modern Lovers garage blasters ("She Cracked," "Walk Up the Street"), the childlike, fairy-tale wonder of their later tunes ("Hey There Little Insect"), and much of his solo work ("Fender Stratocaster," a cheerful ode to a favorite guitar), Richman has been typecast as the Peter Pan of rock 'n' roll, an outsider artist who's refused to grow up and write "mature" songs. Yet even as a twenty something Modern Lover he crafted tunes that embraced the concepts of tradition and adult life ("Old World," "Dignified and Old"), and much of the music on the subsequent albums he's made under his own name, such as 2004's Not So Much to Be Loved as to Love (Sanctuary Records) and his most recent, 2010's O Moon, Queen of Night on Earth (Vapor Records), is marked with a poetic sophistication that many of his "grown up" singer-songwriter peers would kill for.
"To me rock 'n' roll was about stuff that was natural, it wasn't about drugs and space," says Richman in the 1995 PBS series "The History of Rock 'n' Roll." "It was about sex, and boyfriends and girlfriends and stuff."
It's been said that although the Velvet Underground sold few records in their day, nearly everyone who did buy one started a band. Richman is perhaps the foremost illustration of this maxim. Born in Boston in 1951, he started playing guitar and performing at 15 and discovered the Velvets soon after. In 1969 his fandom landed him in the VU home of New York, where he tried to make it as solo artist. After months of rejection he beat it back to Boston and formed the Modern Lovers with future Cars drummer David Robinson and Real Kids guitarist John Felice (the latter left not long after the group's live debut); second bassist Ernie Brooks and future Talking Heads keyboardist Jerry Harrison joined later. The band cut some 1972 demos for Warner Brothers and A&M (the former produced by John Cale) but broke up the following year. Released in 1976, The Modern Lovers (Beserkley Records) was a major fuse lighter for the early New York and London punk scenes— the Sex Pistols covered its driving, two-chord "Road Runner"—leading Richman to revive the band name for five albums (1979's Back in Your Life, on UK label Wooded Hill, is a classic).
In the early '80s the singer fully reconnected with his self-contained roots, and has since released nearly 20 albums exploring doo-wop, Latin, and country and often featuring French and Spanish lyrics. A role in the 1998 comedy There's Something About Mary widened his audience, but Richman remains a consistent cult favorite. Frequently backed by long-time drummer Tommy Larkins, the beloved acoustic troubadour continues to charm crowds worldwide.
Jonathan Richman will perform at Club Helsinki in Hudson on June 9 at 9pm.
Tickets are $20 and $25. (518) 828-4000; Helsinkihudson.com.
Jonathan Richman will perform at Club Helsinki on June 9.