My coworker hung up the phone. "Kurt Cobain is dead, man." His girlfriend had called with the news.
We were at Kinko's copy shop, the branch at 12th and University, right down near NYU. Over the course of my nearly 10 years in New York I'd worked at pretty much every damn Kinko's in the city. Turnover was high, so between my band's tours I could always find an opening at one of the stores. Plus a job there meant all the free press kits and fliers I could sneak out the door, which was many. But it was an insane place to work. Especially if you drank as much coffee as I did back then. Always a swirling shit storm of buzzing machinery and stressed-out employees, and an endless assault of irate, besuited, steam-spewing customers who needed 80 million copies of some thousand-page, spiral-bound sales report done in 15 minutes. This kind of chaos spiraled around you the instant you punched in, every day. On April 5, 1994, however, with that phone call, it all suddenly turned to watery, slow-moving mush. The screams and snarls of the power-lunchers at the counter and the clackity-clack of the electric staplers faded into the far-off distance as I stood dazed and frozen at the report that Kurt Cobain was no more.
I met Kurt a couple of times, but I can't say I knew him. I get the feeling that not a lot of people ever did, really. Even those he was supposedly closest to. Which is, of course, the great irony, as he's now one of the most iconic figures in music history, with a voice and visage that's recognized by people of all walks of life, everywhere from Chicago to the Congo. (When I lived in Saugerties, New York, in the mid 2000s, there was a house at the end of my block whose ground-floor window shade had been decorated with a giant line drawing of Kurt's face. Driving to work and meeting his lonely eyes at the stop sign every day always saddened and unsettled me to no end.) But that's fame for you, I guess; many, many people knowing your work and knowing you exist, and thinking that that somehow means they know you, too.
Kurt's reluctance to accept his fame is well documented, and indeed that aspect of his personality is now part of his mythos as some kind of perceived rock 'n' roll martyr. There are those who decry the inner struggles of artists when it comes to stuff like this, saying things along the lines of, "Well, why the heck did you become a singer in a rock 'n' roll band if you didn't want to be famous?" Kurt Cobain became famous because he was a great singer and performer and an utterly brilliant songwriter, one who, fortunately for those of us who have been moved by his music, was recognized as such by the people at Sub-Pop Records and a handful of other sage folks early on and didn't fall through the cracks, like so many great artists have. From what I know of Kurt's childhood and early family life, he experienced the kind of fucked-up shambles that would leave most kids feeling alienated and unwanted. So I think he became a musician for the same reasons that many people become musicians: to express what they've been carrying around inside, to do something that says, "Hey, I'm here. I have something to say. I matter, just like you matter." I think he felt unloved, and very much wanted to be loved—but simply for who he was, not as some kind of second coming of John Lennon or something. And, not to judge, but unfortunately I think it was this confused, underlying desire for love that led him to confuse the glitter-grabbing attentions of certain unbalanced, media-mongering parasites for the genuine article. I'm no psychoanalyst, but at least that's how it looks to me. So in my view fame was the furthest thing from Kurt Cobain's mind from the moment he picked up a guitar to the moment he died. He rocked because it was a way to work out his own deep-seated emotional stuff, something he had to do, and because he enjoyed making music and connecting with others who loved music in the same way that he did. Not to be famous. To me, it's like that almost happened in spite of who he was.
When I first found out about Nirvana, I was all set not to like them. I was a rock club promoter and a college radio DJ in my hometown of Cincinnati, so I was right in the thick of things at the beginnings of what became known as grunge. On my show I was spinning all these cool records on labels like Amphetamine Reptile, Touch & Go, C/Z, and, yes, Sub-Pop. At a time when college radio was inundated with gutless, glossy stuff like U2 and Gene Loves Jezebel and the once-vital hardcore scene had degenerated into heavy metal pastiche, grunge (I've never really liked the term; it was just reawakened punk to me) seemed like a much-needed breath of fresh, noisy air. By the time word of Nirvana started making its way to the Midwest underground (remember, this is all pre-Internet), I'd already booked shows by pioneering grungers like Green River, Tad, and the still amazing Mudhoney. So Nirvana was actually a little late to the party. And, without hearing them, there was this eye-rolling assumption that they were probably another Swallow or Blood Circus, grunge-by-the-numbers acts that Sub-Pop was hyping to collectors via its subscription Singles Club. "Dude, the Sub-Pop backlash has already begun," said my friend Greg Dulli of local Sub-Pop signees the Afghan Whigs, with palpable resignation. "We're bracing for it. People are starting to say there's a generic Sub-Pop sound, and I bet that's what the Nirvana record is gonna turn out to be." I agreed. We'd both be proven wrong. Very, very, wrong.
When Nirvana's first tour was being organized Bleach, their debut, was still at the pressing plant, so I was mailed a three-song demo cassette comprised of the two songs from their limited-edition first single and one from the forthcoming LP. I had to admit it was pretty damn good. Even my timid, notoriously noise-fearing program director at the radio station loved it, drawn in by Kurt's uncanny way with a pop hook. (I held on to the tape, which turned out to be smart. In 2012, I sold it on eBay for $1,000.) But when Bleach came out it really killed me. "Blew." "Floyd the Barber." "School." Grinding, dark, super-raw basement grunts that seethed with genuinely pissed-off punk-metal rage and violent, shuddering stop-start dynamics. And there was "About a Girl," a haunting garage lament with a groove that pierced your brain like a steak skewer. The week I got the record I ran into Dulli and told him I thought it was amazing. "Dude, I know," he said, shaking his head. "I know."
So on July 21, 1989, Nirvana was set to come to town. Well, technically, the next town over. I'd set up a bill with them, Minneapolis band the Cows, and local act Blue Othello at a tiny place called the Top Hat, a one-time titty bar (still had the stripper's pole on stage) across the Ohio River in Newport, Kentucky, where I was booking punk shows at the time. I was psyched. Despite the raves of the Afghan Whigs to others and the late-night radio airplay I was giving Bleach, however, the turnout was bleak. But it didn't matter much, because for reasons that are still unclear Nirvana cancelled the Midwestern leg of their tour and beat it back to the Northwest. (The Cows, however, delivered one of the greatest sets I've ever seen, their singer Shannon Selberg performing with both arms in casts after having fallen through a rotting floor and onto the kitchen stove in a New York squat after a show at CBGB.)
click to enlarge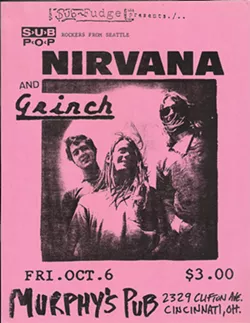 The rescheduled Nirvana date was October 6, 1989, and by then I was booking gigs at a neighborhood redneck joint called Murphy's Pub in the Clifton Heights area of Cincinnati. The shows happened in the bar's back room, which had a legal capacity of 75. The fire code wasn't exactly challenged that night, as only about 30 people attended. But Nirvana was even better live than on
Bleach
. Just unrelentingly brutal, and incredibly loud. They opened with that album's "Negative Creep." I stood listening in the middle of the not-quite-half-full room as its crunching riff rattled my abdomen and made the hairs on my neck buzz. I remember Krist Novoselic wearing a Tad t-shirt and prowling the stage, his bass slung lower than I thought humanly possible. Chad Channing was the drummer then (he'd be replaced by Dave Grohl later) and along for the ride as the merch man was the group's short-serving second guitarist, Jason Everman (depicted on the
Bleach
cover and listed as playing on the album, even though he didn't). Everman was visibly frustrated that the band had asked him to sit out the tour and was still hopeful he'd be asked to rejoin (he wasn't). Soon after that event, I moved onto booking a nearby basement club called Shorty's Underground and it was there that Nirvana was next supposed to play, on April 14, 1990. Unfortunately, they again rescheduled, and the show was moved to May 10. By then, though, word had spread and the crowd was much better, though there were still less than 100 people there (I wanna say about 75 or 80, max). Again, the band was awesome. I remember Kurt almost hitting his head on the stage's ceiling, which was very low; Krist had to hunch down even lower than he normally did when he played.
Not long after that the band signed to Geffen, Nevermind came out, and cultural history was written in sweeping strokes. I remember seeing the video for "Smells Like Teen Spirit" on MTV and being both blown away by the song and in utter disbelief that the network was actually playing something that was so angry and raw. And I really got the sense that change was in the air one night when I was at Beat Club, a now-gone frat disco at a strip mall near the University of Cincinnati campus. The DJs at Beat Club played the worst new wave dance music imaginable, but many of us scenesters used to go there anyway because it was where all the hot U.C. chicks went. Anyway, sure enough, at the end of the night the DJ put on "Smells Like Teen Spirit" and really blasted it. The place went ballistic. "Wow, these people like this song, too?!" I thought. Maybe there was hope for mankind, after all. And I have to say, for all the times I've heard "Smells Like Teen Spirit," which is undoubtedly one of the most pervasive rock radio staples of all time, I've never gotten sick of it. I still think it's a fantastic song. And if that's not testament to Kurt Cobain's genius as a songwriter, I don't know what is.
But when Nirvana's fame started really blowing up, Kurt, who only wanted to write songs, play packed sweaty shows in small clubs, and make records, wasn't interested in blowing up along with it. At a White Zombie show at the Limelight in New York in late 1993, I ran into Van Conner, the Screaming Trees guitarist, who was playing with the opening band, Love Battery. I'd known Van from booking the Trees several times in Cincinnati. Both of us were stunned at Nirvana's breakthrough and at how surreal it was that the music we'd been a part of had now seemingly been jolted out of the underground and into the mainstream, something neither of us had ever considered even remotely possible. At that moment the big thing with Nirvana was that the band was flat-out refusing to tour, even though Nevermind was quickly going platinum. "It's because Kurt doesn't wanna play stadiums," Van said. "He thinks they can still stay small and just keep playing clubs. I keep telling him, 'You're crazy, man!'" This unwillingness of Kurt to let go of his underground roots, however unrealistic it was in the face of MTV and beckoning outdoor amphitheaters, was something I found refreshing and inspiring then and still do now. It's long been de rigueur among certain underground types to bash Nirvana simply for making it big, as if they changed their music and ditched their principles to do so. I don't agree with that at all. I firmly believe they made the same kind of music they would've made whether they ever made it beyond the Aberdeen, Washington, punk house-party circuit or not. In a space-time rupture that happens, if all is aligned, perhaps once every generation, the larger music world was primed and ready for what Nirvana was about. Plus they backed up it all up by being—sorry, deniers—an indisputably excellent rock band. Yes, Dave Grohl has gone on to embrace the glitzy life and play toned-down, MOR-pandering music with the Foo Fighters, but one gets the feeling that Kurt Cobain would never have stooped to that. In fact, his resistance to it is clearly a large part of what killed him.
The Shocking Blue, a late '60s/early '70s pop-psych band best known for the Top 40 hit "Venus," was a favorite of Kurt's. Nirvana covered the Dutch group's classic "Love Buzz" on Bleach and as the A side of their first 7". So when I found two copies of the Shocking Blue's 1970 single "Never Marry a Railroad Man" in a thrift store the month before Nirvana's first Cincinnati show, I saved one for Kurt and presented it to him after the gig. "Wow, I don't have this one," he told me, clearly touched and excited, like a little kid. "This is awesome, man. Thanks a lot!"
So that will always be the central image I have in my mind of Kurt Cobain. Not the image of the statuesque rock star foisted upon him by legions of worshippers. Not the image of a troubled soul who battled personal demons and the soul-sucking fangs of a Hollywood succubus. Not even that of the great artist he most certainly was. Instead, I see the image of someone who, at the end of the day, was a pure lover of music and of the ability it had to make him feel good. For me, he remains crouched near the lip of the stage in the back room of Murphy's Pub at the end of the night, with his guitar case lying open, holding a scratchy 45 in his hand. And smiling. Frozen there. Just like that.
Click here to view more photos of Kurt Cobain and find out more about the Morrison Hotel Gallery exhibit.