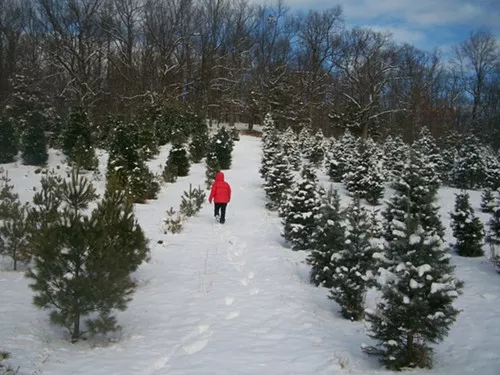 Looking for the perfect tree at Battenfeld's Christmas Tree Farm
A friend of mine recommended
Battendeld's Christmas Tree Farm
a few years ago, and we went there to chop our own tree.
Battenfeld's Christmas Tree Farm
in Red Hook, and easy to get to as it is right on Route 199. We parked the car, borrowed a saw at the office for $10 deposit, and were given brief instructions, and drove up the hill to pick out our Christmas tree. It was a bone-chilling 20F and my husband was very eager to use the saw, so it only took us 5 minutes to choose our tree, and took about 60 seconds to chop it. Timber! We hoisted it on top of the car, and went back to the main office area to get it prepped for its new home. All trees cost $60 including tax. The guys at
Battenfeld's
were very cool, and did a great job securing the tree to the top of the car. It didn't even budge on the ride of the Kingston Bridge! Merry Christmas tree! Check out their website to check out there other events/offerings.
Writer Vanessa Geneva Ahern blogs about her Hudson Valley adventures at HudsonValleyGoodStuff.com.