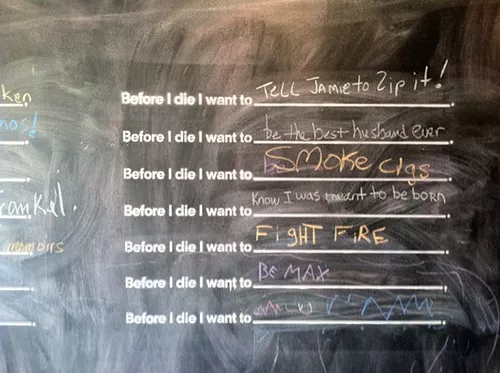 Before I Die project at Oriole 9 in Woodstock
Last year Oriole 9 in Woodstock replaced their old tropical rain forest wall paper mural with a "Before I Die" public art project. (The original "Before I Die" project was started by artist Candy Chang in New Orleans). Sometimes I pop in there for a little inspiration. Visitors can write in their "Before I Die" affirmations in chalk and Nina Paturel who co-owns the restaurant with her husband Pierre-Luc Moeys says it gets erased every other day during the week and once a day on the weekends because it fills up.
"It was an idea brought to me by a good friend when we started talking about changing the forest wallpaper. She had seen it and thought the space and idea would work perfectly. I have to say it was a hard sell to Luc who thought dying and eating may not be a great combo! We made another stencil that said 'When I Grow Up' that we were going to put up on the side, but it didn't fit well and the organization asks for whoever uses it to keep it just the way they intended it to be," explains Paturel.
She reports that there is really only one Oriole 9 customer who comes in for coffee everyday that doesn't like it. "He feels like he doesn't want to be reminded of death everyday which I can understand. I feel like it's just a reminder to live your life to the fullest," says Paturel.
Paturel can't be sure the board has attracted more customers, but she feels that it has worked to entertain the ones she has.

Follow Vanessa Ahern's blog Hudson Valley Good Stuff to read about good stuff things in the Hudson Valley.