Originally produced for limited markets and owned by the select few, luxury sedans combined spirited performance with innovations that ultimately set new industry benchmarks. Advanced suspension systems, computerized options, and carefully detailed styles put competitors on notice. Prospective buyers priced out of formerly exclusive markets are now offered new entry points with affordable models featuring accoutrements comparable to the elite brands. Today's luxury sedans successfully mimic the trailblazers but distinguish themselves with one important trait: affordability.
Luxury can be a variable term, but drivers can agree that these vehicles should be reliable and feature strong performance complemented by brisk handling. Option packages that transcend the expectations of daily drivers are a must and style lines should be strong enough to draw a neighbor's envy. Priced within the $30,000-$35,000 range, the following sedans offer an array of standard features and option packages. All motors produced impressive horsepower with respectable handling. Each car is clearly marketed to a specific buyer and has its own unique identity.
click to enlarge
2012 Dodge Charger SXT Plus $33,490
(courtesy Sawyer Motors, Saugerties)
The resurrected Charger namesake effortlessly produces power and pays homage to its '60s heritage, but this four-door sedan isn't your father's Mopar. Drivers are greeted with a computerized, Uconnect console complete with rear backup camera for successful parking maneuvers. The extensive media capabilities satisfy any communication urges. The system does not feel cumbersome to operate and the interior style executes a less-is-more approach, succeeding without feeling skimpy. The 3.6 V6 produces 292 horses and when prompted, provides responsive and decisive acceleration. An eight speed automatic transmission compliments the motor. A 6.4 Hemi V8 is also available and cranks out 470 horses, letting you know Dodge doesn't intend to abandon its muscle car reputation. The rear-wheel drive neither fishtails nor challenges a driver for control while cornering. All-wheel drive is available.
The cabin isolates noise at highway speeds and despite its size, feels nimble while delivering a smooth, taut ride. The leather-trimmed seats are soft and the cabin is nicely spaced. A telescoping wheel allows for precise driving positions but sight lines are hindered by sloping pillars. Rear passengers may grow tired of limited headroom and obscured sight lines.
click to enlarge
2012 Nissan Maxima 3.5 S $31,850 base (courtesy Kingston Nissan)
Nissan's flagship has always been marketed as a four-door sports car, but upgraded features and designs have assured its place in the luxury sedan niche. The Maxima features tight steering, a taught but smooth ride, and impressive agility. Its highly touted continuously variable transmission (CVT) feature aims to eliminate any shock felt during shifts. The 3.5 V6 produces 290 horsepower and was very responsive during acceleration. Despite being a full-size sedan, it cornered like a sports car. Antilock brakes are coupled with an electronic brake force distribution (EBD) feature that senses extra vehicle weight and sends additional braking power to the rear wheels. The Maxima delivered excellent braking performance.
The console was subtle in style and contrasted from competitors, but it may draw criticism from prospective buyers for not being bold enough. Traction control offered a stable ride and power seat features allowed for ideal driving positions. Sight lines were generally clear.
Rear passenger comfort was impressive and despite sloping pillars, headroom was not reduced. The Maxima has steadily increased in price and offers three other trim lines. The SV with premium package tops $40,000. The Maxima has received industry praise for its reliability and the S offered no reason to think otherwise.
2012 Chrysler 300 Limited RWD $35,085
(courtesy Sawyer Motors, Saugerties)
Advertisements boast it's imported from Detroit, and its muscle under the hood confirms its Motor City birth. Utilizing Dodge's 3.6 V6 and platform, the 300 aims to emit all the amenities we associate with luxury: leather, sunroof, wood-trimmed interior, and detailed instruments. The console features the same Uconnect technology as the Charger, but the 300 is marketed to a completely different buyer. Luring drivers with its polished chrome grille and door handles, its subtle lines are in marked contrast to the Charger's aggressive approach.
Despite its size, the 300 is easily maneuverable and cruises quietly on highways. The ride is smooth but not overly soft. The 300 successfully delivers spirited performance while maintaining class. Heated leather seats functioned well and the ride did not rob a driver of any road feel. Compensating for its rear-wheel drive, the Limited has electronic stability control and brake-assist features. The sedan required minimum distance when braking from speeds of 50.
Sight lines were again limited to sloping pillars, but views over the hood were not obstructed.
Rear-seat passengers have more than ample legroom and headroom. The 300 works to compete with high-end luxury competitors and offers comparable standard features, readily available in its $32,170 base price. Its fit and finish were spot on.
click to enlarge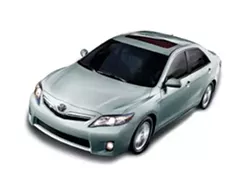 2012 Toyota Camry XLE 3.5 V6 $33,330
With its renowned reliability, the Camry continues to have broad appeal. The XLE has one of the smoothest rides available and its generous headroom and legroom offered a comfortable driving experience. Its V6 produces 268 horsepower, but requires additional coaxing to achieve noticeable acceleration. The XLE handles well but it's not marketed as a sports sedan and felt best during highway tests. The cabin isolated all road noise and its antilock brakes stopped strongly. Cornering was above-average in performance but not agile.
Traction control was coupled with electronic brake-force distribution and when challenged, stopped safely and required no additional distance. The XLE focuses heavily on safety and featured driver's knee airbag and side curtain airbags as standard equipment. Blind-spot monitors and a voice-activated navigation system were optional. The console was straightforward in presentation and did not feel cluttered. The wood grain style interior trim was tasteful and the Optitron electronic gauges were easy to read and provided a sporty image. Driving positions were very optimal and gently sloping pillars allowed clear sight lines. Its leather interior was soft and felt like it was constructed with quality materials. The rear seat offered generous headroom and legroom and a very smooth ride should make long trips a cinch.