It's 12:25 EST and Tracy Bonham is on the TV screen. "The Tonight Show with Jay Leno," to be exact. She's wearing high heels and a little black dress, standing in front of a band of crack West Coast musicians, and knocking out "Big Red Heart," the infectious single from her first album in five years,
Masts of Manhatta
(Engine Room Recordings). Switching back and forth seamlessly between electric guitar and violin, she coos with playful poise over the tune's überslinky bass line before the giant, lighter-lofting chorus comes around again and brings it to a close. The host shakes her hand and tells America goodnight, and the credits roll. The next day Bonham will fly back to New York for a sold-out show at Joe's Pub. She's the very image of a self-assured performer, ready to rock 'n' roll all night and then beat your ass to breakfast, thank you very much. But then, you don't know the
real
story.
With all of these high-stakes, high-profile happenings on her plate, Bonham's been battling every vocalist's worst nightmare: throat trouble. "Fortunately, I have a really good doctor," says the singer-songwriter, back in fine voice, over tea the day after the concert. "He told me I had to keep my mouth shut except for when I was onstage. So that's what I did, and it definitely helped." Compounding her ailment, however, was some bad news that came just before the "Tonight Show" appearance: Her good friend, cellist Dan Cho, who played on Masts of Manhatta, died while on tour in Europe. His funeral is only days after the interview, and though Bonham is, naturally, crushed by the loss, she's so far been able to compartmentalize her grief. She is, after all, a longtime pro.
Bonham was raised in the wooded splendor of Eugene, Oregon, the hippie college burgh that also gave us author Ken Kesey and was dubbed "Track Town, USA" for the local University of Oregon's consistent crop of champion runners. "[Growing up in Eugene] was great—perfect, really," she says. "I went hiking and camping in the mountains a lot. And the arts are really strong there. Eugene has some nationally known music programs." Indeed, Bonham's mother, a singer and music teacher, was more than encouraging when her daughter took an early interest in music. "I started singing when I was around five, and when I was nine I found my older sister's violin in the attic," recalls Bonham. "She'd hidden it there because she didn't like practicing, so I took it to my mom and said, 'Mom, can I learn how to play this?' And, of course, she was excited and signed me up for lessons right away." Piano lessons came at age 14.
Her formal schooling took her to the University of Southern California in LA to study violin performance, and eventually to Boston's Berklee College of Music for jazz vocals. But the conservatory was no place for a precocious, uppity solo artist-to-be. "I'd come from a classical background but by then I was more into rock and going to see all of these great local shows by the Gigolo Aunts, Throwing Muses, Jen Trynin," says Bonham, a self-taught guitarist. "There were a lot of talented students at Berklee, but going to school to learn to play pop or rock just didn't make sense to me. So I dropped out and started playing in cover bands and recording jingles. A little later a friend told me, 'You're better than that. You need to do your own music,' and challenged me to write a simple, three-chord song while he left me alone for an hour. When he got back, I'd written my very first song. Actually, 'Mother, Mother' was, like, the second or third song I wrote."
And it was "Mother, Mother" that put Bonham on the greater musical map. After debuting with the 1995 EP The Liverpool Sessions (Cherrydisc Records), she scored a deal with Island Records, which released The Burdens of Being Upright the following year. Home to the aforementioned grunge-tinged track, an era-defining number one single whose sly, self-deprecating lyrics parody the not-quite-ready-to-cut-the-apron-strings relationships of many younger artists and their matrons, the album went gold and brought her Grammy nominations for Best Alternative Performance and Best Female Vocal. "It was really exciting," she says. "I was only 24 and I was having a lot of fun, listening to the Pixies and PJ Harvey and screaming a lot."
With the 2000 follow-up Down Here (also Island) Bonham not only established a routine of taking three to five years between records ("I operate on a different plane when it comes to creativity"), but also more fully came into her own as a songwriter rooted in Beatles/Badfinger pop and the stately classical touches of her schooling. Co-produced by the star team of Tchad Blake and Mitchell Froom (Paul McCartney, Los Lobos, the Pretenders), the disc was an artistic triumph, if not a commercial one. "Tracy's one of the best singers I've worked with," says Froom, who played keyboards on the Leno date. "She's an excellent musician and a really cool songwriter, and musicians just gravitate toward playing with her because she also has this great spirit and personality."
Also among those that took to Bonham was Blue Man Group, which tapped her as an ensemble player and support act for its 2003 tour. "The Blue Man guys are just these silly, really creative nerds—and I mean that in the nicest way," Bonham says with a laugh. "I played [the Who's] 'Baba O'Reilly' with them and we did some recording. Luckily, I could fall into switching gears every night after I opened, get changed out of my dress and boots to go and do their thing." After returning to LA, she released an independent EP, Bee, and cut 2005's Blink the Brightest (Zoë/Rounder Records) around the time she met her husband, Rolling Stone's executive editor, Jason Fine.
Inevitably, the question comes up: Does their both being in the music business ever get to be a bit much? "We promised each other when we started dating that we wouldn't bring our outside work home," says Bonham. "And we've stuck to that. Jason's definitely not phased by the whole celebrity/rock 'n' roll world, so he really never talks about it. He's more of a jazzhead, anyway. That's his thing."
Another pact the couple made was in regard to which coast they would live on. To be close to Rolling Stone's Manhattan office, Fine had long lived in Brooklyn, which posed a potential problem. "I said I'd move back East as long as we also had somewhere with woods and trees that we could get away to," Bonham explains. "So I sold my little bungalow in LA and we put a downpayment on a cottage in Woodstock in 2006." That same year brought another self-financed effort, the fan-aimed In the City + In the Woods, whose title comes not from the singer's newfound domestic duality but rather its split lineup of live tracks from a rural Dutch festival and New York studio recordings. But it is, however, her urban/rustic lifestyle that loosely informs the songs on Masts of Manhatta, although Bonham didn't consciously set out to make an album about her tandem worlds.
"I guess I sort of realized I was doing it around the time I wrote 'We Moved Our City to the Country,'" she says. One of the new record's lyrical plums, the tune is a wry dig at big-city transplants who bring their speeding SUVs, birdcall-ringtoned cell phones, and sushi-eating offspring upstate in search of a "simpler" life. "A lot of the album was written in Woodstock. I remember coming up with the chorus to 'Big Red Heart' when we were painting the house, parts of songs hitting me on snowy days when I was out walking our dogs. But then there's 'You're My Isness,' which I wrote the words for in a Brooklyn café." Buttressing Bonham's recognizably warm and woody voice throughout the set is a company of sessioneers that includes violinist Matt Glaser and guitar ace Smokey Hormel (Johnny Cash, Norah Jones, Beck, Tom Waits) and his band.

Besides becoming an in-demand session player herself—over the years Bonham's played with Aerosmith, Juliana Hatfield, and Jimmy Page and Robert Plant, among others—she's recently found a third career: teaching music. "I know I can't tour forever, so I wanted to have something else I could do that still involved music," says the singer, who currently tutors children in violin and piano at New York's Blue Man Group-funded Blue School and plans to offer private lessons in the Woodstock area. "It's been an absolute blast, seeing these kids blossom. Music is such a personal experience. I've found there's really no
one
way to teach it." And in a further ironic twist of for the rebellious student turned teacher, it seems that the artist who wrote "Mother, Mother" is about to become one. As she teaches and works to promote
Masts of Manhatta
(whose title, a reference to a line from Whitman's "Crossing Brooklyn Ferry," bears the perhaps unwitting acronym M-O-M), Bonham and Fine are in the process of adopting a child from Ethiopia. "Jason and I love kids so much, we're really ready to become parents," Bonham says, clearly thrilled. "I know it will mean a complete shift in life, but what are the alternatives?
Not
having kids? That sounds selfish to me. I still want to keep making music and stay in touch with my creativity, but that could change. It could grow. We'll just have to see."
But with all of the back and forth, if Bonham had to choose between the unremitting stimulus of urbanity and the spiritual downshift of upstate solace, which direction would she head, north or south? "Is there a gun to my head?" she jokes. "Seriously, I couldn't pick one. I have to have both. I love the busy-ness and all of the culture I get in Brooklyn, but I also couldn't live without the beauty and the nature of Woodstock. How could I ever complain? I'm so incredibly lucky to be able to be connected to New York and also be part of this beautiful upstate community."
Tracy Bonham will perform at the Bearsville Theater on August 6. Masts of Manhatta is out now on Engine Room Recordings. www.tracybonham.com.
click to enlarge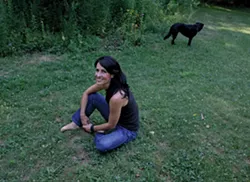 click to enlarge
click to enlarge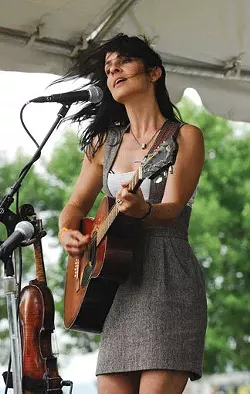 click to enlarge