click to enlarge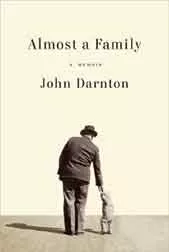 Creating a successful space for empathy may be the most significant goal of effective writing, offering a reader the opportunity to transcend the limitations of individual experience. There are increasing levels of availability that the author can craft; truly inspirational work permits entry on a universal level. What is required is a unique blend of honesty and skill: An author must offer up a willingness not only to delve within, but to painstakingly describe what he has found there.
Bravo, John Darnton.
The part-time New Paltz resident brings all of his considerable artisanship to the pursuit of what is any author's ultimate story: his own. Chasing the specter of his father, Byron Darnton, who was killed in service as a war correspondent for the
New York Times
during World War II, Darnton himself served a 40-year career as a Pulitzer Prize–winning
Times
writer and editor. His work in journalism and subsequent career as a best-selling novelist—most recently, 2008's
Black and White and Dead All Over
—has consistently touched upon the inseparability of writing and self-identity. In
Almost a Family
, he dives in headlong, investigating the roots of his father's story and his own journey, seeking to find a common thread of truth.
An infant when Byron Darnton departed to cover the Japanese-American front in Indonesia, Darnton was left with only a legend for a father. His mother Eleanor, a
Times
writer and author in her own right, struggled to create an environment of solidity in the face of this conspicuous absence. Her 1954 memoir
The Children Grew
paints a brave if misleading picture of the family in disaster's wake, often more fiction than truth—a prison of deception from which the young Darnton had to escape. He embarked upon a life of early rebellion, bridling against this confounding juxtaposition. Almost a Family is a gripping study of how, and why, he finally took up the mantle of his father's legacy.
"There is, of course, a problem with a myth, any myth," says Darnton of his mother's gradually devolving efforts to maintain a construct of normalcy in their day-to-day existence. "While it may embody a noble aspiration and provide a source of courage and moral sustenance, it is, by its nature, founded on kernel of fiction. And so living a myth is a dangerous business, because fiction is not a solid foundation on which to build a family's life." Almost a Family exposes several tiers of the challenge of separating truth from artifice, touching the heart of a battle that each of us fights: what it means to become an autonomous individual, and to operate with integrity—even what it means to be an American.
Darnton's work here is a genuine gift, and one that comes at no small cost: the price of actual self-knowledge. Whatever the reader's particular story may be, Darnton's crisp, literate, and terrifically frank examination into the nature of his own identity opens a much-needed door into our own need to do the same. I hesitate to be so bold as to call Almost a Family a masterwork, but if John Darnton can be this courageous, perhaps I can, too. Read this book—and when you're done, give it to your children.
John Darnton will appear at the Millbrook Book Festival with Gwendolyn Bounds, Akiko Busch, Marilyn Johnson, and Susan Richards on Saturday, 5/14 at 10:30am, Millbrook Free Library Great Hall. www.millbrookbookfestival.org.