In this pair of memoirs, two Hudson Valley women set out to save things they cherish—an ancestral home, injured birds—and find a new sense of identity.
"Talavera," writes Leila Philip, "was not just a house and not just the past." Her family's ownership of this gracious pillared home and farm near Claverack traces back nearly 300 years. This is a rare feat indeed, but one Philip considers as much a burden as a privilege.
Sparked by the passing of her father (whose devotion to keeping the farm viable through its hardscrabble apple orchard may have hastened his death), she began to investigate the legends and realities that accompanied her family's lengthy tenure. Poring through stacks of notebooks and farm journals—this family kept everything, including a Civil War bullet removed from a loyal slave—and exploring local historical society files produced a family picture far more dimensional than any of the ancestral portraits on Talavera's walls.
Philip's discoveries were mundane and fascinating: The farmland shrank, increased, and shrank again, its fortunes blossomed and diminished. She uncovered a pair of radical aunts, impoverished young widows, and a still-living half sister of her father's nobody in the family seems to have known about. But she also found that tenacious love of the land was ultimately the farm's most  valuable legacy. Talavera's past may never have actually been as grand as its columned façade suggests, and sustaining it may be forever challenging, but this book proves it will take far more than tough financial times to part this family from this place. Philips is an extremely gifted writer who doesn't skirt somber emotional notes.  She has created a brave, eloquent, and beautifully constructed memoir of a remarkable place and the remarkable family that belongs to it. This reissued edition of the 2001 publication features a new epilogue and family photographs. Leila Philip will read at Maple Grove in Poughkeepsie on August 23 at 3pm (www.maplegroveny.org).
If there's a special heaven for animals, it has connecting doors to the one for wildlife rehabbers, those incredible people who care for injured and orphaned animals. Suzie Gilbert is one such person, and
Flyaway
recounts her early experiences as a licensed bird rehabilitator sacrificing money, emotion, and family time for the care of feathered charges with Flyaway Inc., her own rehabilitation organization.
Gilbert embarked on this pursuit with a list of strict rules (no water birds, no raptors, no nestlings, no crows!), but quickly discovered she'd break every one. Bird rehabilitation is a bittersweet game: Success means releasing the creatures you've nurtured and loved, a parting nearly as final as death. It requires a tricky mental balance Gilbert found so elusive that, for a time, she closed her business. It was a bird on the "no" list that helped her back. George was a crow who stayed on as a friend when given his freedom—until autumn came. Gilbert sensed his impending departure, and "in a moment of panic, silently vowed to do anything if this one bird, of the legions I'd taken in, would give up his freedom and stay with me. But I hadn't raised him to be a captive bird, and I couldn't ask him to be one."
"First birds captivate you, then they enslave you," said renowned birder Roger Tory Peterson. Ultimately, Suzie Gilbert decides to accept this bondage so that a few more birds can live free.
click to enlarge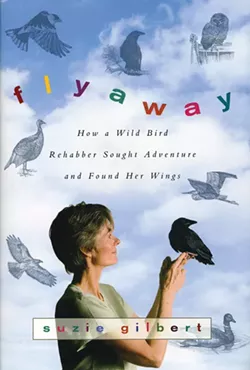 click to enlarge