click to enlarge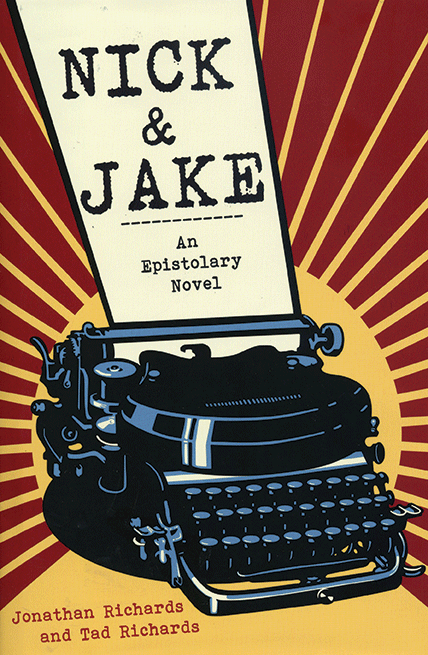 Nick & Jake: An Epistolary Novel
is a marvel of recycling and literary invention, born of the question: What if F. Scott Fitzgerald's Nick Carraway and Ernest Hemingway's Jake Barnes (narrators of
The Great Gatsby
and
The Sun Also Rises
, respectively) met as troubled middle-aged men in Paris in 1953? In the novel's skewed universe, their creators do not exist, but Carraway and Barnes are flesh and blood. The mind reels, English teachers froth, and a cheeky yarn is born.
Woodstock's Tad Richards and his Santa Fe-based brother Jonathan cast Carraway as an erstwhile novelist (
Trimalchio in West Egg
, written in his youth, was a real-life early title for
Gatsby
). Carraway's advertising work for the Eisenhower administration has landed him a State Department job. Anti-Communist hysteria is mounting, and Allen Dulles (real person), director of the fledgling CIA, enlists Carraway to write to the managing editor of the
Paris Herald Tribune
—crusty expat Barnes. Will Barnes help the CIA ferret out "objectionable" books from embassy libraries? Barnes answers Carraway with a hilarious rebuff.
Subsequently, though, Carraway's praise for Barnes' memoir of `20s-era Paris—
A Lost Generation
—engenders a pen pal-style friendship. When naïve Carraway falls victim to Senator Joseph McCarthy's blacklisting, he loses everything and hightails it to Paris, where he and Barnes hit it off; each man corresponds with various friends, detailing the budding bromance. Barnes encourages Carraway to start writing fiction again.
The Richards brothers weave multiple correspondences to create a narrative of entwining adventures in jazz clubs, cafes, and government offices. Much is afoot: the Red Scare, existentialism, proto-rock `n' roll, the world's first successful sex-change operation—all revealed through letters and a few of Barnes'
Herald Tribune
columns. Carraway's missives from his fictional friend Ronnie Gilchrist, an aspiring New York City vocalist, offer tantalizing glimpses into the music world, where Ruth Brown, Ray Charles, and Atlantic Records impresario Jerry Wexler are laying the foundations of an empire. We're also privy to hastily composed telegrams and decoded messages between covert CIA operatives like Roy M. Cohn and wet-behind-the-ears George H. W. Bush. In the alternate reality of
Nick & Jake
, Lawrence Durrell, from
The Razor's Edge
, joins them on the dark side.
Speaking of Bush, the Richards brothers took inspiration for Nick & Jake from the post-9/11 international goodwill squandered by his son's administration; they draw attention to a similar set of circumstances in 1953, when the US took to fear-mongering and nation-building in Iran (the installation of the Shah and destruction of secular democracy). Although most of
Nick & Jake
is a romp, these trenchant observations provide exceptionally sharp teeth.
Carraway and Barnes begin as proxies for their creators; their letters recall familiar cadences in Fitzgerald's and Hemingway's prose. It's a great hook, but as the novel spools out and hijinks ensue—political, romantic, sexual—Nick and Jake acquire more distinction. Bidding them good-bye a second time is sweet sorrow indeed.
In addition to providing incisive political commentary, resurrecting cultural icons, and breathing life into fictional heroes, the Richards brothers shine a warm, nostalgic light on the lost art of letter writing.
Nick & Jake
approximates the ebb and flow of missives between friends, lovers, even adversaries. Offered here are the rhythms of relationships fostered through the shared mind-space of language, and the sweet anticipation of awaiting a response.
Nick & Jake
proves the epistolary art may yet live.