click to enlarge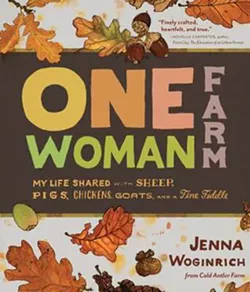 Thirty-something never-married women can feel like an anomaly in our mostly two-by-two society. Questions, unspoken and outright, come from well-meaning friends and self. Too quirky? Driven? Unappealing? Bogged down?
As this pair of books show, there's more than one way and far more than one reason for a singleton existence. For some, it's just a placement on the far end of the kismet list. And for others, it's because the kismet came early and hard—but for something other than a human.
Jenna Woginrich is passionately in love with her farm. Originally a Web designer, she ditched city living and cubicle life to become a homesteader, an evolution she's recorded in a popular blog and three previous books. Her latest farm, her first purchased, brought her to upstate New York's Washington County.
One Woman Farm is an illustrated journal of her first year on this farmstead, a place she's peopled with furred and feathered tribes. Woginrich is a rare entity—a single-female back-to-the-lander whose self-described "monastic" life is so closely tied to the farm that caring for (and chronicling ) it is literally all she does. Her milk comes from her goat, her eggs from her chickens, pork from a feeder pig, and wool, meat, and leather from the sheep. Fun means teaching herself to ride her horse, work her dogs, play the fiddle, and knit. It's a self-contained, self-sustaining life with little room for an "other"—and yet, she sometimes longs for "strong arms and a heartbeat" to fall asleep against, and performs an ancient love-attracting spring ritual of face washing in morning dew. It's a close-to dream-come-true existence she details here in honest, passionate, spiritual, yet somehow entirely unsentimental prose:
"There's no family. No boyfriend. Just a girl and her wolf pack and her farm full of animals. It's perfect and imperfect. Full and empty. Validating and terrifying. Above all, it is just as I want it to be."
click to enlarge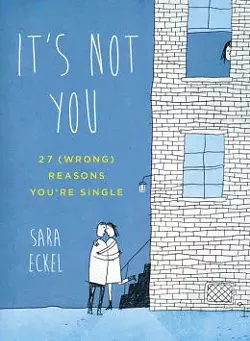 When writer Sara Eckel wrote a
New York Times
"Modern Love"
column declaring that successful thirty-something women who are still single are not flawed, unlovable freaks, she received a flood of e-mails and comments from grateful readers. This book is an outgrowth of that essay, a further unpacking of her journey through online dating sites, mediocre dates, and unpaired living in a world full of couples.
Eckel tried all the conventional ways to "fix" her singleness, including self-help books and self-love classes like yoga. Well-meaning friends gave well-meant advice—and none of it worked. But what did was a slow acceptance of herself and her situation, and in this book, she details the process as she simultaneously debunks just about every singles myth invented. Each chapter takes one on: "You're Too Limited," "You're Too Picky," "You're Too Selfish," "You're Too Old."
Ultimately, it was discovery of mindfulness meditation's paradigm of "effort and surrender" that showed her the clearest and best way through. The pain isn't the problem, she discovered—it's the self-judging thoughts behind it.
And it's also the fact that you just may have not found your love match yet. Eckel met the man who became her husband when she was 39. They work well together, she says, simply because they are right for each other. "Human beings are not houses," she says, meaning, you can't gut the bathroom and add a patio and make them perfect for you. "You love them as they are or you let them find someone who does."
Sarah Eckel is appearing 1/11 at 4pm, Golden Notebook, Woodstock.