click to enlarge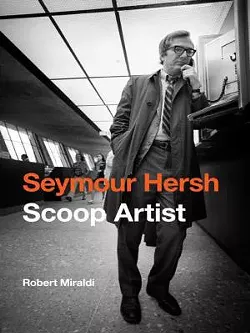 Seymour Hersh is US journalism's heaviest hitter. For over 40 years, his investigative reporting has penetrated the Pentagon, the CIA, and the Oval Office. His revelations about the secret actions of our leaders weigh grievously in our collective psyche. In 1969, he brought the My Lai Massacre to light. The story of hundreds of civilians slaughtered in a South Vietnam village conveyed a perception of US troops as baby killers and rapists that would expand support for the antiwar movement. In 2004, he uncovered the torturing of Iraqi detainees in the Abu Ghraib prison; the grotesque photos that surfaced would yet again show our policies to be misguided and our military out of control. Our knowledge of the CIA's lawless activities—be it domestic spying campaigns or plots to oust foreign leaders—owes much to the Pulitzer Prize recipient's crusading work. Even a sworn enemy, Richard Nixon, took a policy cue from his 1968 treatise on biological and chemical weapons, unilaterally renouncing them. Comparable in influence, Hersh's 1983 tome on Henry Kissinger's career likely prevented the controversial diplomat from getting a post in Ronald Reagan's cabinet.
A new biography by SUNY New Paltz journalism professor Robert Miraldi offers a jaunty survey of Hersh's spectacular scoops—all of which are fail-proof interest grabbers, jewels in the annals of our nation's covert history. Miraldi seeks to understand his subject's mysterious level of success, his long reach into the sanctums of power, his cultivation of entrenched, anonymous sources. Colleagues from Hersh's New York Times tenure in the 1970s recall a demonic phone manner that could threaten just as easily as charm. "His ability to scare people on the phone was unbelievable," Arthur Gelb noted. Leg work might include cold calling bureaucrats who are leaving their jobs, or showing up unannounced on the doorstep of an army general's home.
Miraldi attributes Hersh's aggressive style to his beginnings on the police beat for the Chicago News Bureau, a gritty atmosphere where fistfights over stories were not unusual. The hardboiled scribe makes no secret about being abnormally competitive and lets on that making money is vital to his cause. Chagrined by the seven-figure book deals of his biggest big-league rival, Hersh remarked, "I'm pathological on the subject of [Bob] Woodward's money." Although forced onto the Watergate trail by his editor, Hersh promptly exposed a White House cover-up taking place right under Woodward and Bernstein's noses, as their "president's men" stories were first appearing. Miraldi observes that Hersh in the Times did as much as the famed Washington Post duo to end Nixon's regime.
Hersh's articles typically give a measured agglutination of facts and only sparse analysis. His methods of plying sources and piecing together vetted fragments are largely unfathomable. He denies a political agenda, though his general views on war became evident early on; he once commented, "We don't fight wars any better than the 'nips' and the 'krauts.'" The rules of engagement recur as a theme in his reporting, with the United States repeatedly shown as a bully who all but fabricates a provocation. Guiding us through Hersh's muckraking victories, Miraldi conjures a vision of the highest possible stakes, amply quoting fourth-estate eminences such as Anthony Lewis and James Reston. Shying away from platitudes, Miraldi's Hersh tells it straight: "I guarantee that we in the press have as good a sense of what's important and what's good for America as the people in the CIA."