click to enlarge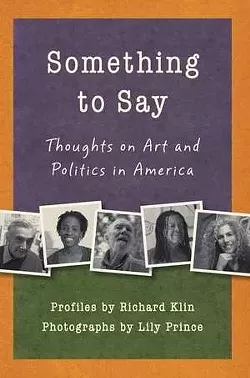 Physically slender but conceptually expansive, the new book
Something to Say
reads like a speed-dating experience: We meet several personalities in quick succession—in this case, 15 artists currently creating and thriving across the country. (The author, and two personages profiled, call the Hudson Valley home.)
Thanks to the judicious selection of Richard Klin, who has written for the
Forward, The Bloomsbury Review
, and
Parabola
, your "dates" are far from duds; they are poets, authors, painters, and filmmakers. What unifies them is the objective of their body of work, meant to undercut social injustice and heal the world. Their ongoing struggle is to strike a balance by which their art is not subsumed by political rhetoric, an occupational hazard of trafficking in this realm.
Didi Emmons is a chef and food activist, teaching Boston gang members to choose a spatula over a switchblade. Chinese-American poet John Yau explores the challenges of multihyphenated ethnic identities. Painter Freddy Rodriguez's canvasses celebrate his native Dominican Republic's culture, which survived decades of dictatorship. Palestinian comic Maysoon Zayid fights the entrenched struggles of her homeland with pitch-black humor. Sheryl Oring's street performances send up McCarthy-era conformity while reminding us of the need for citizens' vigilance of the government. Franklin Stein, lead singer of Blowback, proves that music born of uncompromising leftist politics can still have a groove. Klezmer musician Alicia Svigals uses the Eastern European village music, alternately raucous and mournful, as a springboard for issues of Judaism and progressive politics.
Most of these people may be unknown to mainstream audiences, but Klin recounts their life stories vividly, offering insight into that quicksilver phenomenon known as the creative process. Among his subjects are three legends: Pete Seeger, Yoko Ono, and Howard Zinn, the latter interviewed two months before his death.
The thumbnail sketches range in depth and success; in most cases, Klin captures a subject deftly. Sometimes, however, his words simply circle the person awkwardly. Often, he seems in awe of his subject, and understandably so. But that slack-jawed admiration results in Klin the editor momentarily abandoning objectivity. The reader is saddled with impenetrable walls of verbatim quotations that veer off-subject. Fie on Klin for not red-lining ineloquent moments, like this observation by filmmaker Gini Reticker: "I identify with women pretty strongly—I mean, I'm a woman and I have six sisters and I had two aunts who were really close to me."
The author has a marked penchant for pamphleteering, which periodically intrudes on the narrative. When screenwriter (and West Hurley resident) Ron Nyswaner holds forth on the strictures of the film industry, Klin superfluously fulminates, "Movie studios have been absorbed by corporate behemoths, further squelching creative impulses; Netflix and the rise of high-tech gadgetry have injected fear and uncertainty on an already famously jittery industry."
For
Chronogram
habitués, the ideas in this book are exceedingly familiar. These artists stand against corporate greed, environmental destruction, social injustice, and prejudice. One wonders, perhaps perversely, whether a stable of right-wing artists could fill a similar book. (I might disagree with them all, but their delusions would be fresh and engaging.) Despite occasional emphasis on the obvious, Klin's
Something to Say
offers both a compelling read and a sturdy civics lesson for the next generation of American citizens.

Klin will read April 17 at 2pm at the Book House at Stuyvesant Plaza, Albany; April 30 at 7pm at Inquiring Minds, New Paltz; May 7 at Golden Notebook, Woodstock; and May 8 at 2pm, Spotty Dog Books & Ale, Hudson.