click to enlarge
For centuries, America's lions of industry erected fabulous estates on the Hudson River's pastoral east bank. Built to showcase wealth and influence, some have remained with their original families, even though the money to maintain them did not. Who are the wealthy without their wealth? Memoirists Alexandra Aldrich and Susan Gillotti know the answer firsthand.
Aldrich was aware from an early age that the branch she occupied on her storied family tree was not very green. Instead of working at a job, her Harvard-educated father devoted his life to caretaking Rokeby, the 450-acre estate of his illustrious ancestors, including Astors and Livingstons. Located in Barrytown, Aldrich's childhood home was shared by her parents, her uncle's family, her grandmother, and—strewn among the outbuildings and woods—a collection of oddball freeloaders and tenants.
As this memoir starts, Aldrich is ten, and the sprawling mansion is crumbling fast. There's alcoholism, marital infidelity, and irresponsible bohemianism among its inner circle. But most potently, there's a pervasive sense of disorientation and displacement, brought to sharp relief by her parents' tenancy in three rooms of the servant's quarters. An overachiever, Aldrich "genuinely idealized a respectable and disciplined life," longing for simple things like parents with jobs, a fridge full of food, a set bedtime.
Rokeby is stuffed with the art, possessions, and stories of generations past. Abandonment is a recurring theme in this family, including a tale of a great-grandmother and her 10 siblings who were orphaned by their parents' near-simultaneous death from pneumonia. As the title implies and this poignant, sharply felt book illuminates, Aldrich is indeed the 12th orphan, left to raise herself at the intersection of tattered opulence and gritty reality.
click to enlarge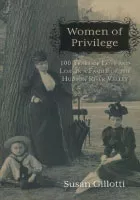 Susan Gillotti's ancestors, the Shieffelin Crosbys, were the Aldriches' downstream neighbors. Grasmere, an 898-acre Rhinebeck estate built by the Livingston family, was purchased by Gillotti's great-great-grandmother in the 1890s, but sold by her mother Helen, who had inherited its debt and decay while still in college.
When cleaning Helen's house after her death, Gillotti discovered a closet stuffed with papers, and with them, a note: "For my daughters to read after I am gone. In these papers you will find answers to questions I know you have had." The trove included a century's worth of letters, journals, stories, and diaries written by Helen's female ancestors.
There were indeed answers, alongside questions Gillotti had never thought to ask, about emotional neglect, sexual identity, and mental illness. The papers offered a window into the lives of privileged women, minus any trace of gilded veneer. Not surprisingly, abundant money was no compensation for deficits in other areas, including intellectual and emotional freedom.
Gillotti, a psychotherapist, found that creating this book led to understanding herself as well as her ancestors. Helen decorated every home she lived in with furnishings and photos from Grasmere, but she also carried less tangible baggage from the great house, and as her daughter reveals in the book's preface, passed them on to her children as well. "The worlds of my forebears have gone forever," she writes. "But I am their legacy, a woman who more than once has wondered how I acquired the sense of entitlement that sometimes gets in my way."
Susan Gillotti will appear 6/9 at 4pm, Oblong Books & Music, Rhinebeck.