click to enlarge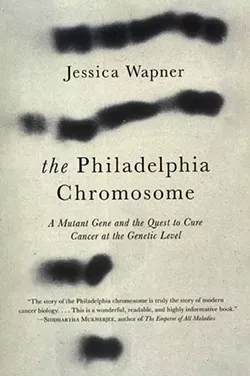 On par with the discovery of penicillin and development of antibiotics over a half century ago, the most revolutionary advance in medicine in recent times has been the advent of a pill that fights cancer at the genetic level and stops it at its root. A mention of cancer evokes a pang of dread. Treatments have often been as horrific as the disease, and its cure has long been a holy grail of science. In 2001, a drug called Gleevec was approved by the FDA after clinical trials proved miraculous against one of the direst cancers, chronic myeloid leukemia (CML)—30 out of 31 patients had their white blood cell count return to normal, and the ravaging of their bodies reversed.
The Philadelphia Chromosome, by Beacon resident Jessica Wapner, is the story of this cure. The starting point is the University of Pennsylvania in 1959, where two scientists—stumbling onto a way of enhancing the visibility of leukemia cell samples by rinsing them in tap water during slide preparation—observed an abnormally short chromosome in CML. They photographed the chromosome and published a 300-word article on their discovery. It would be decades before the notion that cancer is genetic took hold, but there were pioneering researchers who picked up the trail that the truncated Philadelphia chromosome pointed to. Improved techniques for looking at cells, such as the use of fluorescent dyes to create colorful banding patterns, enabled a University of Chicago scientist, Janet Rowley, to notice in 1973 that CML had not only a short chromosome, but also a long one; that a mysterious swap of DNA had occurred, a migration from one chromosome to another. Rowley then found "translocations" in two other cancers, thus establishing the causal link to genetic mutation.
Though interesting that a landmark discovery in cancer research was made by a woman in the same year that tennis pro Billie Jean King became a women's lib icon, unsung heroism in contemporary science is a matter of course. The author explains the progress toward Gleevec as being "like a hundred painters applying brushes to a canvas at one time or another over twenty-five years, driven only by curiosity, and sometimes, a vague hope that their work may be relevant to human cancer." An empathetic oncologist, Brian Drucker, was so dismayed by the failure of treatments that he switched his focus to oncogene research and ended up doing the most to develop this drug.
The plot to invent Gleevec, which stops a trigger in a cell (a phosphate-toting enzyme called a kinase), emerged at a time when biotech breakthroughs such as cloning and synthetic insulin were entering the subcellular arena. Wapner familiarizes readers with molecular biology, taking care not to mire the non-scientist in a swamp of acronyms. The compound ATP (adenosine triphosphate) might seem in her rendering to have a dab of personality, a scrappy character in a suspenseful drama rather than a structure diagram in a textbook. The very process of medicine by what is termed "rational design"—a targeted microengineering of mechanisms, instead of trial and error—is the paradigm shift Wapner's reporting covers.
Nowadays, pharmaceutical companies and academia are forced to collaborate, because scientists doing cutting-edge genetics are spread throughout both camps. Corporations would rather spend on marketing existing products, and shy away from paths of inquiry that are not certain to yield profits. The macroeconomics of health is certainly problematic. But Gleevec, made by Novartis, is a triumph for our species.