click to enlarge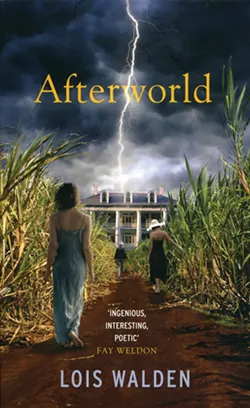 What, if anything, lies on the Other Side of this physical existence is a bottomless subject of speculation; people have been killed, in fact, for their differing opinions. It takes steady nerves to imagine something quite new and different and strange, and a strong, subtle voice to pull it off–but then, anyone who has read Lois Walden's One More Stop knows she's got both.
The human family we get to know in Afterworld is fully as fascinating as the Entity watching over their doings. The family tree Walden thoughtfully provides for the Duvalier clan of Louisiana sugar barons gives us a handy who's who and how; we learn the rest through a series of vignettes in diverse voices belonging to the living and the dead, who are not as separate as one might suppose. Sexual secrets, dirty dealings, loves requited and unrequited, abuse and tender loving care, moments of triumph and tragedy, all look quite different from the relatively omniscient perspective of Afterworld. There, as here, there are lessons to be learned and tasks to be tended.
Walden's proficiency with theater and libretto inform her prose. You can see the scenes on a mental stage, hear the harmonies and dissonant notes in the story's grand sweep of decades and generations and lifetimes. You may end up wanting Walden's satisfying Afterworld to be reality. We'll all have to wait and see.
click to enlarge
Death, perspective, and family ties are explored in very different but equally delicious ways in The Moon Sisters. Catskills author Walsh invests sisters Olivia and Jazz with contrasts and conflicts familiar to sisters everywhere. Jazz is grounded and practical to the point of repression, a Good Girl. Olivia is a tender dreamer with a colorful mind; her synesthesia gives colors to sounds and flavors to words.
After Olivia finds the body of their fanciful, bipolar mother, who's been working on the same fairy tale for as long as the girls can remember, they grieve in ways true to their natures. Jazz seeks out a job in a funeral home. Olivia stares at the sun so long she damages her vision. Their father drinks. None of them is sure if her death was a household accident or suicide, and doubt blends with acute grief in a numbing fog that's settled over their West Virginia home.
Olivia decides to fulfill their mother's unrealized wish to travel to the Monongahela cranberry bogs to see a will-o'-the-wisp, an idea that seems as nuts to Jazz as it does inevitable to Olivia. But the unlikely mission does a fine job of wrenching them free, and Walsh does a fine job of tracing their chase. Olivia's not afraid to hop a train and fall in love with a tattooed fellow traveler; Jazz is dragged along, flailing.
Their dance around each other is a classic tale of sisterhood, in all its love and grief and internecine warfare. Against a backdrop of their mother's struggles—her own father disowned her when she became pregnant, and along with the never-finished fairy tale there's a legacy of unsent letters—the Moon sisters journey closer together, in a powerful testament to flawed, astonishing human love.
Lois Walden will appear at Oblong Books & Music, Rhinebeck, 5/17 at 7pm, and at the Millbrook Literary Festival 6/21.